RAID 0 Data Recovery
Do you need any data recovery software for RAID 0 data recovery? RAID 0 volume is also known as stripe volume or striping volume. A RAID 0 volume is created by 2 or more hard disks and data will be stored to each hard drive when you write any file to the array. RAID 0 provides a faster access to data stored on the array, but it does not provide data redundancy. Therefore, when one hard disk fails in RAID 0 array, it might result in all data lost. If you find that data becomes inaccessible from RAID 0 array, you might need RAID data recovery software to get back all lost files.
RAID 0 Data Recovery Software Download
Hard drive failure is one of the most common reasons for RAID 0 data loss. In fact, data will get lost from RAID 0 hard drive due to many other reasons, in which situation you need to use a data recovery tool that is able to work on RAID 0 array. iCare Data Recovery Pro is such a data recovery program, which is able to work on all RAID arrays to resolve different data loss problems. This data recovery software helps recovery pictures, music, videos, documents, emails, etc when RAID 0 hard drive is corrupted or data got lost due to other reasons like deletion, formatting and more. This software is compatible with Windows OS including Windows XP, Vista, 7, 8, 10, etc, so you can perform data recovery on Windows computer.
Steps to Restore Files off RAID 0 Volume

Preparation: Free download and install iCare Data Recovery on the computer. Please do not install the software on the volume where data got lost.
Step1. Run the software on your computer and then select a proper scan mode.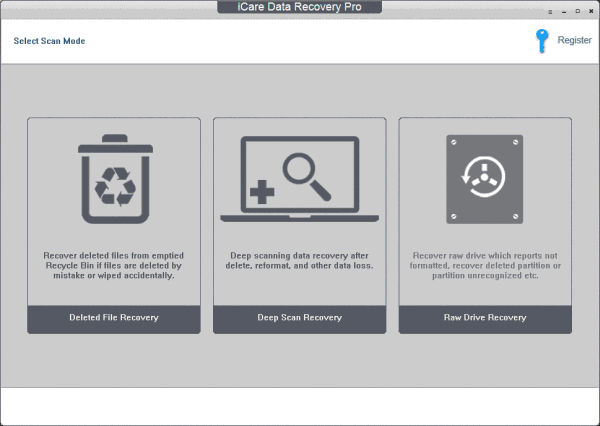 Step2. Choose the RAID 0 drive where data got lost and then you just need to wait patiently before the scanning is completed.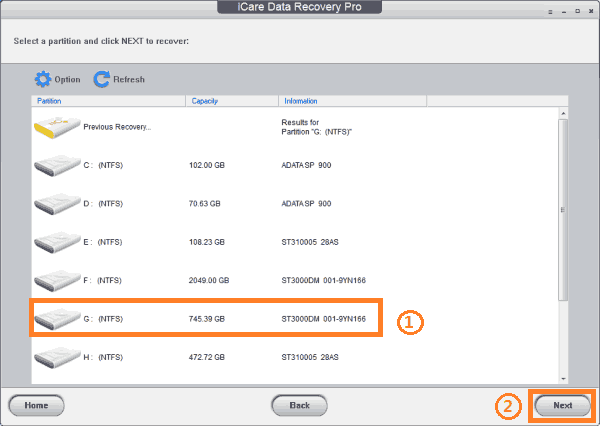 Step3. You can preview the found files after scanning and then save the lost files to another drive.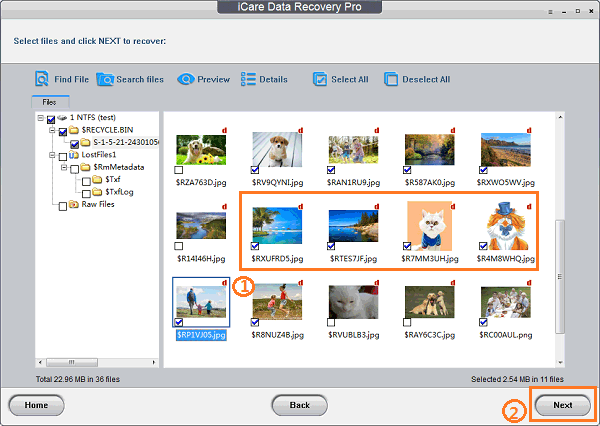 RAID 0 Deleted File Recovery
When you write a file to RAID 0 array, the file will occupy some memory on the hard drive in RAID 0. New added data will not be stored to the same place on which there is data. The memory will be occupied until you delete the file stored on it. When you delete a file from RAID 0 hard drive, system will move the deleted data to recycle bin at first. If you deleted files in recycle bin, the memory which was used to store the deleted data will be marked as available for new data storage. In other words, data is not really erased from RAID 0 hard drive before you empty recycle bin. However, if you empty recycle bin, you need to rely on data recovery software to restore deleted files. iCare Data Recovery enables you to restore any deleted file whether you mistakenly click "Delete" option or accidentally press "Shift + Delete" buttons on keyboard.
RAID 0 Drive Format Recovery
Deletion only erased the selected data from the RAID 0 hard drive, while formatting will erase all data from the selected drive. Even worse, you do not have chance to restore lost data from recycle bin after formatting. Therefore, the only opportunity for RAID 0 hard drive format recovery is to use iCare Data Recovery software. This software is able to recover data after quick format or complete format any brand of hard drive in RAID 0 array.
RAID 0 Disk Drive RAW Asking to Be Formatted
RAID 0 disk drive RAW format not formatted is a problem which usually prevents you from accessing or writing any data on the drive. You can format the RAW drive so as to access it normally, but you are unable to read any data after formatting because it has erased everything on the drive due to formatting. You will not erase anything from the RAW hard drive in RAID 0 as long as you do not format it, but you never have a chance to open the drive without formatting. When you find yourself in such a dilemma, iCare Data Recovery provides you with a good solution to get back all inaccessible data without accessing the RAW drive. You just need to run this software to deep scan the disk drive in RAID 0 array when hard drive shows RAW file system asking to be formatted.
Information about RAID 0 Array
Simply say, RAID refers to Redundant Array of Inexpensive Disks or Redundant Array of Independent Disks. RAID 0 array is a stripe or striping volume created by combination of 2 or more hard disks. RAID 0 array features its faster access data and high performance. Data will be written continuously to each hard disk when you add files to RAID 0 volume. Thus, RAID 0 array provides data access rate higher than individual hard drive rates. For example, if you add 2 hard drives to create RAID 0 array, the data read and write transfer rates will be 2 time higher than individual hard drive. RAID 0 array does not provide data redundancy though it improved its performance, so RAID 0 is not used in applications that requires high reliability, but it is usually used in applications which needs high performance.
RAID 0 Failure Caused by Power Outage

you know, RAID 0 array is usually created by 2 or more hard drives. If your computer shuts down all of a sudden due to power outage or power surge when you are writing data to the RAID array, it might result in hard drive corruption. No matter how many hard drives you have added to create the RAID 0 array, it might cause RAID 0 failure problem as long as there is one hard drive is corrupted. Since RAID 0 array does not provide data redundancy to protect it against drive failure, all data stored on the array will get lost or becomes inaccessible when one or more hard drive is corrupted. In this situation, only data recovery software is helpful with all inaccessible data recovery. You had better not try to rebuild the array when it failed due to hard drive corruption, because this operation might result in data lost forever.
RAID 0 Failed When Hard Drive Has Bad Sectors
If there are bad sectors on one hard drive which is used to set up RAID 0 array, it might cause RAID array failure. Some people would like to run Windows built-in Error-checking tool to check and repair bad sectors on RAID 0 hard drive when they run into the RAID array failure problem. Sometimes, people will change a new hard drive to rebuild the RAID array when they find that one hard drive contains bad sectors. There is no problem if you do not need all data stored on the array. However, you should not rebuild the array if you still want to recover some files stored on the RAID 0 array which failed. Any operation you try to fix the failed RAID 0 array might lead data stored on the drive to be lost forever. Therefore, you should run iCare Data Recovery to get back all previous inaccessible data before fixing the RAID array failure problem.

---
Related Articles