Photo Recovery from Formatted Sony Camera Memory Card
"I am looking for a solution for photo recovery from formatted Sony camera memory card. Can anybody give me some advice? I bought this Sony digital camera several weeks ago. Today I wanted to edit pictures on my camera, but I mistakenly press the wrong button on my camera and perform a format on the memory card for my camera. Is there any method to restore photos from formatted memory card on a Sony digital camera?"
"Hi! I made a mistake on my digital camera and format the memory card which contains many precious pictures. There is nothing wrong with my camera or memory card expect that I can find noting on the card. How do I get back lost photos after formatting?"
"How to recover deleted photos in memory card free for digital camera after formatting?". This is a common question asked by many people who run into data loss problem. This article will share step-by-step guide on how to recover formatted memory card data for Sony digital camera.
First of all, keep the memory card for digital camera in a safe place to make it the best opportunity for data recovery. Never save new pictures or other data to this memory card before getting back what you need.
Photo Recovery from Formatted Sony Camera Memory Card
Truthfully, you need to rely on data recovery software in order to recover data after formatting. iCare Data Recovery Pro is a read-only data recovery tool, which is well designed for data recovery from various kinds of storage media to resolve data loss issues. Therefore, you are able to recover lost pictures after formatting memory card for Sony digital camera by using this data recovery software. iCare Data Recovery is a program which is compatible with Windows OS like Windows XP, Vista, 7, 8, 10, etc, so you need to connect the memory card for Sony camera to a Windows computer and recover lost pictures videos or other types of data after formatting.
Steps for Photo Recovery after Format Sony Camera Memory Card
Free download the software now for Sony CF card recovery, SD card recovery, XD card recovery, etc.

Preparation: Free download and install iCare Data Recovery on a Windows computer. Connect the formatted memory card to this computer and launch the software.
Step1. You can select a proper scan mode after running the software.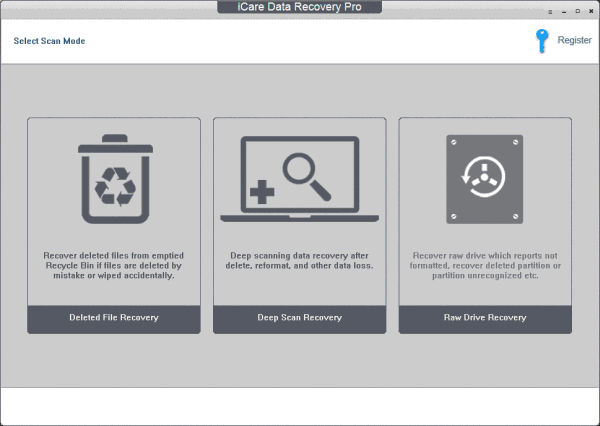 Step2. Choose the formatted memory card as aim disk and then you only need to wait patiently when the software is scanning to search lost files.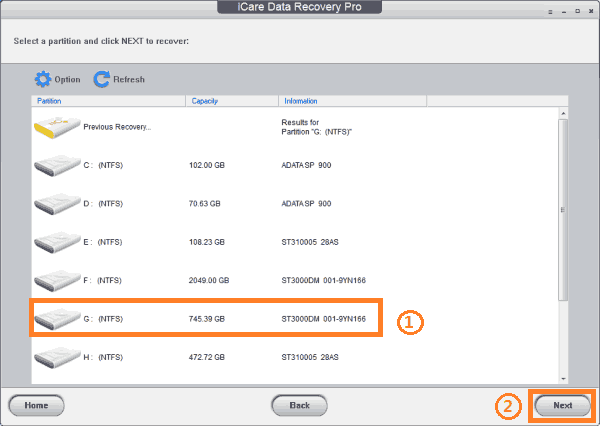 Step3. You are allowed to preview photos after scanning. Then, you can select the lost file and save them to another drive.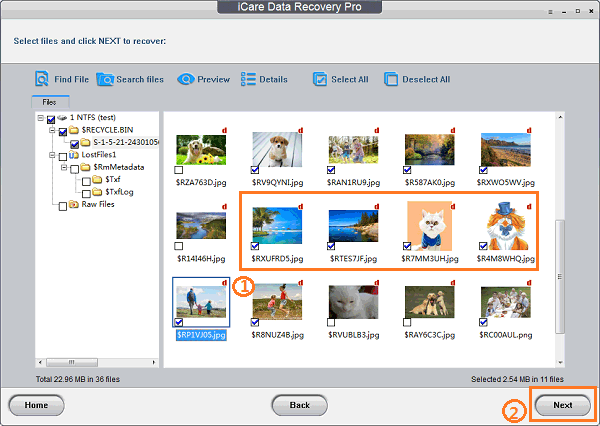 Retrieving Pictures after Formatting Sony Camera Memory Card by Mistake
You can format a memory card on the Sony digital camera or on your computer. t does not matter where you format Sony camera memory card, you will lose all data from the card once you confirm to perform the formatting. For example, you might mistakenly click "Format" option on your Sony digital camera when you viewing or editing files. Sometimes, even if you realize the mistake before the formatting is completed, it is too late to stop formatting. If you stop formatting during the process, the memory card will become inaccessible and show memory card not formatted error when you attempt to access it. Whether the formatting is completed or not, you are able to use iCare Data Recovery to perform lost photo recovery from formatted memory card for a Sony digital camera.
Data Recovery after Format Memory Card on Sony Camera on Purpose
Sometimes, you will format a memory card on Sony digital camera on purpose in order to free up memory card space or due to some other reasons. iCare Data Recovery enables you to restore photos as well as other types of files like videos, music, audios, etc after formatting digital camera memory card on purpose. Usually, you can use this data recovery software to resolve following data loss problems:
…
Related Resource about Sony Digital Camera Format Recovery
When referring to Sony digital camera format recovery, many people will think that they may perform format due to mistake or on purpose. In fact, there is another situation you may need to format digital camera memory card, namely memory card RAW format asking to reformat error. Should you format it or not when f you receive not formatted error message on a memory card in digital camera? Well, you should not format the camera card if you want to recover lost files. iCare Data Recovery allows you to restore files off Sony digital camera memory card when it has memory card not formatted error before the memory card is overwritten by new data or suffering physical damage.

---
Related Articles