Pentax RAW PEF PTX Image Recovery
How can you recover deleted pentax RAW PEF / PTX images after formatting or delete all by accident? Have you found some RAW PET photos missing or unreadable from your Pentax digital camera though you did not delete any file? If these are the problems you are facing, a data recovery program is helpful to get you rid of the situation.
iCare Data Recovery is a data recovery tool that works on Windows platform, with which you can resolve all data loss issues to recover deleted Pentax RAW PEF images.

Recover Deleted PEF / PTX Pictures for Pentax Camera
You can recover deleted PEF / PTX pictures for Pentax camera with this software to deep scan the SD card, CF card, memory card, flash drive, etc used for the data storage.
Formatted Pentax Memory Card RAW PTX Image Recovery
iCare Data Recovery also enables you to unformat Pentax digital camera to retrieve PTX images after formatting by mistake or on purpose.
Pentax RAW PEF Photo recovery in Other Situations
RAW PEF photos are recoverable in other situations such as Pentax camera requires formatting memory card, SD card for PEF photo storage is unreadable on Pentax camera or computer, etc.
Pentax RAW PEF / PTX File Recovery Guide
iCare Data Recovery is compatible with all Windows OS, so you need to perform Pentax RAW PEF / PTX file recovery on Windows computer after installing the software on your PC.
Step1. Launch the software on your computer and then select a proper scan mode.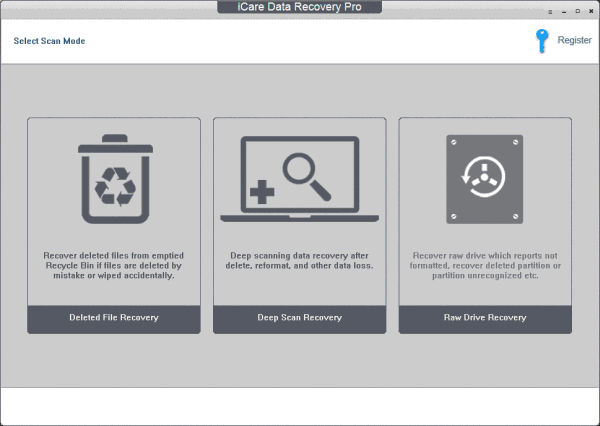 Step2. Choose the drive which contains lost PEF images and wait the software to scan it.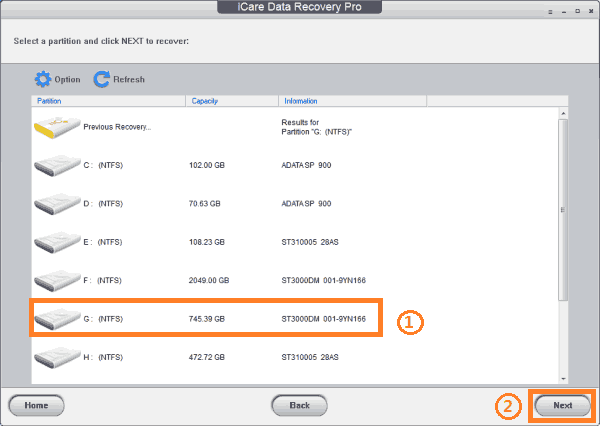 Step3. Preview some files when scanning is completed and select all RAW PEF images to recover.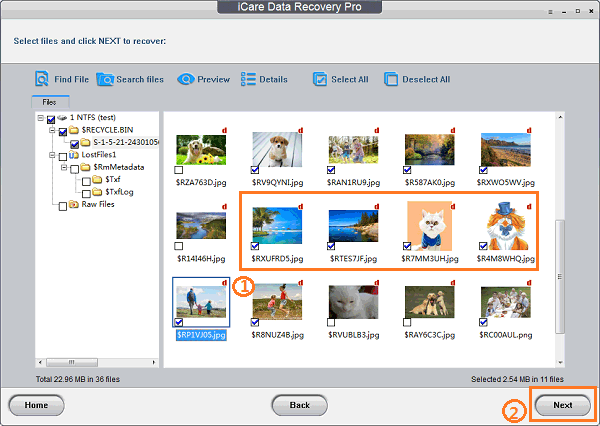 File Extension .ptx & .pef Information
Both .ptx and .pef are the filename extension of RAW image format used in Pentax digital camera. In most case, .pef is more widely used as the filename extension of Pentax camera RAW images. .ptx is used in several pentax digital cameras as the file extension of RAW images. Like other digital camera RAW image format, Pentax RAW PEF / PTX image is also an unprocessed file with no compression, color adjustment, exposure, etc. When you take photos with your Pentax digital camera and save them in RAW format, the photos usually remain the best quality but also take up large space since it is uncompressed.
What Program Do You Need to Open a PEF File?
You can directly open a PEF file on your Pentax digital camera because it is the special RAW image format in this kind of digital camera. In addition, you can open a PEF file on both Mac and Windows computer.
You can open PEF / PTX images on Mac OS with program like Pentax Photo Browser, XnView, Adobe Photos CS5, Google Picasa, and Adobe Photoshop Elements for Mac, etc.
Open PEF / PTX photos on Windows OS with program such as: Pentax Photo Browser or Photo Laboratory, Microsoft Windows Photos, VnView, Adobe Photoshop CS5, Google Picasa, etc.
What is more, you can also view a Pentax RAW PEF image on Android phone or Apple iOS after installing Adobe Photoshop on the device.
How to Show the File Extension of Pentax RAW Pictures on Windows?
Filename extension (also known as file extension) is important for a file, which indicates a characteristic of the file content. However, sometimes PC may hide the filename extension. How to show the file extension of Pentax RAW photos on your computer?
Show file extension for all files on Windows: Open "My Computer" > click "Tools" > click "Folder Options" > click "View" and then make sure the "Hide extensions for known file types" is not selected and click "OK".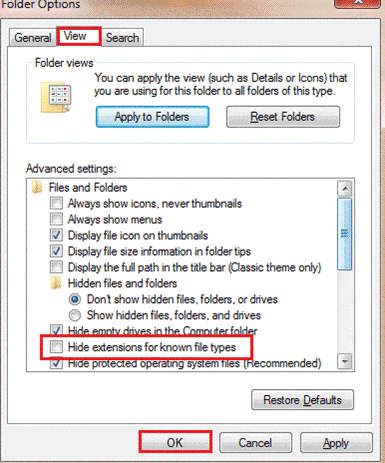 ---
Related Articles