Recover files from RAW pen stick drive

iCare Data Recovery Pro - the right solution for pen stick raw
When pen stick has problems and lost files, iCare Data Recovery can efficiently restore lost files including photos, files from pen drive when it has been formatted, reformat by mistake,or pen drive not showing in disk management damaged and cannot be read by computer or other devices, deleted files by mistake or due to human errors...
iCare Data Recovery Pro will search all possible data on pen stick and then list them and show them for you to perform RAW drive recovery free. All you have to do is to download a free trial and search lost files now.

Steps to Recover Files from RAW Pen Stick
Download pen drive data recovery freeware - iCare Data Recovery and then follow the guide below to restore any type of files from the RAW drive:

Step1. You need to insert the RAW pen stick to a computer. Download and install the data recovery software. Launch the software and select a recovery module.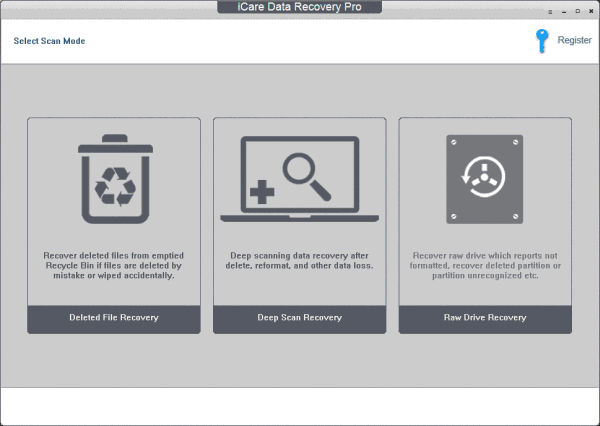 Step2. Choose the RAW pen stick and let the software scan it for lost files. You just need to wait when the software is scanning.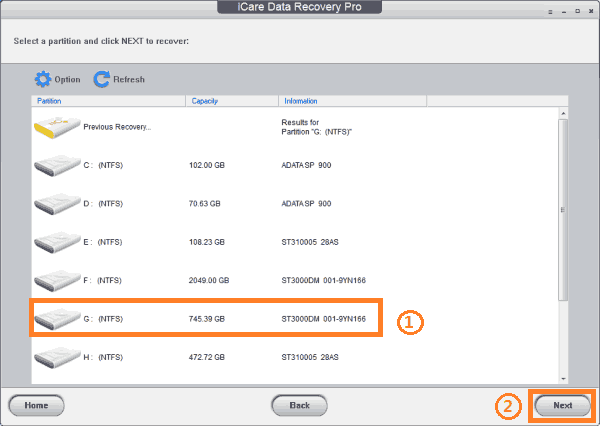 Step3. You can preview the files after scanning. Then, you can select the files you want to recover and save them.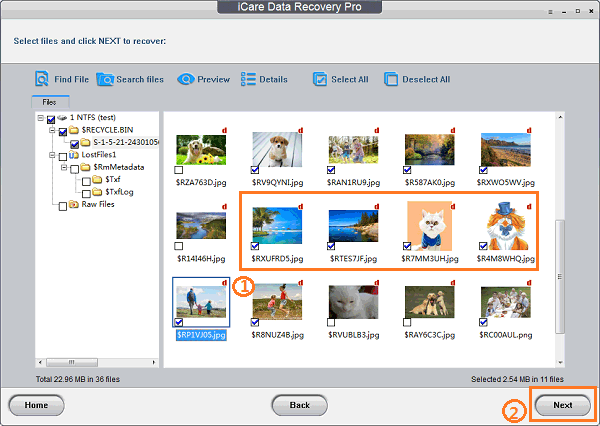 ---
Solution for pen drive raw
The term RAW is basically used for accessing the data from disk storage, hard drive or some other kind of media instead of some proper file system.  You can not get access on files on the raw disk and if you try to access the files you will often get a message such as "disk is not formatted" and then it will provide you two options that whether you want to format the disk or not. The pen drive is not readable if you do not format it. However, if you format pen drive, you will lose files on the drive. Therefore, you can format pen drive to change RAW drive to FAT32 after data recovery.
==>> If PC fails to format RAW pen drive, please visit this page - Windows cannot format>>
How pen stick raw gets infected
Sometime pen stick raw get some problem because of some virus which infect it badly or in some situations when pen boot sectors get some problem because of some software malfunction. In some cases some hardware malfunction causes bad sector problem in pen stick raw. In some cases you get an error message as sector not found. In some cases you get a error message like pen drive not formatted or usb stick not formatted. Some problems like drive interface problem and power supply problem causes the flash drive partition to become raw. So in RAW drive it is difficult to access your data or sometimes some of your data might be lost when you want to access that data.
How to recover your data from pen stick raw?
It is possible to recover a raw disk but if you will choose the option to format the drive then you can access the disk again but in that situation all of your data will be lost which was there in that disk. When you format a drive your some files could get corrupted or you may loss all of your data in that disk. So in that situation you should not choose the format option because you might loss your important data in this way. You can recover your data from pen stick raw by using some software which could easily recover your data without harming your data or without any of your important files loss.
Which is the best tool to recover data from pen stick raw?
If you are in search of a quality tool which can recover your files without any loss of your important data then iCare Data Recovery Pro is there which can recover your data without damaging your files or without any kind of files loss. iCare Data Recovery Pro is known as the best software to Recover formatted drive. Some other kind of software is also available in the market but they are not efficient enough to recover your data without any loss of files.
Software other than iCare Data Recovery often causes files loss while recovering your data. So now its up to you that you want to recover your data without losing any of your important data by using iCare Data Recovery Pro or to use some other software which does not provide guarantee to recover all of your files. iCare Data Recovery Pro is the best tool available in the market to recover removed files.
In addition to pen stick, have you ever run into the similar RAW problem on other storage media like memory card? Do you want to recover data from not formatted memory card when it reports RAW? If so, you had better not format SD card in digital camera / Android phone / PC or other types of card. iCare Data Recovery is also available for RAW unformatted memory card data recovery before data is overwritten.
What is more, iCare Data Recovery software is able to recover files from CF card when you mistakenly delete files or formatting Compact Flash card.
---
Related Articles
Hot Articles