Pen Drive Is Unable to Format Solution
"I need help for pen drive data recovery that is unable to format. Can anybody share some useful information? My pen drive reports RAW file system on my computer and it asks me to reformat the disk drive when I attempted to open it. After clicking to format it, I receive another message Windows was unable to complete the format. What can I do to open a pen drive which is unable to be formatted on Windows?"
"Is there a solution for pen drive not formatted problem? My pen drive reports not formatted alert when I click it on my PC, but Windows cannot format the pen drive due to some reasons. Now, I want to open my pen drive in order to read some data, but pen drive detected but not opening because it cannot be formatted. What can I do to access data from a pen drive which cannot format?"
"Hello! How do I access a RAW pen drive when it was unable to reformat after connecting to computer? I need to access this pen drive because it contains much important data. How to recover data from pen drive which has RAW error?"
Pen Drive RAW File System Not Formatted
From all users above, you probably know that you often encounter the unable to format error when attempt to format a pen drive that shows RAW file system and requires formatting. A pen drive would turn to RAW file system due to many reasons and all data on it would become inaccessible.
==> Vist this article for RAW drive fixing
A pen drive is usually used for data storage or transferring. If it becomes inaccessible or unreadable due to not formatted error, everything stored on the pen drive might be lost permanently. However, you do not need to panic. At least, the pen drive is still recognized by PC, so you have a good chance to get back everything you need when it shows unable to be formatted error.
==> Visit this page to learn why pen drive was unable to be formatted - Windows unable to format solution

>> Solution for Data Recovery When Unable to Format Pen Drive
Download iCare Data Recovery Pro to recover files first of all from the pen drive when it says that Windows was unable to complete the format.
Data Recovery When Pen Drive Is Unable to Format
When pen drive has not formatted error, the most important thing is to ensure not to overwrite the previous data or damage the pen drive. Therefore, it does not matter that you are unable to format the pen drive from RAW to FAT32. If you want to get back lost data from the pen drive, you need to rely on data recovery software – iCare Data Recovery Pro . It is a read-only data recovery tool that enables you to recover all inaccessible files off a pen drive when it changes to RAW format or cannot be formatted. Here is a simple guide to lead you to recover files off a pen drive when it cannot format:

Step1. Download and install iCare Data Recovery on computer. Launch the software and select a proper scan mode.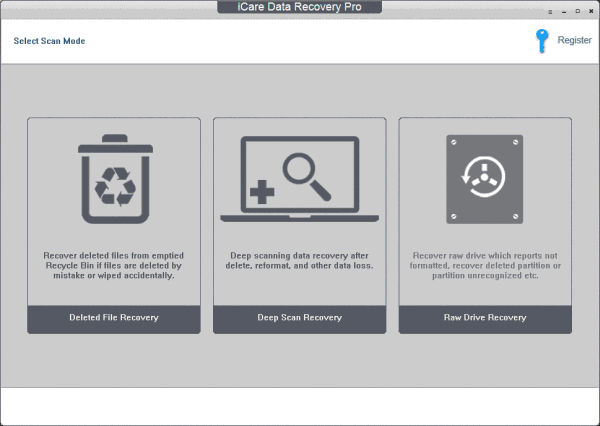 Step2. Select the RAW pen drive and wait the software to scan it for lost data.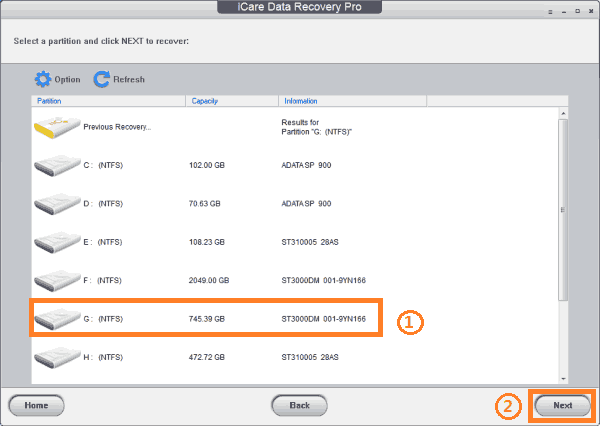 Step3. Preview the lost files and then save the needed data to another drive.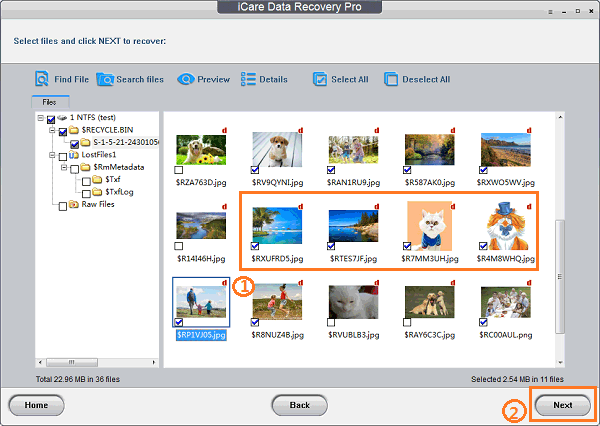 How to Fix Pen Drive Unable to Format Error?
If you want to fix the RAW error but pen drive is unable to format, a simple way is to download a format tool to format the pen drive. Usually, a format tool enables you to format a RAW pen drive easily, but there is no guarantee that it will not cause any damage to your pen drive by using format software.
==>> More solutions for error fix when pen drive is not able to be formatted, you can refer to Windows cannot complete format solution.
Windows Unable to Format Pen Drive
A pen drive must be connected to a computer that is compatible with it in order to make it usable for data storage or transferring. A pen drive, also called USB flash pen drive, usually has capacity including 1GB, 2GB, 4GB, 8GB, 16GB, 32GB, 64GB, 128GB, 256GB and 512GB. For pen drive whose capacity is less than 32GB, it usually has FAT16 or FAT32 file system. If the capacity of a pen drive is larger than 32GB, it was usually formatted with exFAT file system.
If Windows reports it is unable to format pen drive, the file system usually has changed to RAW.
==>> You can refer to this article Windows reports unable to format error for fixing problem on pen drive which cannot be formatted by any Windows OS
For instance,
>> Windows XP was unable to format pen drive
>> Windows Vista cannot format pen drive
>> Windows 7 is not able to format pen drive
>> Windows 8 cannot format pen stick
>> Windows 10 failed to complete format USB pen drive
Note:
Some users would like to format a pen drive into NTFS file system because NTFS usually has a better performance than FAT32. However, your pen drive is more prone to be corrupted after reformat to NTFS file system. You can reformat a pen drive to exFAT for a better performance!
SanDisk Pen Drive Cannot Format
SanDisk is a large corporation that manufactures various kinds of products, among which pen drive is famous to all.
==> Visit this page to guide you fix SanDisk pen drive cannot format problem
You can also refer to this page to resolve the same problem on other brands of pen drive such as Samsung, Toshiba, Transcend, Kingston, Lexar, and more.
Format Is Not Completed on Damaged/ Corrupted Pen Stick
Physically damaged pen drive is unable to be used unless you send it to professional pen drive repair center!
How to know pen stick is physically damaged?
In following situation, your pen stick is usually physically damaged:
>> Then chip of pen stick was broken
>> Windows cannot find new hardware when you connect the pen stick to your computer (make sure that USB port of your computer works fine)
If pen stick is still recognized by Windows platform but it shows error message and PC cannot complete the format, you still have chance to repair the corrupted pen stick all by yourself.

---
Hot Articles
Related Articles