Pen Drive Data Recovery
You will run into data loss problem on a pen drive due to various kinds of reasons. In most cases, data from pen drive is recoverable by relying on pen drive data recovery software. Below are the common situations for pen drive data loss:
Mistakenly delete files from USB pen drive
Pen stick is corrupted and inaccessible
Reformat pen drive by accident
More other unknown situations
…
Pen drive lost data due to reasons above can be restored by relying on data recovery software if you do not put new files to the pen stick.
How to Repair Files from Pen Drive
For pen drive data recovery, the first thing you should remember is not to write new file to the pen drive. Then, you can rely on iCare Data Recovery to restore lost files from the pen drive. it is a read-only program, which is available for data recovery software from any storage media including different brands of pen drive. By using this data recovery software, you can restore photos, videos, music, office files, emails, etc after deleting, reformatting or when pen stick RAW and needs to be formatted. The data recovery software even helps recover files when pen drive not detected in windows 10.
Steps to Recover Data off Pen drive

Step1. Insert the drive to Windows operating system. Run the pen drive recovery tool and select a scan mode..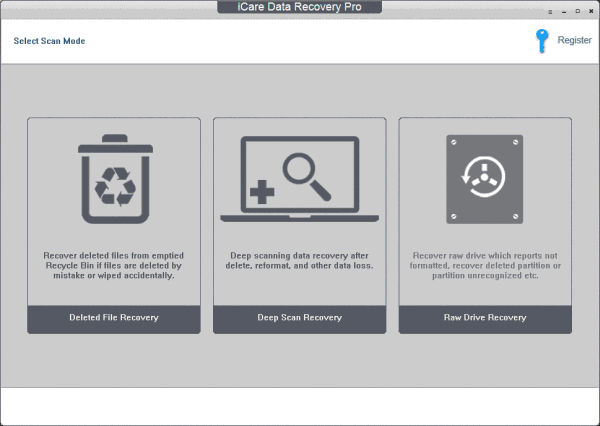 Step2. Choose the pen stick to find lost data.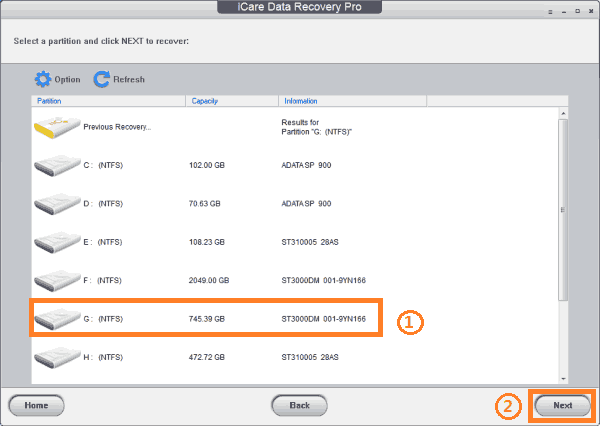 Step3. preview the some data and then save all files you need.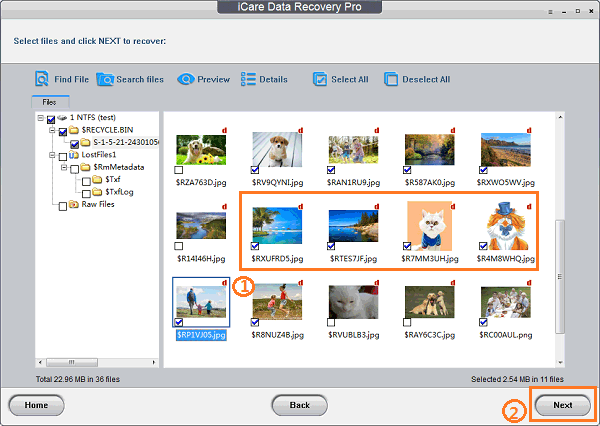 Recover Deleted Files from Pen Drive
Have you accidentally deleted files off pen drive? When you delete files from a pen drive, deleted data will not be moved to Recycle Bin, so you would believe that files have been deleted permanently. However, in fact, files are not deleted forever. Deletion only erases the files name and entries to the files, but the real data is still on original place. Therefore, try iCare Data Recovery to undelete files from pendrive whether you delete them by mistake or on purpose.
How to Unformat USB Pen Drive?
Are you doubt if it is possible to unformat pen drive to recover files? Probably, you will format your pen drive due to different kind of reasons. The good news is that you can always get back data only if the lost data is not overwritten because formatting only mark the space on pen drive as available for new data storage. Therefore, with iCare Data Recovery, you can unformat USB pendrive and recover data after formatting.
CHKDSK RAW Error – Change Pendrive Format RAW to FAT32
Receive CHKDSK RAW drive error on pen drive and want to convert RAW file system to FAT32? Usually, you can change RAW to FAT32 by formatting, but you need to run iCare Data Recovery software to extract files off the RAW drive before formatting. The data recovery software helps restore any type of files from pen drive when it reports RAW file system and asks to be reformatted.
Cannot Format Pen Drive – How to Access Pen Drive Asking for Format without Formatting It?
How do you use pendrive when it shows disk not formatted error? Pen stick warns not formatted error message but you cannot compete the format because you receive another message saying Windows failed to format"? if you receive such kind of error message, probably there are bad sectors on the pen drive, so you can run Windows Error-checking tool to check bad sectors on the pen stick. Or probably, pen drive is affected by virus and it cannot be formatted. Anyway, you can also rely on third-party format tool to format the unformatted pen stick if you insist on reformatting it when receiving the message.
---
Related Articles