Panasonic Laptop Data Recovery
Is it possible to recover lost data on Panasonic laptop? It depends on the reasons why data got lost on the Panasonic laptop. Generally speaking, data is usually unrecoverable if there is physical damage to Panasonic laptop or hard drive installed on the laptop. In most cases, data is recoverable when it got lost on Panasonic laptop due to following reasons:
Accidentally format Panasonic laptop hard drive
Mistakenly delete files from Panasonic notebook hard disk drive
Disk drive needs to be formatted on Panasonic laptop
Format memory card by accident on Panasonic laptop
USB flash drive is not accessible after plugging to Panasonic laptop
Data loss from external hard drive, pen drive, memory stick, SD, XD, micro SD, thumb drive, etc on Panasonic notebook
How to Recover Data on Panasonic Laptop?
iCare Data Recovery Pro is a data recovery tool, which is compatible with all brands of laptops and desktops to recover data. Therefore, you can use this software to recover files on Panasonic laptop:

Step1. Free download and install iCare Data Recovery on Panasonic laptop hard drive. Then, run the software and select a proper scan mode.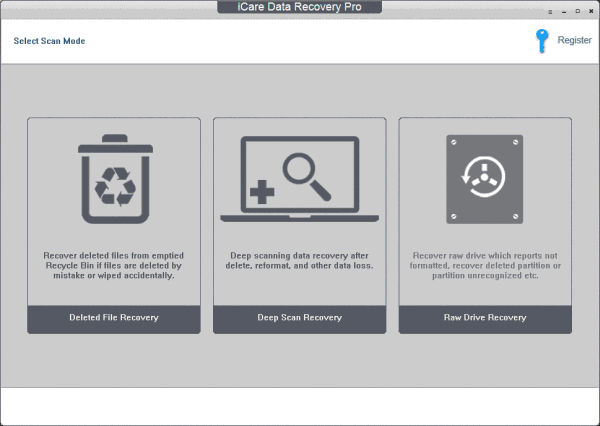 Step2. Choose the disk drive where data got lost and then wait the software to scan it to search lost files.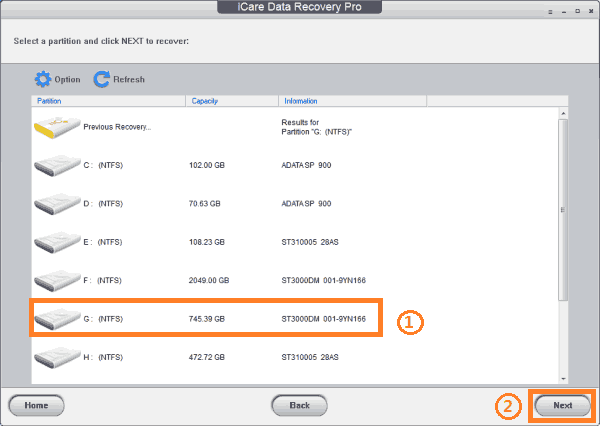 Step3. Preview files after scanning and then the lost data to another drive.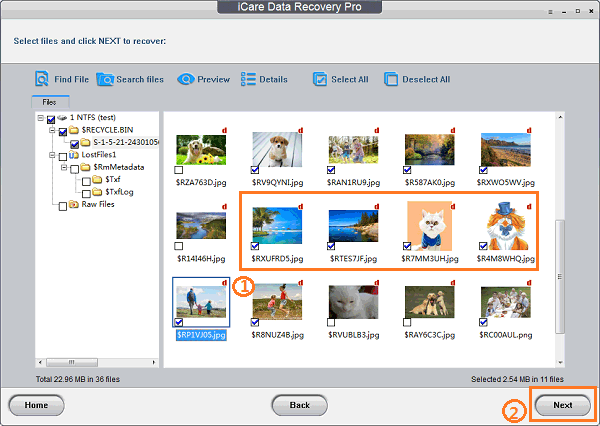 Panasonic Laptop Deleted File Recovery
You must have ever deleted files on your Panasonic laptop due to this or that kind of reason. iCare Data Recovery works as undelete software to restore any file after deleting from hard disk drive, portable hard drive, memory stick, memory card, USB flash drive, pen drive, recycle bin, etc on  your Panasonic laptop.
Format Recovery on Panasonic Notebook
What does format a disk drive mean? You know, it will erase a disk drive in a few seconds when you perform a format on Panasonic notebook. Whether you format an internal hard drive or mistakenly format external hard drive on Panasonic notebook, you can use iCare Data Recovery to unformat the disk drive to get back all lost data.
Panasonic Laptop Reports Disk Drive Not Formatted
Did you receive disk drive not formatted error on Panasonic laptop like "memory card is not formatted do you want to format it now", "SD card is not formatted do you want to format it now", "external hard drive is not formatted do you want to format it now", "pen drive is not formatted do you want to format it now", etc? You Panasonic laptop might report such an error message on any storage media, in which situation you only need to use iCare Data Recovery to extract all inaccessible data without formatting the media.
Panasonic Laptop Hard Drive Failures
When you buy a new laptop, it has built-in hard disk drive. In addition to deletion and formatting, you might need to recover data on Panasonic laptop hard drive in some other reasons. For example, hard disk drive cannot be used for a lifetime. Sometimes, a hard drive might be damaged or corrupted, in which situation you cannot access data stored on the drive.
1. Hard drive becomes not accessible because it contains bad sectors. A hard drive was usually formatted into many sectors and data will be stored to each sector on the hard drive. If a hard drive contains too many bad sectors and all data is right stored on those bad sectors, the hard drive might become not accessible.
2. Hard disk stops working normally because it is infected with virus. You need to run antivirus software to scan and erase all viruses so as to fix the problem.
3. Hard disk drive is physically damaged. It is usually a terrible problem if a hard drive gets physically damaged because it often means that you are unable to get back lost files.
How to Buy a Proper Hard Drive for Panasonic Laptop?
If a hard drive is physically damaged, you need to buy a new hard drive to install in your Panasonic laptop. A good hard drive is important to any computer, so it is necessary to choose a good hard drive for your Panasonic laptop. Usually, you can buy a hard drive online or go to hard drive sale shop. If you are not familiar with hard drive, you can go to some popular website to select brand hard drive like Seagate hard drive, WD hard drive, Samsung hard drive, Kingston hard drive, Toshiba hard drive, etc.
Panasonic Laptop System Upgrade
Almost all brands of laptops are compatible with Windows operating system except that Macintosh computer is compatible with its own Mac OS. Microsoft has developed and released Windows 10 operating system for its users, so somebody would like to upgraded operating system to Windows 10 on their Panasonic laptop. If your Panasonic laptop was running Windows 8 operating system, you can simply upgrade it to Windows 10 without causing any damage or data loss. However, if your Panasonic laptop was running Windows 7 or previous operating system, you are unable to upgrade it to Windows 10 directly. You probably need to reinstall system to upgrade your Panasonic laptop to Windows 10 OS.
Data Recovery after Panasonic Laptop System Upgrade
As mentioned above, it does not cause any data loss if your upgraded Windows 8 to Windows 10 operating system on your Panasonic laptop. However, if you make any mistake during the upgrading process, some data might be lost. If you lose any data due to upgrading OS on your Panasonic laptop, you can try iCare Data Recovery to restore data before writing new files to your computer.
More Malfunctions on Panasonic Laptop
A computer does not always work normally, so you might encounter many problems on your Panasonic laptop.
Panasonic laptop blue screen of death
Panasonic computer black screen of death
Panasonic laptop operating system crash or malfunction
Corruption or failure of Windows registry on Panasonic laptop
Panasonic laptop partition table errors
Panasonic PC hard drive is not recognized or detected in BIOS
Malware or virus attack on Panasonic laptop

---
Related Articles