Mistakenly Deleted Files from RAID 5 Drive
Accidentally Delete Files from RAID 5 Drives on Windows Computers?
Case1: Hello! I have made the biggest mistaken recently. Please help me! In fact, yesterday, I just mistakenly open the RAID 5 Hard drive with 1 TB capacity instead of a hard drive there with 560GB capacity and coincidentally deleted a folder named file inside this RAID 5 hard drive wrongly at last. Honestly, I do have ever tried to undelete hard drive files from an external hard drive with delete file recovery software before and think whether that data recovery software also works in this case. But, this time, it is not a external drive, but, only a RAID hard drive. I am not sure. Can I still use this deleted file recovery software? Or do I have to select another special RAID hard drive deleted file recovery applications out there to take my deleted folder back? Thanks for any clue here! 
Case2: Hello, friends! I do have 5 hard drives used on my RAID 1 array and recently accidentally deleted one of the volumes used on these RAID 1 hard drives and many files and folders stored there are also deleted. What am I supposed to do now? Can I recover deleted data from recycle bin? Is that deleted volume destroyed completely? Is that possible for me now to recover deleted hard disk files on Windows 7 PC? Thank you in advance!
Hello! Find out all your RAID hard drive backups and see whether you can find some useful copy of the original hard drive data for future use. If you do have found no extra data copies or realized most of your deleted files have not been backed up elsewhere yet, also do not panic! Data recovery software still could be the chances to take deleted files, audios, photos, documents, mails and more contents back from that RAID 5 hard drive.
Video - Recovery deleted files from media with iCare Free
Deleted File Recovery Software also Works on RAID Hard Drive after Mistaken Delete
No matter whether you've experienced similar deleted file loss troubles before, you may already know that the lost files stored on an external hard drive, flash drive, SD card, CF card and other memory card is able to be retrieved back with the help of deleted file recovery software after unexpected deleting or shift deleting operations. And fortunately, when it comes to computer RAID hard drives, it still works. After deleting very important files off from RAID 5 hard drives, you are also able to take missing data from this RAID drives with deleted file recovery tools before you really damage these original files with fresh data written on the same storage device.
Therefore, before the situation goes worse, go apply deleted data recovery software to get your RAID hard drive files back like this:
Step1. Run the launched data recovery software on your PC and choose practical data recovery modes to go on.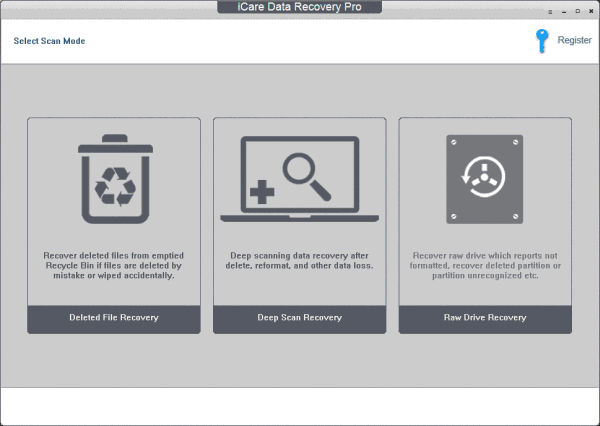 Step2. Select this RAID hard drive with deleted file loss troubles to scan and preview scanned files.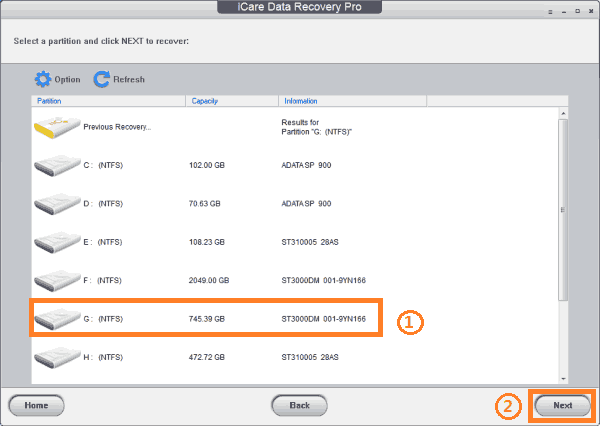 Step3. Recover the desired RAID hard drive files to another storage device in case of losing more data.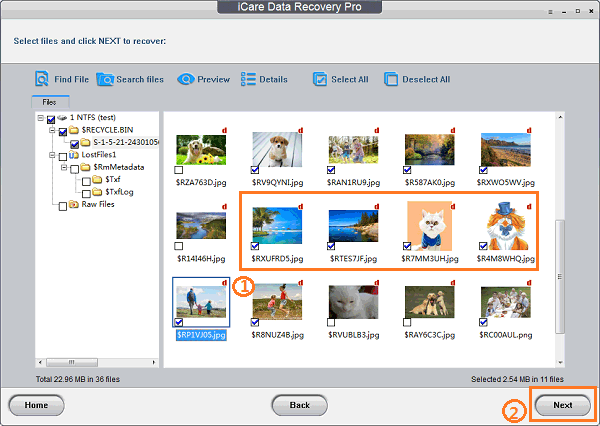 Please Note:
*Choose a different RAID hard drive or USB hard drive to hold all retrieved information in case of data recovery failures.
*Apply data recovery software trial version to your PC and see whether it could help you successfully recovered original data as much as possible.
* Make RAID hard drive data backups as well in the future.
More Questions and Answers about RAID 5 Hard Drive File Recovery:
iCare Data Recovery is useful for deleted files recovery in Windows when running into following questions:
Question1: Can take original RAID 5 hard drive data back when drive is corrupted somehow?
Answer: Hello, friends! Whether the lost data could be restored back from corrupted RAID 5 hard drives often depends on whether this hard drive could be recognized by both of the computer and data recovery software. When your RAID hard drive is seriously and mechanically damaged and could not be recognized by any computer, even with the most effective data recovery software, you often also get no promising chance to take original drive data back. And then, if the drives could be detected by your PC and cannot be recognized by your selected data recovery software, you also get no high chance to review lost data. Merely go retry another data recovery software or data recovery agencies for help. 
Question2: Can recover files, photos and more from RAID 5 hard drive after quick or full format?
Answer: Yes, you are indeed possible to recover data from formatted RAID 5 hard drive. Why? Just like deleting something accidentally, when you do have performed a quick or full format on your RAID5 hard drives, the original drive files are not also destroyed and still left on this drive somehow. Before they are replaced by new data on the same RAID 5 drive, the above mentioned hard disk data recovery software still could be your chance to recover permanently deleted files from RAID 5 hard drive after formatting.
Question3: Can get lost data back from RAID 5 hard drive with CHKDSK RAW drive error?
Answer: Yes, you are able to recover data from RAID 5 hard drive with CHKDSK RAW drive error as long as this drive is not overwritten or formatted yet. Why? The CHKDSK often is not available when your computer RAID hard drive becomes RAW file system and cannot be properly recognized. However, that RAW file system error doesn't mean all your original drive files are already lost or corrupted. Oppositely, they are still stored on this RAID drive and only inaccessible right now. In order to let them accessible and useful again, hard disk RAW file recovery software is what you need. Hence, go search and run one to take chances when you do stuck in such RAW RAID hard disk data loss troubles.
---
Last updated on Aug 30, 2021
Related Articles