Micro SD Card RAW File System - Fix RAW SD Micro SD
Last updated on 24/04/2018
Do you have a micro SD card for your cell phone but the micro SD card shows RAW file system with unknown reasons? Do you have lots of important data on your micro SD card when it turns to RAW format? If you do not backup the important data to another place, is there any way to get back the lost data from an inaccessible corrupted micro SD card that is saying RAW drive error?
Micro SD Card RAW - Data Recovery
For file recovery from micro SD card which reports RAW file system, you should not format the RAW micro SD card. What you should do is to use iCare Data Recovery Pro to extract files off the inaccessible micro SD card. This data recovery tool supports all brands of micro SD card such as SanDisk, Sony, Samsung, PNY, Lexar, Transcend, etc to restore all kinds of lost files. Now, you can follow the steps below so as for RAW micro SD card recovery:

Step1. You can select an option on the interface of the software and launching it.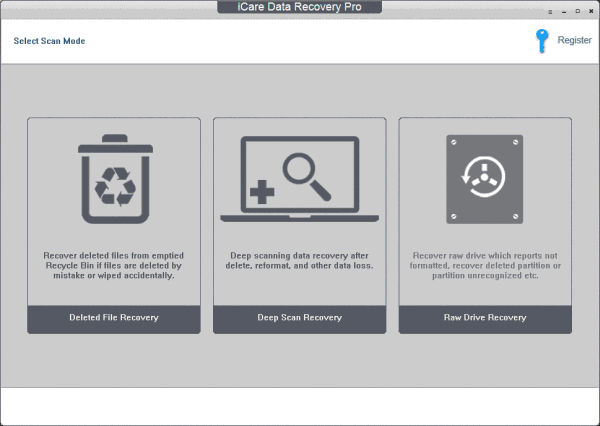 Step2. Choose the micro SD card as aim disk and wait the software to scan it.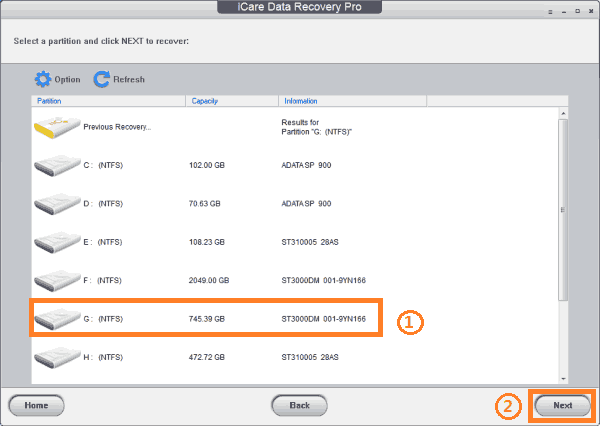 Step3. You can preview the found files after scanning and then save the needed data to another drive.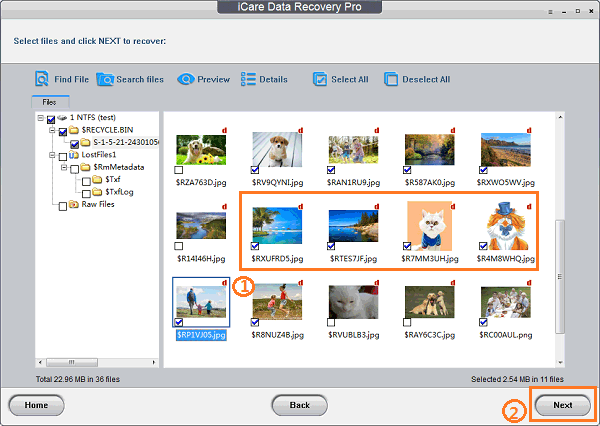 4GB/8GB/16GB/32GB/64GB Micro SD Card in RAW File System
All Micro SD cards have the same exterior, but they have various storage capacities. When you buy a micro SD card, you can see what its capacity is on the exterior of the card. In general, you can find micro SD card in 1GB, 2GB, 4GB, 8GB, 16GB, 32GB, 64GB and even more. After inserting a micro SD card to your phone, you can view its capacity in Settings app (there is some difference on different brands of mobile phones). You can also insert the card to PC to view its Properties to see its capacity.
When any capacity of micro SD card is in RAW file system, it would turn to 0 byte space.
How to Fix Micro SD Card RAW Error?
You can format micro SD card from RAW to FAT32 on your computer. This is the most common method to repair raw problem on all digital devices. In addition, you may also repair micro SD card RAW with CMD or RAW to FAT32 converting software.

Recommend: Windows Cannot Format RAW MicroSD Card>>
Situations for Micro SD Card RAW Format
Most people have ever run into micro SD card RAW format problem. Here are some related cases:
"Today, I connected my microSD card to my computer and wanted to move some photos, but my computer could not recognize the micro SD card as a normal external disk, but the micro SD card shows RAW drive. I cannot read any data from my micro SD card, so I want to know how to get back inaccessible data from RAW micro SD card."
"I need some help to resolve the problem that my micro SD card turns to RAW format. Is there a method to convert RAW to FAT32 without formatting micro SD card?"
"Does anybody know how to get back files from micro SD card because it changes to RAW file system? Please show me if you know."
"My micro SD card has 0 byte space and changes to RAW. How do I rescue my data from this inaccessible micro SD card?"
The Bottom Line for Photo Recovery on Micro SD Card Which Turns to RAW
You may store lots of important photos or other files before micro SD card turns to RAW file system, but all data will become inaccessible when micro SD card shows RAW. iCare Data Recovery helps recover data from RAW drive on Windows computer. Download the software now!

---
Related Articles
Hot Articles