LG Smart Phone Does Not Recognize SD Memory Card
Last updated on Aug 30, 2021
"Hi! My LG smart phone does not recognize SD memory card. I bought the LG smart phone several months ago from eBay. I have used this SD memory card for about 4 years. Since my old phone was broken, I inserted this SD memory card to my LG smart phone. The SD card always worked fine on the LG during the last several months, but today it is not recognized by my phone when I went to the memory card to view some photos. What to do to read data when SD card is not recognized by LG smartphone?"
"My SD memory card is not recognized when inserted in my LG mobile phone. Connecting the SD memory card to my computer, Windows system recognizes it as a removable disk. However, system says please insert a disk into drive when I attempt to open the SD memory card. I do not know what happens to the card. Is the SD memory card corrupted? How to recover deleted photos from memory card of mobile phone when LG phone and PC reports SD memory card is not recognized?"

Quick fix -> SD card not detected in mobile phone fix
LG mobile phone cannot recognize SD card inserted in it? Want read data or write new files to the SD memory card but have no idea to make it work again? Do not worry! It does not mean that all data is lost though LG smart phone fails to recognize the SD memory card. To some extent, you are able to get back inaccessible files from an unrecognized SD memory card for LG mobile phone. This article will tell what you need to do for corrupted SD card recovery when it is not recognized on LG smartphone or computer.
Data Recovery When LG Phone Does Not Recognize SD Card
LG smart phone will fail to recognize an SD memory card inserted in it due to many reasons, but you are able to extract all files from the unrecognized SD card by using a data recovery tool. iCare Data Recovery Pro is a Windows-based data recovery program for data recovery from corrupted SD memory card as long as it is not physically damaged. This data recovery software supports various kinds of SD memory card such as micro SD, mini SD, SDHC, SDXC, etc from any brand like SanDisk, Samsung, Toshiba, Lexar, Transcend, etc. This software works for different types of LG smart phone when SD memory card is not recognized, but you need to perform Android data recovery on Windows PC because the software is only compatible with Windows OS.
Steps for LG Smartphone Unrecognized SD Memory Card Recovery
Free download the data recovery software now for deleted files recovery from SD card when it has unrecognized error:

Preparation: Free download and install iCare Data Recovery on a Windows computer. Connect the LG smart phone SD memory card to this computer and launch the software.
Step1. You need to select a proper scan mode after entering the main interface of the software.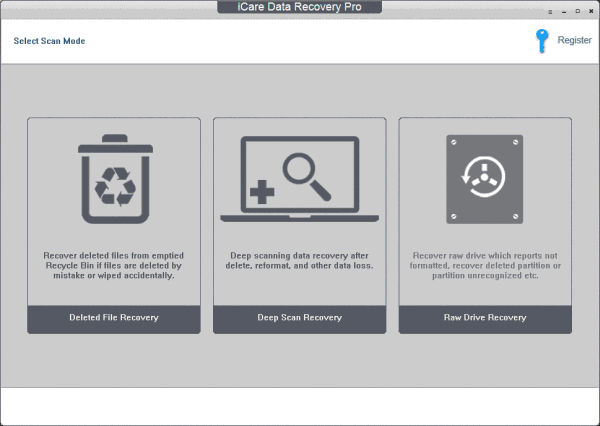 Step2. The software will show all drive and then you only need to select the SD memory card to scan. You need to wait patiently when the software is scanning to search lost files.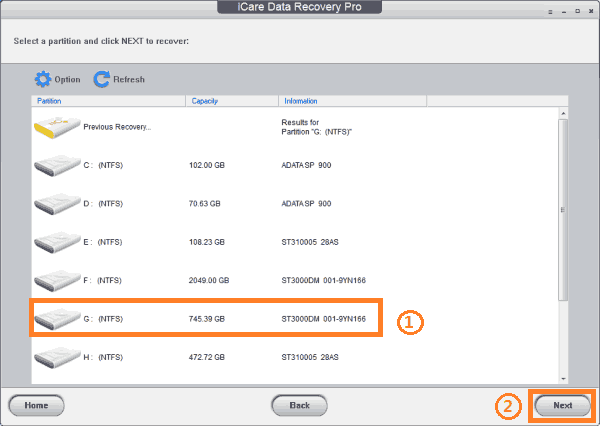 Step3. You can preview files after scanning and then save the lost files to another drive.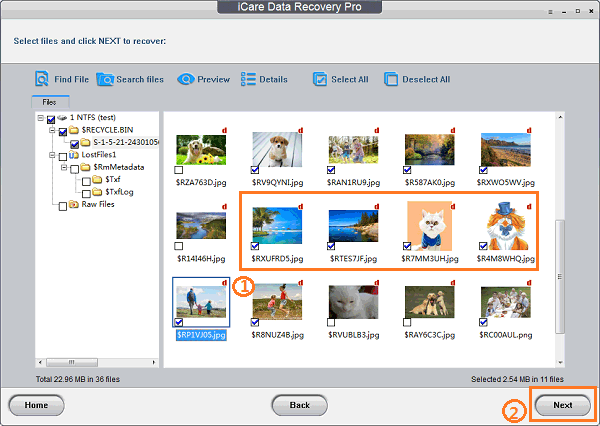 What to Do When LG Mobile Phone Cannot Read SD Memory Card?
The most important point: Stop using the SD memory card whether in your LG mobile phone or any other devices.
When you realize that your SD card becomes unreadable on your LG mobile phone, you can insert the card to another phone or computer to check if it can work normally. If the SD card is not recognized any device, you should stop using it immediately. Improper operation does not help resolve the problem, but it might make the situation even worse. Therefore, before getting a useful method to solve the problem, you had better stop using the SD card to avoid unexpected damage to the card or overwriting the SD memory card if you need SD card recovery.
LG Phone SD Card Shows Unrecognized File System
Usually, a LG mobile phone is able to recognize an SD memory card that has FAT32 file system. PC will recognize an SD memory card that has FAT32 or NTFS file system. If both LG smartphone and PC fail to recognize SD memory card, probably its file system is corrupted. An SD memory card will get corrupted due to reasons like virus infection, bad sectors and improper operation and so on. In this situation, you can check if the SD card has unsupported file system. For example, the SD card might become RAW file system, in which situation it will not be recognized by LG mobile phone or computer. iCare Data Recovery allows you to retrieve data off an SD memory card which has unsupported or unknown file system. After data recovery, you can make a copy for important data to avoid data loss again in the future.

also read -> SD card not detected in mobile phone fix
---
Last updated on Aug 30, 2021
Related Articles
Hot Articles