LG Cell Phone Reports Unformatted Error on Micro SD Card
Last updated on 06/02/2018
"My LG cell phone reports unformatted error on micro SD card whether I want to read or write data on this card. It says micro SD card is not formatted do you want to format it now without allowing me to accessing any file. Can I format the micro SD card without deleting the previous data? Or can I fix the unformatted error on my corrupted micro SD card for LG mobile phone without formatting?"
"Hello! I got an unformatted error on my micro SD card when inserting it to my LG smartphone. My phone reported that micro SD card needs to be formatted before I can use it. My PC reported the same error when I plugged the LG phone to it. Is there any way to resolve micro SD card unformatted error so that it can work normally on my LG smartphone? I also want to get back all inaccessible data from this unformatted micro SD card. Can anybody tell me solution for unformatted micro SD card recovery?"
LG smart phone usually runs Android OS, which does not recognize RAW file system. Therefore, LG phone might report unformatted error on your micro SD card when its file system turns to RAW. When a micro SD card shows unformatted error on LG mobile phone, the card just becomes inaccessible, but all previous data is still on the card. What you need to do is to ensure not to overwrite the micro SD card and then rely on data recovery software to get back lost files. This article will tell step-by-step guide for unformatted LG phone micro SD card data recovery.
Data Recovery When LG Phone Says Unformatted Error on Micro SD Card
iCare Data Recovery Pro is data recovery software, which is able to resolve various kinds of data loss problems. Therefore, you can free download this data recovery software on your computer to perform lost file recovery when LG mobile phone says micro SD card has unformatted error. You are able to restore different kinds of files such as images, audios, videos, documents by using this file recovery software. As a read-only data recovery tool, iCare Data Recovery allows you to extract files off any unformatted micro SD card without causing any damage to the card.
Steps for Unformatted LG Phone Micro SD Card Recovery

Preparation: Free download and install iCare Data Recovery on your computer. Connect the unformatted micro SD card to the computer and launch the software to perform Android recovery in Windows.
Step1. Select a proper scan mode after running the data recovery software.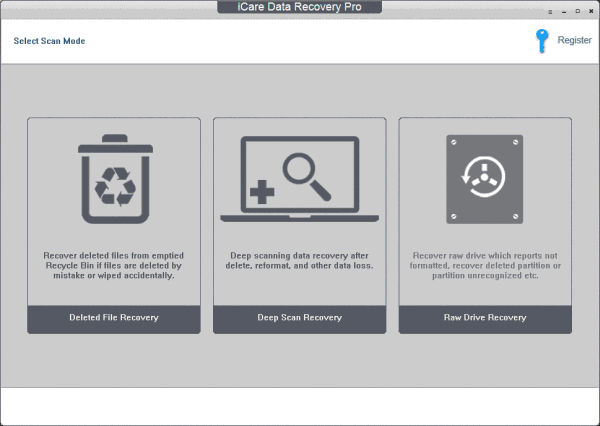 Step2. Choose the unformatted micro SD care as aim disk and then the software will scan to search lost files. You only need to wait patiently when the software is scanning.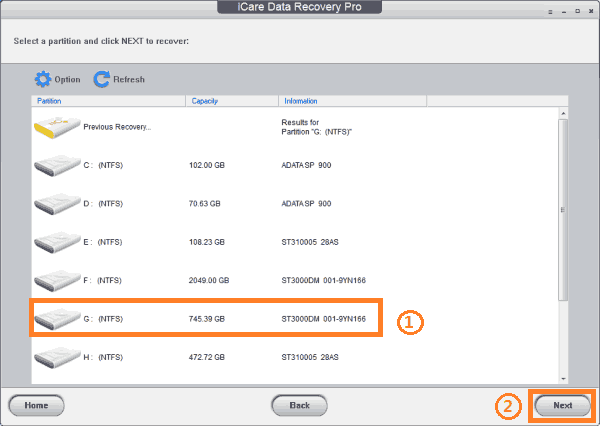 Step3. You can preview files after scanning and then save the lost files to another drive.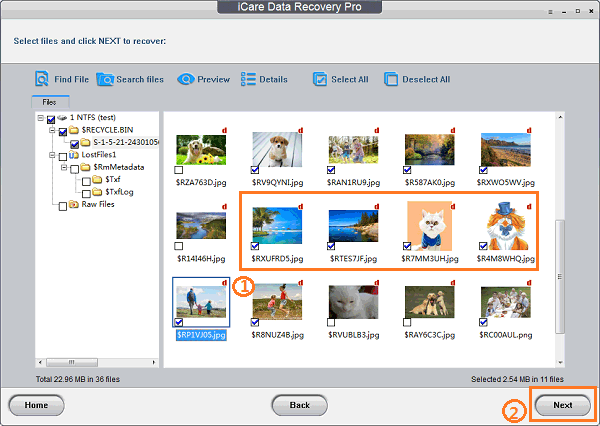 Format It or Not When LG Smartphone Shows Micro SD Card Is Unformatted?
Should you format it or not when you receive unformatted error message on micro SD card for LG smartphone? Well, we advise you not to format the unformatted micro SD card in order to recover all lost files. However, it does not mean that you are unable to recover lost data after formatting an unformatted micro SD card. If you can ensure that you have not written even a single file to the micro SD card after formatting, you are still able to recover all lost data. In other words, the most important point for data recovery when LG cell phone reports unformatted error on micro SD card is to ensure that the previous data is not overwritten by new added data. The reason why you had better not format the unformatted micro SD card is to avoid writing new files to the card after formatting.
Windows Failed to Format Micro SD Card for LG Phone
You can perform format for micro SD card unformatted error fixing after recvoering data. If possible, you can format it by inserting to your LG mobile phone in order to format it to proper file system that can be recognized by LG smartphone.
==>> If the micro SD card won't format on LG phone or computer, this page shares some useful information - Windows was unable to format SD card>>
Why Does LG Cell Phone Report Unformatted Error on Micro SD Card?
As mentioned above, micro SD card shows unformatted error because its file system becomes RAW. Usually, micro SD card converts to RAW because its file system is corrupted due to reasons like virus infection, bad sectors, improper operation and more. In addition, LG cell phone will report unformatted error on a micro SD card when the formatting is not completed. For example, you mistakenly pressed wrong button to format a micro SD card on LG cell phone, but you stopped in formatting process before it gets completed. In this situation, micro SD card will also changes to RAW and reports unformatted error whether you want to open it on your LG cell phone or computer.
Conclusion
It is not so terrible as you think when LG mobile phone reports unformatted error on micro SD card. First of all, you only need to avoid overwriting the micro SD card. Then, you can run iCare Data Recovery to perform lost photo video recovery from this unformatted micro SD card. Finally, you can format micro SD card from RAW to FAT32 to fix unformatted error.

---
Related Articles
Hot Articles