Kodak RAW KDC Image recovery
KDC data refers to RAW images produced by Kodak digital camera. In other words, Kodak digital camera stores image with .kdc as its file extension when it produces a RAW image. All digital camera RAW images have a better quality than other types of images, but there is no better way to prevent data loss problem unless make a copy.
Kodak RAW KDC photo loss FAQs:
How do I restore deleted RAW images that have KDC format from my Kodak digital camera?
What to do to recover Kodak KDC photos after formatting?
Can I unformat Kodak digital camera with all RAW KDC photo back?
My Kodak camera does not recognize the memory card inserted in
How to recover KDC images from camera memory card for my Kodak?
Is it possible to get back lost Kodak RAW KDC photos lost during data transferring from camera to my computer?
KDC photos become unusable on any device
Thos are some common reasons for KDC photo loss from Kodak camera, in which situation you can get back the lost data with help of professional data recovery software.
How to Recover Deleted Kodak KDC Images with Software
iCare Data Recovery supports more than 100 types of files, so you can use it to restore Kodak RAW KDC images all data loss situation mentioned above. This data recovery software is a freeware, which works on Windows 10, 8, 7, Vista, XP, etc, so you can perform lost file recovery after installing the software on any of the Windows system.
Step1. Free download and install the freeware on your computer. Launch the software and choose a proper scan mode.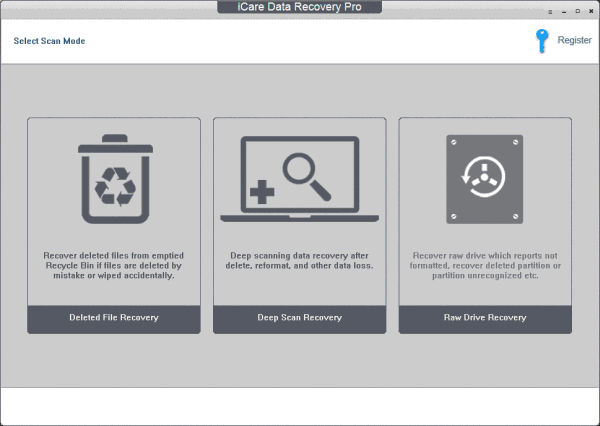 Step2. Select the drive and then let the software scan it to search lost files.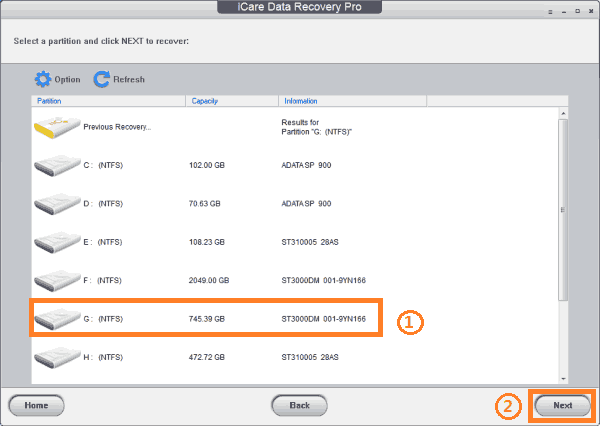 Step3. Preview some files when scanning is completed and then save KDC images to a different drive.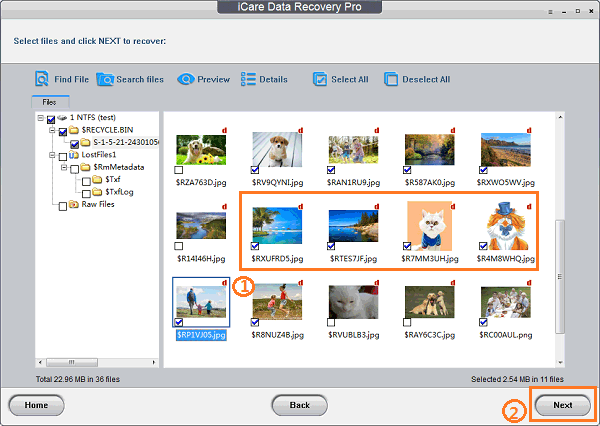 Recover Kodak RAW KDC Pictures after Formatting
With iCare Data Recovery, it is possilbe to rescue Kodak KDC photos after formatting your memory card for the camera or other storage media.
Kodak RAW KDC Photos Filename Extension Changed and Become Unusable
Usually, Kodak RAW images have .kdc as its filename extension. However, you may find that the filename extension of the Kodak RAW image has been changed sometimes. In this situation, the image usually becomes unusable. If you changed the filename extension of KDC photo by mistake and now it becomes unusable, you can rename this photo with .kdc as its filename extension after which it will become usable again.
Tip: Please do not rename a file by changing its filename extension when you want to convert it to another file format, because changing filename extension cannot really change the true file format. If you change its filename extension, but the true data still has original format, it will become unusable. If you want to convert a KDC image to JPEG, BMP, PNG or other image format, you need to use some professional image convert tool or graphic programs.
Kodak RAW KDC Pictures Corrupted
Kodak RAW KDC pictures might be corrupted due to many reason, in which situation you usually have no method to open the images whether on your Kodak digital camera or computer even if you have installed proper programs that can open this kind of images.
Reason for RAW KDC photo corruption:
1. One possible reason is that the memory card for KDC image storage is infected with virus. A memory card is easily to be attacked by virus if you store some virus-infected data on it or connect it to a computer that has been infected with virus.
2. Another possible reason is that Kodak digital camera memory card suffers unexpected disaster when you transfer KDC photos from the card to your computer or another media. For example, the computer shuts down all of a sudden or you remove memory card unsafely during data transferring, it might cause the KDC image corruption.
Usually, it is hardly to repair corrupted data, so it is always recommended to perform operation properly to avoid such kind of problem.
---
Related Articles