iPhone 5S Data Recovery after Blue Screen of Death
When referring to blue screen of death, many people consider it as a problem that usually occurs on Windows computer. However, many Apple users also meet the same problem on their iPhone 5S. Many iPhone 5S users recently run into the problem that their phone shows blue screen of death all of a sudden when they are using it to watch movies or do something else and then the iPhone 5S reboots automatically.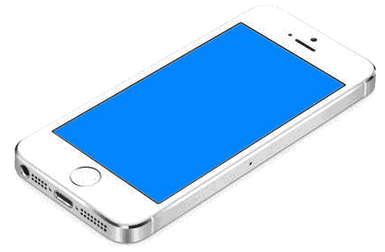 Usually, the blue screen of death only appear on your iPhone 5S for several seconds, after which the screen of the iPhone 5S will turn to black and the device will reboot itself.
Why iPhone 5S Appears Blue Screen of Death?
You may be not feel strange if the blue screen message shows on Windows computer, but it seems to be the first time that you meet the same issue on a smartphone. Especially, you may feel it unbelievable that you face such a problem on an iPhone 5S. Then, why does an iPhone 5S show blue screen of death? There is no exact reason to tell why your iPhone 5S reports blue screen of death. Reflected by some iPhone 5S users, their iPhone shows blue screen of death and reboots suddenly when you run free iWork App on their device. And some iPhone 5S users reflected that the screen of iPhone 5S turns to blue when they run ESPN Score Center App. Therefore, some iPhone 5S users guess that the possible reason for this blue screen problem on iPhone 5S might be:
1. The iWork App in iOS has bugs, which causes the blue screen of problem on their device.
2. The other possible reason is that the iPhone 5S is dead while multitasking among different applications..
How to Fix Blue Screen Issue for iPhone 5S?
The solutions are different since the problem is caused by different reasons:
1. If the iPhone 5S reports blue screen problem and reboots when you are running iWork App, you can try to fix the problem by disable iCloud sync for iWork App. You can disable iCloud sync for iWork App in iPhone 5S by following: click "Settings" > click "iCloud" > select "Documents and Data" > put the toggle from "On" to "Off" for all documents and data option so as to disable the iCloud to sync the iWork App data.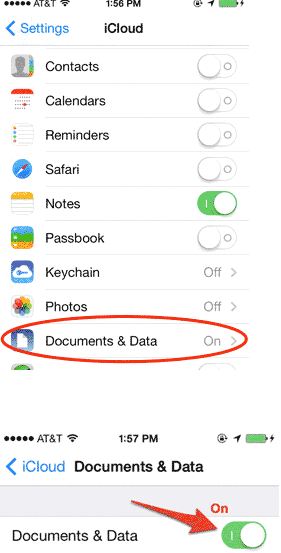 2. For the blue screen on iPhone 5S resulting from multitasking among Apps, you just need to fix the problem by pressing "back" rather than pressing "Home" button when you attempt to close iWork App on your iPhone 5S.
3. If you are not sure why your iPhone changes to blue screen, you can also try following method to fix the problem:
Upgrade iOS 7 for iPhone 5S
Send your iPhone 5S to Apple repair shop to ask them for help
Data Recovery from iPhone 5S after Blue Screen of Death
One the one hand, blue screen of death problem might lead all data to be inaccessible on your iPhone 5S. And on other hand, data might get lost from iPhone 5S when you attempt to fix the problem with any method. If you want to recover data from iPhone 5S after blue screen of death, you have following choices:
1. iPhone 5S file recovery with iTunes backup when you suffer blue screen problem
2. Retrieve deleted, corrupted, or lost files from iPhone 5S from iCloud backup
3. Data recovery for iPhone to restore photos, videos, music, emails, documents, text messages from iPhone 5S which says blue screen of death.

Download data recovery for iPhone
---
Related Articles