HTC Smartphone Not Recognize Memory Card
"My HTC smartphone does not recognize memory card inserted in it, so I cannot read any data stored on this memory card. I want to know how to recover data from an unrecognized memory card in HTC smartphone? I plugged this memory card to my computer, but memory card is not recognized by Windows system. I doubt if the memory card is corrupted, so I want to know how to recover data from a corrupted memory card for HTC mobile phone."
"I inserted my memory card to a HTC mobile phone, but the mobile phone says there is no memory card inserted. I want to know the reason why HTC mobile phone does not recognize the memory card. I also tried to plug the memory card to my computer, but memory card is still not recognized by computer. How to recover deleted files from memory card in Android phone when it is not recognized on HTC and computer?"
Why does a memory card stops being recognized by HTC mobile phone or computer? Is there any solution for data recovery from a corrupted memory card when there is no way to access the card because it is not detected? This article will tell possible reasons that lead HTC mobile phone not to recognize memory card and share solution for unrecognized memory card data recovery.
Data Recovery When HTC Phone Cannot Read Memory Card
When HTC smartphone cannot read memory card normally, you might try all your best to fix the problem. In this situation, you had better stop performing any further operation that you try to fix the memory card, because any improper operation might decrease the chance for data recovery. What you should do is to use a data recovery tool to rescue all inaccessible data from the unreadable memory card. iCare Data Recovery Pro is a data recovery program which provides an easy solution for data recovery even when memory card is not readable on HTC mobile phone or computer. You can use this data recovery software to recover any lost file from all types of memory card.
Steps for Unreadable HTC Smartphone Memory Card Recovery

Preparation: Free download install iCare Data Recovery on a Windows PC. Connect the memory card to this PC and launch the data recovery software.
Step1. Select a proper scan mode after running the data recovery software on your computer.
After running the software, you can see that there are three types of recovery modes. You can select "Deep Scan Recovery" mode for unreadable memory card data recovery.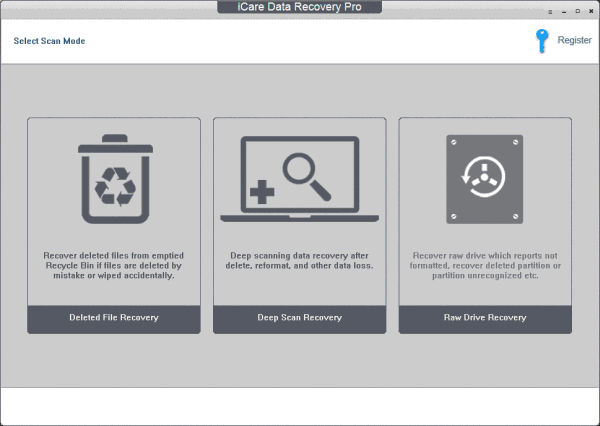 Step2. Select the device to scan and then you only need to wait when the software is scanning.
You only need to wait patiently during scanning. If it takes too much time to perform scan, you can also click "Cancel" button to stop to show all found files without waiting the scanning to be finished.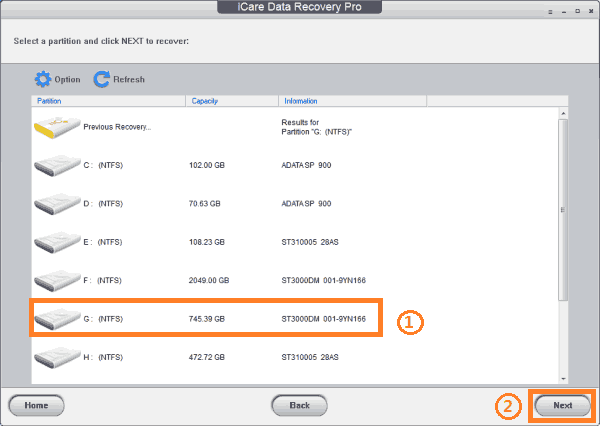 Step3. You are allowed to preview files after scanning and then save the lost data to another drive.
This software allows you to preview files like images and Microsoft documents. Some large files like videos are not able to be previewed. When you want to recover found files, you just need to click the files you need and then save them to another drive.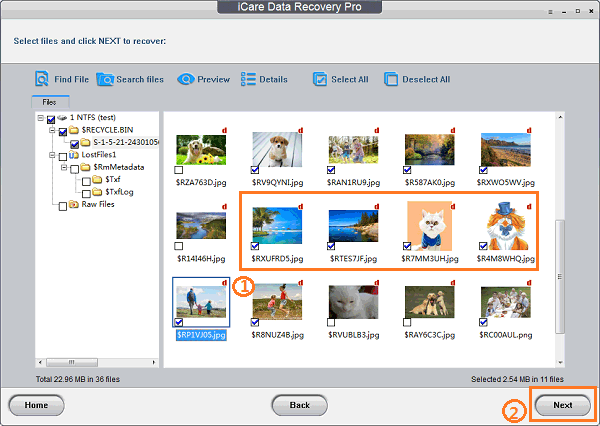 HTC Mobile Phone Says Memory Card Has Unrecognized Format
Sometimes, when HTC mobile phone does not recognize memory card, it does not mean that the memory card will no longer be recognized by any device. Probably, PC can still recognize the memory card. It will be better if PC is able to recognize the memory card and show all data normally. However, you may face another problem that PC shows that memory card has unrecognized file format, or sometimes the memory card will show RAW file system. iCare Data Recovery "Deep Scan Recovery" mode is specially designed for data recovery when storage media has unrecognized RAW format or becomes unreadable.
Similar FAQs on HTC Cell Phone Corrupted Memory Card
Here are some similar FAQs on HTC cell phone corrupted memory card:
How to recover data when memory card is inaccessible or unreadable on HTC phone or computer?
Why does a memory card shows blank and has unsupported file system on HTC smartphone?
What to do that HTC phone can recognize memory card but memory card contains no data?
Is it possible to fix corrupted memory card which stops working on my HTC cell phone?
…
When you face such kinds of FAQs, you can run iCare Data Recovery to restore data. This software supports all memory cards like SD, CF, XD, mini SD, micro SD. Although the memory card is not detected by HTC phone or computer, the data recovery software is able to scan it for lost files as long as the card is not physically damaged. Apart from HTC phone, iCare Data Recovery is also able to recover data from Samsung Galaxy, Blackberry and more other smartphones.

---
Related Articles