HTC Phone Reports Memory Card Has RAW Format
"I have a HTC mobile phone which reports memory card has RAW format. Today, my HTC mobile phone was power off all of a sudden when I was listening to music. When I restarted the mobile phone, it said memory card is not formatted. I though that I should move all important data to another place before formatting the memory card, so I connected this memory card to my computer and hope to move all data to the hard drive. However, my PC recognized the memory card as a RAW device when I connected it to computer. I was not able to open the memory card to move any data. Is there any way to recover data from HTC mobile phone memory card that shows file system is RAW on PC?"
"Thanks for anybody who stops here! I faced a problem that my memory card for HTC smartphone is not accessible due to RAW drive error. This memory card was in FAT32 file system, but it shows RAW format on my phone and computer right now. I want to know if anybody knows how to convert raw to fat32 in memory card with all data back."
Video - Fix damaged memory card raw format
Also read: how to fix memory card raw format
Here are related resources about memory card RAW file system on HTC smartphone:
Memory card shows RAW file system or shows up as an unknown device
Memory card has 0 byte space
Memory card shows not formatted do you want to format it now?
Memory card is not accessible on HTC mobile phone or computer
CHKDSK is not available for RAW drives on memory card
Please do not panic when encountering the similar problem. It is a normal to receive those messages when a memory card turns to RAW file system. You just need a data recovery program in order to rescue all inaccessible data from the RAW memory card for HTC mobile phone.
Data Recovery When HTC Phone Says Memory Card Has RAW Format
To extract files off a RAW memory card, you need to rely on professional data recovery software. iCare Data Recovery Pro provides a read-only solution for data recovery when memory card turns to RAW file system on HTC mobile phone. With help of this data recovery software, it is possible to restore any lost file you need as long as the memory card is not physically damaged. Whenever you want to recover data from any type of memory card, iCare Data Recovery is a good choice because it is a safe and easy to use data recovery tool which supports data recovery when you run into various memory card data loss problems on HTC smartphone or other devices. This data recovery software is able to work on Windows computer.
Steps for HTC Smartphone Memory Card RAW Recovery

Preparation: Free download and install iCare Data Recovery on Windows computer. Connect the memory card to this computer and run the software.
Step1. Select a proper scan mode to start data recovery.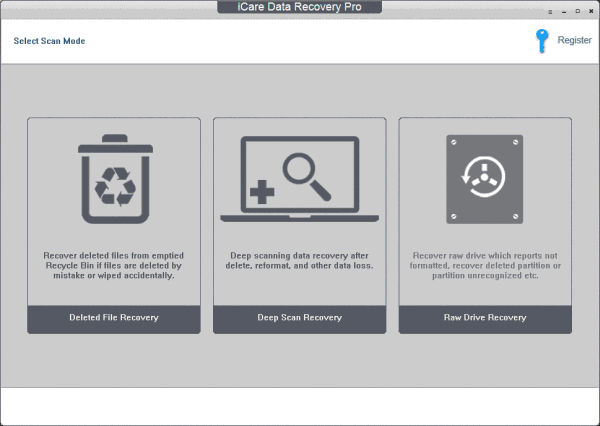 Step2. Choose the RAW memory card and then you only need to wait when the software is scanning.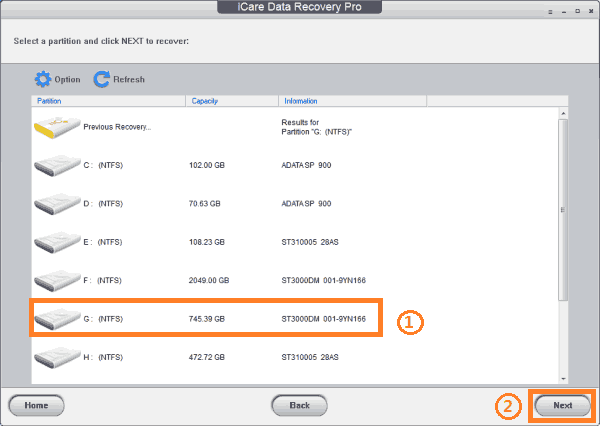 Step3. Preview files after scanning and then save the lost files to another drive.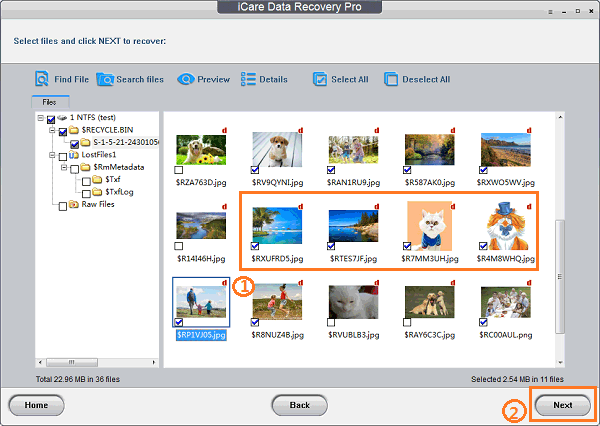 HTC Cell Phone Shows Memory Card Needs Format
You must have ever received memory card not formatted error message when it changes its file system to RAW? Can you format the memory card immediately when getting the error message? Well, if you just want to convert RAW to FAT32 without caring about data stored on this RAW memory card, you can format it any time you like. If you still want to get back data from memory card, you should not format it. iCare Data Recovery helps recover data from memory card for HTC cell phone even if you are unable to open the memory card.
Windows Cannot Format RAW Memory Card for HTC Mobile Phone
You should not format the memory card for the sake of data security, but formatting is needed if you want to fix the error. Therefore, it is strongly recommended to format the memory card from RAW to FAT32 after getting back what you need.
==>> If PC failed to complete the format, please see this article - Memory card is unable to be formatted by Windows >>
Related FAQs about HTC Phone Memory Card RAW Error
iCare Data Recovery is a read-only data recovery tool, which supports data recovery in different situations. Here are some related FAQs about HTC mobile phone memory card RAW error and you can use iCare Data Recovery for data recovery when facing the following problems:
iCare Data Recovery supports different brands of memory card such as SanDisk, Transcend, Lexar, Samsung, Toshiba, Sony and more when it turns to RAW file system? This software is available for memory card recovery like SD card RAW drive recovery, micro SD card RAW file system recovery, CF card RAW file system recovery, etc.
---
Related Articles