How to Update iOS 10 without Data Loss
Do you want to update your iPhone or iPad to iOS 10 without losing any data on your device? If your answer is yes, it is necessary for you to know more about iOS 10.
Apple Inc. released the iOS beta 10 on June 13, 2016 in USA. Apple Inc. has announced at WWDC 2016 that iOS 10 has many new features and improvements.
Many iPhone and iPad users can not wait to update their devices to iOS 10 since Apple Inc. announced the release of this operating system, but the bad news is that iOS 10 is not compatible with all iOS devices. iOS does not support older iPhone / iPad anymore.
iOS device which is compatible with iOS 10
iOS 10 only supports the iOS device which has 512 RAM at least. The devices that can be compatible with iOS 10 include: iPhone 5S, 5C, 5, iPhone 6 plus, 6S, 6S plus, 6, iPod touch, iPad mini, iPad mini 2, iPad mini 3, iPad mini 4, iPad Pro, iPad Air 2.
New Features of iOS 10
1. New lock screen
Apple iOS 10 brings new lock screen notification, which means that you can view current notification and updates as long as you pick up your iPhone.
2. Siri is available for third-party developers
Siri on iOS 10 is open to third-party developers. You can use Siri to send text messages through WhatsApp, Skype and authenticate transactions, etc.
3. New Photo App
iOS 10 has improvements in Photo App, which has enhanced facial recognition. iPhone running iOS 10 is able to put related photos together and automatically edit them. In addition, Photo App on iOS 10 device has a new tab "Memories".
4. New Apple Map
iOS 10 has added new features to its Apple Map. For example, your iPhone which runs iOS 10 can recommend restaurant, traffic updates, and more nearby.
5. New Apple Music App
The music App on iOS 10 has updates and new design. It has a cleaner interface and it added a feature with recently played list so that you can find what you have played easier.
6. New Apple News
The Apple News App has new interface, which added subscription function and news updates.
7. New HomeKit
iOS 10 has a new App, namely Home App.
8. New iPhone Phone App
iOS 10 Phone App is able to block spam calls.
9. New iMesseage
On iOS 10 device, users can send videos, links and photos in text.
How to Update to iOS 10 without Losing Data?
If you want to update your device to iOS 10 to enjoy its new features, you can follow the guide below:
Method 1: Click Settings > General > Software update > Download and install iOS 10 beta on your device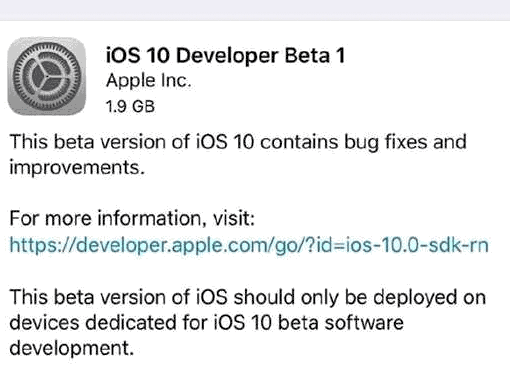 Method 2: You can update to iOS 10 with iTunes by following Download iOS 10 firmware > update iTunes to latest version and run iTunes > click Summary > click Back up Now > press the Shift key and click Update button in iTunes > select the iOS 10 and wait the update to be completely
You may be also interested in:
>> How to update iOS 9.3.3 without data loss
>> Update iOS 9.3.2 on iPhone iPad iPod touch
Data Recovery after iOS 10 Update
Apple iOS 10 is the latest operating system for Apple users, so it might still have some unknown problems sometimes. If you lose data after iOS 10 updating, you can recover data from iPhone, iPad or iPod touch with following solutions:
1. Restore iPhone iPad iPod touch from iTunes backup
2. Recover files from iOS device from iCloud backup
3. Retrieve text messages, contacts, images, music, videos, etc from iOS device with data recovery for iPhone.

Download data recovery for iPhone
---
Related Articles