How to Undelete Photos from an iPhone
Do you want to undelete photos after mistakenly deleting on your iPhone 6 plus, iPhone 6, 5, 5C, 5S, 4, 3, iPhone SE or other iPhone series? It is a normal thing to delete unwanted photos on iPhone to free up storage space since iPhone does not support an external memory card for data storage. However, it is not an easy thing to undelete files if you mistakenly delete important pictures or other kinds of files on your iPhone. This article will share all methods to undelete photos on an iPhone with Apple's own tool or data recovery for iPhone.

Method 1: Undelete Photos from iPhone with Apple Backup Tool
It is a common solution for iPhone data recovery not only after deleting, but also when data got lost due to other reasons like iPhone is dead, iPhone is stolen, data loss from iPhone after iOS update failure and more other reasons. In a word, you can restore lost data from iPhone with Apple backup tool, namely iTunes and iCloud, when data got lost in all situations. Therefore, you can easily undelete photos from an iPhone with iTunes backup or iCloud backup as long as you have backed up your iPhone in advance before data got deleted.
Method 2: Undelete Images on iOS 8 from Recently Deleted Album
You can also undelete images from iPhone from "Recently Deleted" album. This solution is only available on iPhone that runs iOS 8. If your iPhone runs iOS 8, you can try this method to undelete photos by following steps below:
Step1. Click "Photo" icon on your iPhone and click "Albums" on the screen.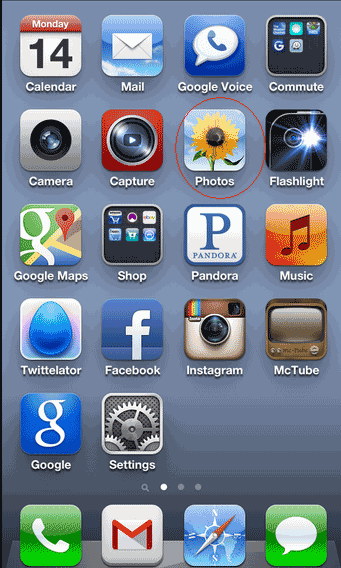 Step2. Click the "Recently Deleted" so that it will show all recently deleted photos.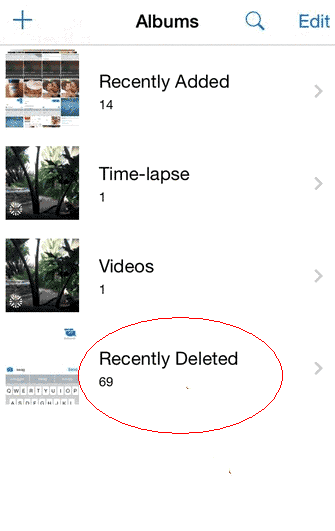 Step3. Select the photos you want to undelete and click "Recover" button so as to restore the selected photos.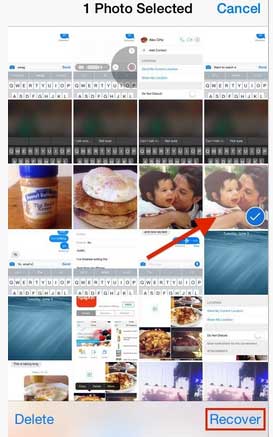 Pay attention:
1. This method only supports to undelete photos and videos that have been deleted recently (usually within 30 days), which means that you cannot undelete other types of files or photos that have been deleted more than 30 days ago.
2. You can permanently delete photos after deleting them from "Recently Deleted" album, in which situation you can no longer undelete photos from "Recently Deleted" album.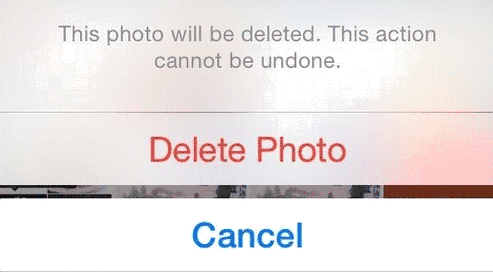 Method 3: Undelete Pictures from iCloud Photo Stream
Photo Stream is a service provided by iCloud. When you use your iPhone to take photos or transfer photos from iPhone to computer, Photo Stream will automatically upload those photos to iCloud and sync those photos to other iOS devices. Therefore, when you mistakenly delete photos from iPhone, you can also try to undelete pictures from Photo Stream.
Follow this guide to open Photo Stream on iPhone: click "Photo" App on your iPhone > click "Albums" > select "My Stream"
Tips:
You can delete photos in Photo Stream. And at the same time, iCloud will delete the same photos stored on other devices when you delete them on Photo Stream. However, when you delete a photos on iOS device, it does not delete the photos in Photo Stream.
Photo Stream does not occupy iCloud storage space
Method 4: Undelete iPhone with Free Software
If you fail to undelete photos from iPhone with all methods above, you can use data recovery for iPhone. It is able to help undelete not only photos but also other types of files such as videos, emails, documents, text messages, contacts, etc from iPhone. Data Recovery for iPhone supports all iOS devices, so you can use it to undelete files when you delete data on any iPhone.

Download data recovery for iPhone
---
Related Articles