How to Recover iPhone from Internal Memory With No Backups
iPhone does not support external memory card, so all data on an iPhone is usually saved to its internal memory. However, iPhone internal memory is not a safe place for data storage because you never know what will happen to the device in the next second. In order to prevent unexpected data loss from iPhone, Apple has offered two kinds of tools, namely iCloud and iTunes, with which you can backup your iPhone easily.
You have to set up your iPhone in advance in order to use iTunes or iCloud to make a backup. Otherwise, you cannot restore iPhone from backup when data got lost. If so, can you recover iPhone from its internal memory without any backup?
Recover Deleted Photos Videos from iPhone Internal Memory with No Backup
You delete some pictures and videos from iPhone since it pops up message telling you that iPhone SE internal memory is full? Or you delete some photos or videos by accident from the iPhone internal memory? If you realize the mistake immediately, you can restore accidentally deleted pictures and videos from iPhone internal memory even without making a backup in advance. iPhone has a Recently Deleted album where you can find all recently deleted photos and videos. Before deleting all images and videos permanently from the Recently Deleted album, you can simply restore deleted pictures and video files from this album to the iPhone internal memory.
How to recover deleted pictures and videos from recently deleted album in iPhne SE?
Launch Photos App on iPhone > click Album > click Recently Deleted > select the files you want to restore and then click Recover button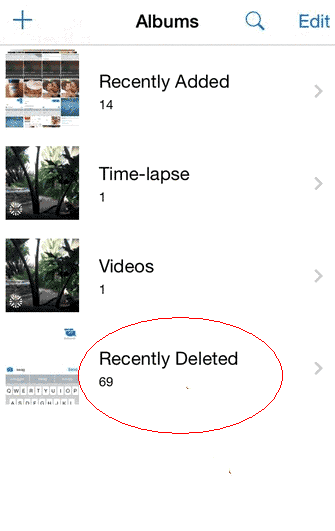 Tips:
1. Recovering deleted photos and videos from Recently Deleted album is only available for iOS devices that run iOS 8 and later version.
2. You can only recover photos and videos which were deleted within 30 days. You are not able to recover other types of files like emails, text messages, contacts, etc from the Recently Deleted Album.
If you need to recover other types of files after deleting from iPhone internal memory, this article will share solution later.
Recover Files from Damaged iPhone without Backup
An iPhone might be damaged due to many reasons. Generally speaking, your iPhone might suffer physical damage in which situation the device is not recognized by any device. Or the iPhone might be corrupted and all data stored on the internal memory of iPhone is no longer accessible.
It is hardly impossible to recover data from a physically damaged iPhone if you did not backup the device to any other place in advance. Usually, an iPhone might be physically damaged after falling to ground or water, etc. In this situation, you may refer to data recovery from damaged iPhone.
In addition to physical damage, your iPhone SE might suffer other issue and stop working normally. For example,
When you are unable to read data from a corrupted iPhone without any backup, you can use data recovery for iPhone to deep scan the device so as to search all inaccessible data. If you deleted iCloud backup or iTunes backup by mistake, you can also rely on this software to scan iCloud or iTunes to restore lost backup data.

Download data recovery for iPhone
---
Related Articles