How to Recover Deleted Pictures on Samsung Galaxy Mini SD Card
Can Deleted Photos Be Retrieved from Samsung Galaxy Mini SD Card?
"Hello, everybody there! I hope I can recover deleted photos from my Mini SD card used on a Samsung Galaxy mobile phone. Do you know what can I do now? Honestly, these previous photos are mistakenly deleted when I was trying to free the phone memory card space. And then, find no where to get them all back. Is there any hope to recover photos from Samsung Galaxy memory card after delete?Thank you for any useful clues!"
Also read: samsung micro sd card recovery free
Video - Free memory card recovery
Also read: free memory card data recovery
Hello! The precious Samsung Galaxy Mini SD card photos, videos, messages, texts and mails, etc, are supposed to be stored on another different USB hard disk, USB drive or external storage device at least in case of any related accidental deleted drive data loss troubles. However, since you've stuck in such phone memory card photo loss issues, also do not panic! Get them back.
Deleted Photo Recovery from Samsung Galaxy Mini SD Card
No data backup on Samsung phone? OK! It is not too late for you to create Samsung phone memory card data backup from now on. And as with these already deleted pictures from phone Mini SD card or your sd card is corrupted, you can go free download Samsung Galaxy photo recovery software to rescue the original pictures as many as possible. Go install it to recover your deleted data:

Step1: Run installed deleted photo recovery software and insert your sd card with a card reader to a Windows computer, and select 'Deep Scan Recovery' for your phone sd card recovery.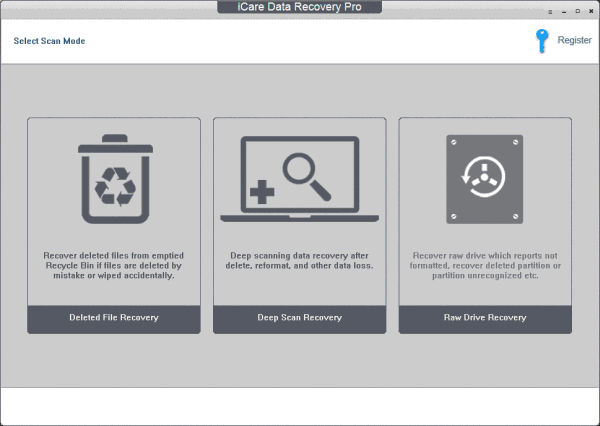 Step2: Choose your attached phone Mini SD card and perform deleted picture scanning process there.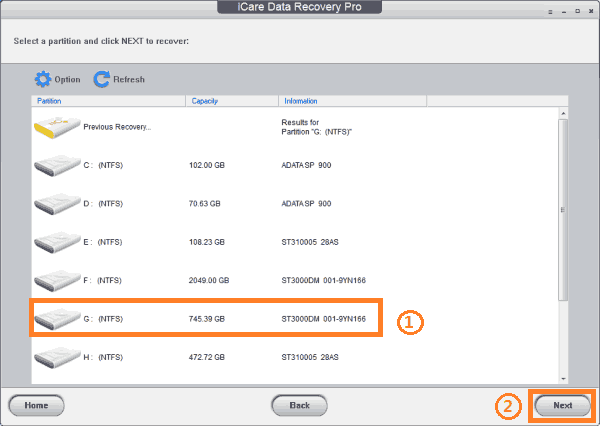 Step3: Preview the found pictures and go see whether they all are recoverable.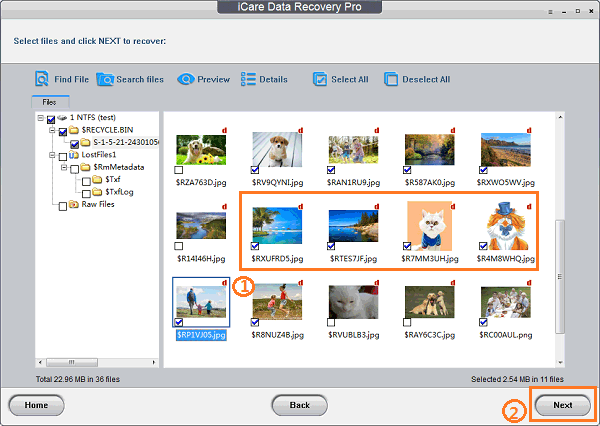 Step4: Start to recover Samsung Galaxy mobile memory card data and safely move it all to a different storage device.
iCare Data Recovery aslo supports other SD memory card, so you can use it to recover video file from SDHC card on Windows, recover data from micro SD card, SD card, etc. And it works for the following users too.
"Hello, I have used a Samsung Galaxy mobile phone for several moths and stored all take photos on the inner attached Mini SD Card as usual. However, recently, the DCIM photo folder was deleted when trying to clean all useless phone folders stored on the used Mini SD Card. Though that DICM folder was back after rebooting, there was no original mobile photo shown. Thank you very much if anybody can tell me how to recover deleted pictures from SD card on phone!"
"Hi! Last Friday, while watching some videos stored on my Samsung mobile phone memory card, accidentally touched the delete option of this phone and wipe many unintentionally selected files and phones next to each others. But, I have not backed these photos and files well yet. Can anyone there help me perform a Samsung Galaxy recovery process to take deleted data back from phone memory card? Thanks a lot!"
Related Notes:
*Deleted phone Mini SD card pictures could be irrecoverable if you do have written new images, contacts, messages or other information on this phone memory card. Go leave it alone before doing data recovery reparations well.
*Well-previewed photos often can be smoothly restored at the aid of deleted picture recovery software. Hence, go check the previewing results before you device to pay for a specific data recovery program.
*No matter what happens, preparing data backups on different drives or locations should be the your first thing to do before you start a deleting or formatting process on you phone or phone memory card.

Also read: free samsung galaxy recovery
The Differences between the Micro SD Card and the Mini SD Card
Generally, the Micro SD card and the Mini SD card are both sorts of SD memory cards that can be used on a digital camera, camcorder, mobile phone and other electronic devices. As other types of SD memory card, they do have been designed with different file system formats and can be read under different Windows OS version environments. And they both can be used on storage devices with standard SD card slots. However, they are also different. As a more popular storage device, the Micro SD card often can be used on many electronic devices that have a standard SD slot without a memory card adapter. However, as with Mini SD card, since it is designed with a smaller size, even when you do attach them to your mobile phone, digital camera or the like devices, you do need a special adapter to let it plugged to the device standard SD card slots.
---
Related Articles
Hot Articles