How to Make Files on SD Card Readable by Mobile Phone
"How to make files on SD card readably by my mobile phone? I have an SD card in my mobile phone, but it becomes unreadable when I attempted to open it. There are many images, videos and music on this SD card. I want to know if there is any way to make those files readable on my SD card when the card is not accessible on my mobile phone."
"My SD card is not recognized on my smartphone, but I want to upload some pictures from this SD card to my FaceBook. What can I do to read all data from an unrecognized SD card for smartphone? I also tried to insert this SD card to another mobile phone, but it was still not recognized. After connecting the SD card to my computer, it does not show up as a removable disk in My Computer or Disk Management. If anybody knows the solution, please tell me step-by-step guide to get back all inaccessible files."
Some mobile phone users will get in trouble that SD card inserted in their phone is not readable due to this and that kind of reasons. When an SD card is not readable on a mobile phone, you can insert it to another phone to check if it can work normally. If the SD card still has the same problem, you can check if the SD card chip is dirty or the wires inside of the mobile phone slot rust. Sometimes, if SD card chip is dirty or wires inside of the mobile phone slot rust, your SD card will be unrecognized by mobile phone. If there is no problem with the SD card chip and wires inside of the slot rust, probably the SD card file system is corrupted. In this situation, you need to rely on SD card data recovery software to get back inaccessible files.
Recover Data When Files Is Unreadable on SD Card for Mobile Phone
For an unreadable mobile phone SD card file recovery, you can use iCare Data Recovery Pro . It is read-only data recovery software for memory card, which enables you to extract all inaccessible files from an unreadable SD card for mobile phone such as Samsung, Blackberry, HTC, etc. This data recovery software allows you to restore different kinds of files including images, videos, music, etc when data become not accessible or even when the SD card does not show up on mobile phone or computer. iCare Data Recovery supports various brands of SD memory card recovery including SanDisk, Samsung, Toshiba, Lexar, Transcend, PNY and more.
Steps for Unrecognized Phone SD Card Recovery

Preparation: Free download and install iCare Data Recovery on Windows computer. Connect the phone SD card to this computer and run the data recovery software.
Step1. Select a proper scan mode after starting the software.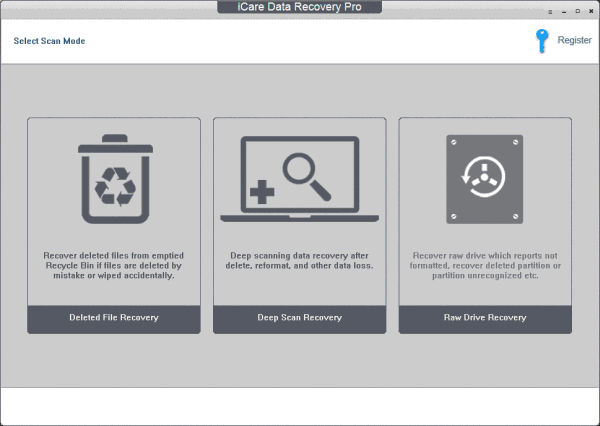 Step2. Choose the mobile phone SD card and then you only need to wait patiently when the software is scanning to search lost files.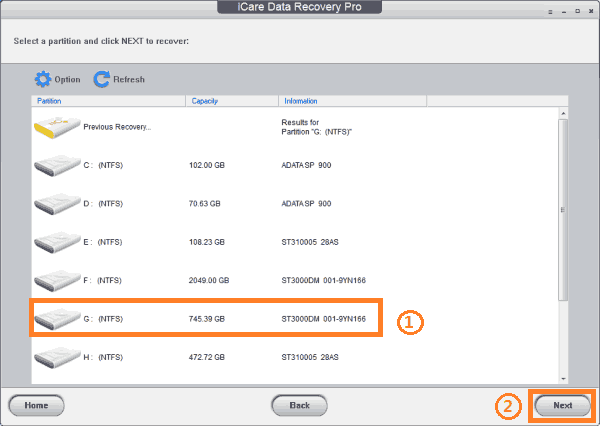 Step3. Preview files after scanning and then save all lost files to another drive.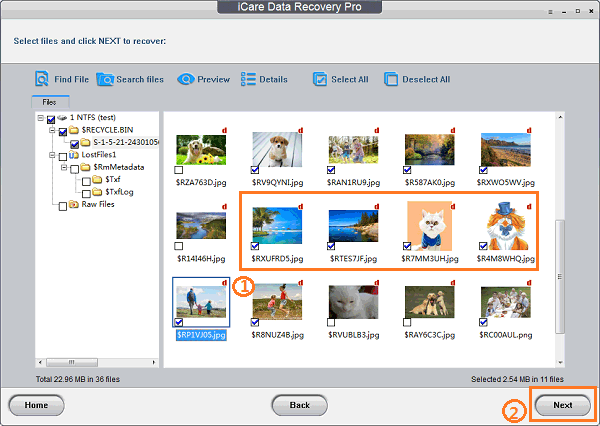 How to Make SD Card Readable by Smartphone?
If you are unable to access files stored on the SD card for your smartphone because the card is not readable, you can connect this unreadable SD card to your computer to see if it can be recognized on My Computer or Disk Management. Then, you can try to format the SD card if it is readable on your computer. Usually, you can quick format the SD card in order to make it readable again. However, you can also full format the SD memory card if you doubt that there are bad sectors on this SD card.
Why Files Becomes Unreadable on SD Card in Mobile Phone?
Generally speaking, an SD card will stop working normally and files might become not readable on this SD card in following situation:
1. The SD card for mobile phone is attacked by virus
An SD card might be infected with virus if you connect it to a computer which is attacked by virus. Or an SD card might get infected when you use your smartphone to visit some unsafe website. If an SD card contains virus, files stored on the SD card might be corrupted by the virus in which situation the data will become unreadable.
2. SD card is physically damaged
An SD card will be physically damaged due to improper operation. Usually, an SD card will stop working when it suffers physical damage.
iCare Data Recovery provides read-only solution for data recovery when all files become unreadable from SD card for mobile phone, but what you should know is that this software does not help recover data when the SD card is physically damaged or overwritten. In addition, this data recovery software is able tofor mobile phone, but recovered files might be still inaccessible if all files were corrupted berecover files off corrupted SD cardfore recovering.
This data recovery software supports to recover data from unreadable SD card for any phone, so you can use it to restore deleted files off Blackberry phone card, HTC phone card, Samsung phone card, etc.

---
Related Articles
Hot Articles