How to Fix the Last Backup Could Not Be Completed Error on iCloud
It is important to backing up your iOS device regularly. iCloud is one of the most common choices for most iOS device users, on which they can set to automatically backup their iPhone, iPad and iPod touch, etc. iCloud users do not need to worry that they will forget to backup some important data, because the selected iOS device will backup to iCloud automatically as long as it is connected to WiFi. However, sometimes you may find error message saying "The last backup could be completed" when you check your iCloud backup settings.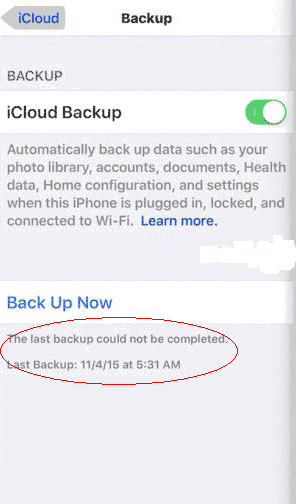 At this time, you may try to complete the backup manually, but you usually receive another message saying "iCloud Backup Failed. There was a problem enabling iCloud backup".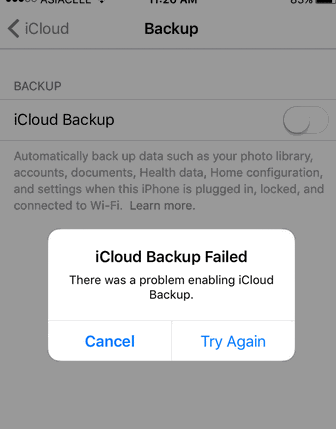 How to fix the error that it reports the last backup cannot be completed on iCloud settings whether you want to perform automatical backup or manual backup?
Why Need Backup Data to iCloud?
Some people think that backups are not important, but they become really crucial when they are in need. Here are some situations where iCloud backup becomes quite significant:
1. Your iPhone, iPad or iPod touch is broken or stolen and all data stored on those iOS device got lost. In this situation, if you have iCloud backup, you can easily restore all data to another device like a new iPhone, iPad, iPod touch or Mac computer or Windows computer. You just need to log in iCloud with the Apple ID so that you can recover everything from iCloud backup even the iOS device is physically damaged or stolen.
2. You can also restore iPhone from iCloud backup when data got lost from it due to other reasons. For example, you mistakenly delete files from iPhone, iPad or iPod touch. Or data is corrupted and becomes inaccessible on iOS or Mac computer after jailbreak.
In a word, iCloud backup data becomes very important when you lose data from the original device.
Common Reasons Why iCloud Failed to Backup
The error about "The last backup could not be completed" might be caused by many reasons. Here are some common reasons why you receive such kind of error message and iCloud fail to backup automatically or manually:
There is not enough storage on iCloud
Your iPhone, iPad or iPod touch is not connected to WiFi
The iOS you need to backup is powered off
The iOS needs to update on your iPhone, iPad or iPod touch
How to Backup iPhone When iCloud Cannot Complete Backup?
If you have no idea what to do when iCloud cannot complete the backup for your iOS device, you can also backup your iPhone, iPad or iPod touch to iTunes. iTunes is another application released by Apple, with which you can also backup your iOS device. It is a good choice to backup your iOS device to iTunes so that you do not need to worry that you are unable to restore deleted files from iPhone without iTunes backup or iCloud backup, restore deleted files from iPad without backup.
How to Fix the Last Backup Could Not Be Completed Error?
If it cannot complete backup on iCloud since there is not enough available storage, you can buy more storage or delete some old backups. You can refer to this page "Not enough storage on iCloud" to manage iCloud storage so as to fix the problem that the backup could not be completed.
If there is enough free storage on iCloud, you can try following method to fix the issue:
Reboot your iOS device
Log out of iCloud and log in again later
Check the network to see if it works normally and try to reset the network
Update your iOS device by: click "Setting" on your iOS device > select "General" > select "Software Update"
How to Recover Data from iPhone iPad without iCloud Backup?
It is a nightmare if you lose data from iPhone, iPad or other device when there is no iCloud backup or iTunes backup. It means that you cannot restore your device with iCloud backup. In this situation, you can rely on data recovery for iPhone to recover lost or deleted files from iOS or Mac without any backup.

Download data recovery for iPhone
---
Related Articles