How to Fix iOS 9.3 Activation Error during Update
Have you ever encountered the problem that iOS 9.3 activation error during update? It is a problem that is widely occurred on different kinds of iOS devices including iPhone, iPad or iPod touch when you attempt to update the device's operating system. If you are facing such kind of problem that your iPhone, iPad or iPod touch reports activation error during iOS 9.3 updating, this article will tell you step-by-step guide to fix the problem.
If this is the first time you receive the activation error message after updating to iOS 9.3, you can try to restart your device to fix the problem. Pease try several times to activate it after restarting your iPhone or iPad, after which the problem can usually be resolved. If it still reports the iOS 9.3 activate error after trying a couple of times, you can keep reading to learn more solutions.
Fix - Can't Activate iPhone /iPad / iPod Touch ater iOS 9.3 Update
The activate error message might show "Your iPhone could not be activated because the activation server is temporarily unavailable. Try connecting your phone to iTunes to activate it, or try again in a couple of minutes."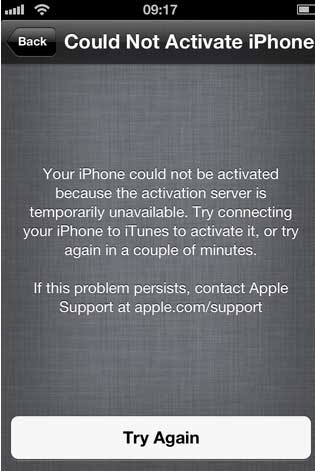 If you keep getting the error message after restarting the device, you can try following two methods:
1. Fix the error that iPhone / iPad / iPod touch could not activate during update with iTunes
Step1. You can connect the iOS device to your computer through a USB cable and then run the iTunes on your computer (it is necessary to update the iTunes to the latest version)
Step2. Select the iOS device after launching iTunes and it will trigger activate device screen. You need to type the Apple ID and password and then click Continue so as to fix the activate error on your iOS device.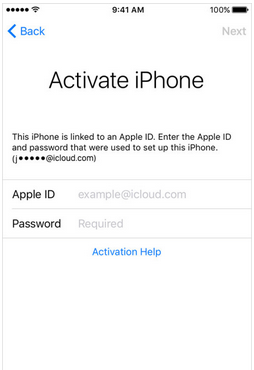 2. Fix activate error on iOS device on iOS 9.3 after update with iCloud
Step1. Turn of the iPhone / iPad / iPod touch. Then, launch iCloud and sign into it with your Apple ID and password.
Step2. Click Find My iPhone > type the password of your Apple ID again
Step3. Select All Devices > choose the device that could not be activated > click Remove from Account > click Remove again to confirm to remove it
Step4. Turn on the iPhone, iPad or iPod touch and try to activate it again.
Tip: Please backup iPhone, iPod touch or iPad with iTunes or iCloud before trying any method to fix the issue in order to avoid unknown data loss problem.
How to Restore Data from iOS 9.3 with Activation Error?
Did you lose any data when your iPhone, iPad or iPod touch due to activation error on the device during update? Sometimes, you may find that you lose some data like text messages SMS, images or music when the iOS device shows the iOS 9.3 activation error. Or sometimes, you may lose different kinds of files such as photos, video files, office documents, emails, etc after fixing the iOS 9.3 activation problem on the device. If it causes any data loss due to iOS 9.3 activation error during update, you can restore iPhone from iCloud backup or iTunes backup. You do not need to worry even without iTunes / iCloud backup, in which situation you can use data recovery for iPhone to restore lost data from iPhone, iPad or iPod touch which has iOS 9.3 activation error. It works on all types of iOS devices to restore all types of files, so you can have a try with the data recovery for iPhone to retrieve any file.

Download data recovery for iPhone
---
Related Articles