Hard Disk Is Not Detecting/Recognized/Showing up in Windows/BIOS
Last updated on 13/04/2018
How do you repair/fix a hard disk/drive which is not detecting/showing up/working/readable in Windows computer or BIOS? Can you recover files from an undetectable/unrecognizable/unreadable hard drive/external HDD in PC of Windows 10/8/8.1/7/Vista/XP?
Answer: Of course! You can fix hard disk drive which is not visible without losing any data with help of data recovery software.
How to Recover Data from Undetected Hard Disk?
My computer isn't detecting my hard drive/HDD, how to recover data?
Answer: A data recovery tool is needed for HDD files recovery when it is no longer being detected by computer.
The biggest trouble is how to recover data from an unrecognized hard disk? Before you checking any reason for this problem, you can use data recovery software to retrieve all files on the undetectable hard disk.
iCare Data Recovery Pro is able to recover data from hard disk even if it is not work. You should make sure that the computer on which the unrecognized hard disk is installed is still bootable. Then, you can free download and install this data recovery program on your computer to perform file recovery.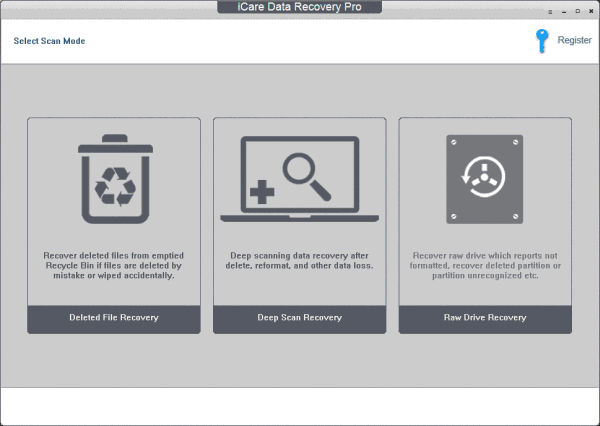 Free download iCare Data Recovery Pro
The only tip is to avoid installing the software on the disk where data got lost. If there are two hard disks on your computer, you had better install the software on another disk which still works normally.
Attention:
If PC cannot boot anymore since hard disk is not recognized, you can install the software on another computer and connect this hard disk to that computer.
Hard Disk Drive Not Showing up in Computer
A hard disk usually consists of several partitions. If only one partition is not showing up after booting computer normally, you can check following reasons:
1. Partition was deleted by mistake
2. Partition table is corrupted
3. Partition is infected with virus
Solution:
If you encounter this problem, you can go to Disk Management to see if the partition shows there. If the partition got deleted, it shows as unallocated space under Disk Management. However, if partition table is corrupted or got lost due to virus infection, you may need to repartition hard disk or rebuild MBR.
Hard Disk Is Not Recognized in BIOS
If hard disk is not recognized by BIOS settings, the reasons might be:
1. Hard disk is damaged. If this is the reason, you may need to replace the damaged hard disk with a new one.
2. There is something wrong with hard disk interface or power connector
3. The interface of motherboard has problems or the motherboard is corrupted
4. The hard disk is disabled in BIOS setting.
Resolution:
If BIOS cannot detect hard disk, you can press F2 (it is different on various computers) to enter BIOS setup to check and fix the problem.

Recommend: How to enter BIOS setup on different computers>>
---
Hot Articles
Related Articles