External/USB/SSD Hard Disk Drive File Recovery Software Full Version with Crack
Last updated on Dec 22, 2020
Are you looking for the best computer data recovery software full version with serial number/license code/key/crack for deleted or lost files restore from external hard drive or hard disk drive like Seagate, WD, Toshiba and Samsung disk or even SSD, GPT disk recovery? Why not use freeware iCare Data Recovery Free, which is able to free recover lost files from all hard disks/external HDD and GPT disk…
Freeware as Alternative of HDD Recovery Crack Software with Key
Why don't you select a 100% freeware for file recovery from GPT/MBR partition of hard disk/external HDD/SSD with any brand instead of the crack tool?
iCare Recovery Free offers completely free and reliable way for hard disk recovery with no limitation.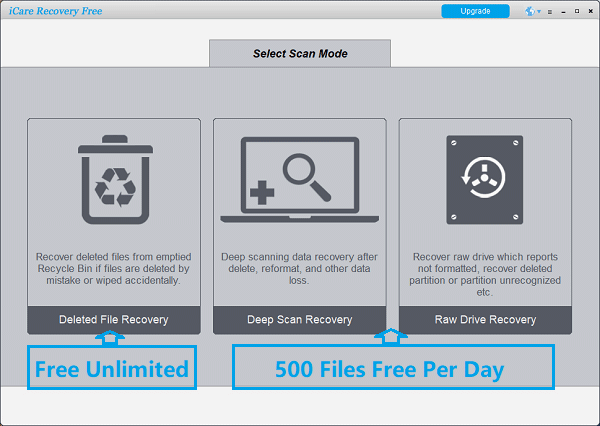 Free download iCare Data Recovery Free
Hard Disk Data Recovery Software Full Version with Crack
A data/file recovery program with crack for hard disk is usually offered by somebody who cracked a shareware and provided free download solution for the software. There are hidden risks combined with the crack version. If you use hard disk drive recovery software with crack, it is highly recommended to use a real freeware that is able to recover hard drive lost files for free.
Dead/Corrupted/Damaged Hard Drive Recovery/External Utility Full Version
Can you recover data from a dead/failed hard drive or USB hard drive with data recovery software with license key?
Answer: It depends! But it is usually not safe!
Many crack data recovery tools have limitations, which do not have the advanced features compared to the full version shareware. Or sometimes, even if the dead hard drive recovery software with key is able to recover corrupted HDD files, it probably causes further damage or data loss from the disk.
Seagate File Recovery Software for Windows Registration Key
Seagate file recovery software for Windows is a recovery utility released by Seagate, with which you are able to recover all types of data from Seagate hard disk/external HDD. Seagate data recovery for Windows has trial version that only allows you to search and preview some type of files, you have to pay to upgrade to full version in order to recover found files. Then, somebody begins to look for Seagate file recovery tool for PC with registry key. Rather than file recovery with key, we offer alternative, a 100% free data recovery tool named iCare Recovery Free, which supports for Seagate disk recovery.
WD/Samsung/Toshiba HDD Data Recovery Program Serial Number
Is there HDD data recovery program with serial number for WD/Samsung/Toshiba hard disk file retrieval?
Answer: Yes! You can find many HDD recovery tools with serial key that has ability to recover files from different brand of hard disks.

Potential risk if you download crack version of disk recovery software full version key crack.

Safe freeware: iCare Data Recovery Free
GPT Partition Recovery Tool with License Code
You want to recover files from 3TB/4TB hard disk with GPT partition using file recovery software with license code/key? When selecting any software for GPT disk file recovery, check it carefully to see if the tool is compatible with GPT disk. Some crack software only supports for MBR partition recovery. If so, you can use iCare Recovery Free, which supports GPT disk restore for free.
SSD Recovery Software Free Download with Crack
Can you get a free data recovery program for SSD with crack to rescue deleted/lost files from solid state drive?
Answer: Yes! There is SSD recovery software with crack to recover files from any SSD. You just need to search data recovery software with crack so that you can find many resources.
---
Hot Articles
Last updated on Nov 01, 2022
Related Articles