Recover Old files from Formatted External Hard Drive
Oops, Unsafely Pulled USB Hard Disk out from My Computer & Formatted It. How Can I Get Disk Photos Back?

"Hello, I have used an external hard disk on an old Windows 98 desktop computer with IDE 3.5 USB connection ports. And recently, I have downloaded data recovery software and done a deep scan there. In fact, I made a mistake of pulling this USB hard disk out from my PC unsafely and it would not be recognized after that improper extraction. It just said it needs to be formatted. So, I had formatted this disk because it would not do anything farther and I just felt I had to. However, after running a deep scanning process on this formatted external drive, there are many files listed on the left column and nothing shown on the right column area of the data recovery software interface. Do I still have files left on this hard disk after that format? What can I do to get the old photos back from this formatted drive? Thank you for any suggestion!"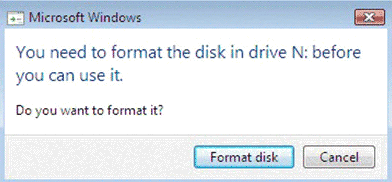 You need to format disk before you can use it
Video - how to repair raw hard drive file system format

Also read: 3 ways to fix hard drive raw file system or how to recover files after formatted hard drive
Hello, you've received a hard disk error message saying: "The disk is not formatted. Do you want to format it now?" after ejecting your external drive unsafely? OK! No panic! Do not do anything to this formatted USB hard disk and go see whether some hard disk data recovery software could help you take original photos and files back after format. Keep reading this article:
Your External Hard Disk Must Be Damaged Anyhow due to That Unsafely Drive Extraction
If you really got related external hard disk not formatted error message after unsafely removing that USB hard disk, your external hard disk must be damaged anyhow. But, no worry! The improper drive extraction often doesn't cause physical hard drive damages all the time. In fact, as long as your removable hard disk is only logically damaged, you are extremely possible to get back your old photos, videos, songs, documents and files from that formatted external drive with the help of some external hard drive not formatted error recovery software or format recovery software when there is no any extra data backup copy stored on else storage devices.
Improper Disk Removing Operations Can Cause Not Formatted Error, RAW File System Error or More
The improper disk removing operations can not only bring people such "hard disk is not formatted" error problems and also cause more computer problems physically or logically, including computer external drive RAW file system error, USB hard disk bad sectors and other more computer drive logical damages. As with some logical damage issues, like the drive not formatted error issues, drive RAW file system format issues and more, you can easily perform a quick or full format there to restore its functional use. However, if your hard disk is burned or gets too many bad sectors due to that improper extraction, you often get no high chance to restore everything back. Therefore, whatever happens and how urgent you are, always click the Safely Remove Hardware icon on your computer desktop to eject it out from your PC safely.
Stop Rewriting External Drive after Format & Recover Drive Old Photos with Format Recovery Software
In order to get your old external drive photos and files back as many as possible after that format, you'd better stop adding or rewriting new data on this formatted USB hard disk. What you are supposed to do is only to keep it well on a safe place till you choose and find reliable format recovery software which often allows users to perform a deep scan on the chosen storage device and help recover files after format as much as possible. Of course, before purchasing the data recovery software, remember to preview the scanned files, photos, messages, documents and more to see whether your desired data is able to be restored. Honestly, with effective data recovery software, like iCare Data Recovery Free, as long as you can preview them rightly, you also can restore them back successfully.
Of course, if you get no satisfying results with the running software, merely uninstall it and go try another one instead.
Please Note: No matter which one of them are useful for you, never attempt to download and install the data recovery tools on the external drive that has been formatted in case of data recovery failures.
Always Safely Eject Removable Hard Disk & Create Drive Data Backups Well from Now On
No matter whether you do the unsafe drive removing operations purposely or unintentionally, from now on, remind yourself to eject the attached USB hard disk with Safely Remove Hardware tools all the time. Of course, in order to avoid related external drive data recovery troubles after format, except adopting a good habit to use drive safely, you are also supposed to create drive data backups well on different USB hard disks, flash drives or other storage devices all the time.
---
More Articles That You May Be Interested