Gateway Laptop Data Recovery
Today, PC has become an important part in everybody's daily life and work, while Gateway laptop is a popular PC brand. This article will share solution for Gateway laptop data recovery when you meet following problems and have no idea what to do:
Delete files from hard drive or empty recycle bin on Gateway laptop
Accidentally format hard drive, external hard drive, pen drive, memory card, SD, XD, CF, etc on Gateway laptop
Gateway laptop reports not formatted error on disk drive partition or removable hard disk
Hard drive is not accessible or corrupted on Gateway laptop
Disk partition is not showing up in My Computer or Disk Management on Gateway laptop
Hard drive has malfunctions on Gateway laptop
How to Restore Files on Gateway Laptop?
Files might be lost on Gateway laptop due to many reasons, but you can use iCare Data Recovery Pro to get back all lost file on any Windows laptop or desktop. Therefore, you can recover Gateway laptop data easily:

Step1. Free download and install iCare Data Recovery on Gateway laptop. Then, launch the software and select a proper scan mode.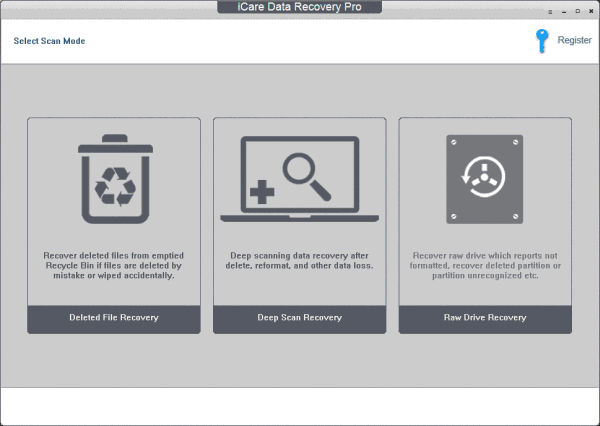 Step2. Choose the disk drive where data got lost and then you only need to wait when the software is scanning to search lost files.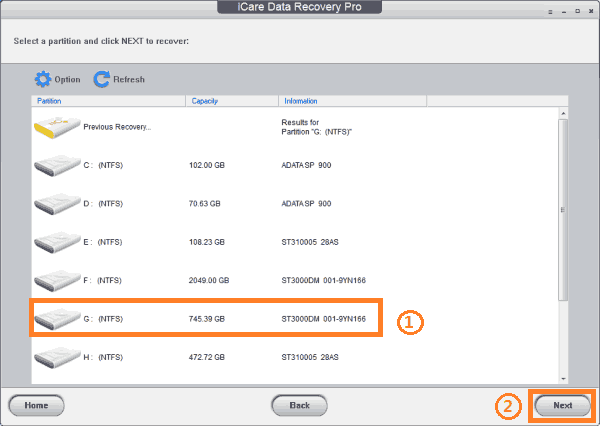 Step3. Preview files after scanning and then select the lost files to recover.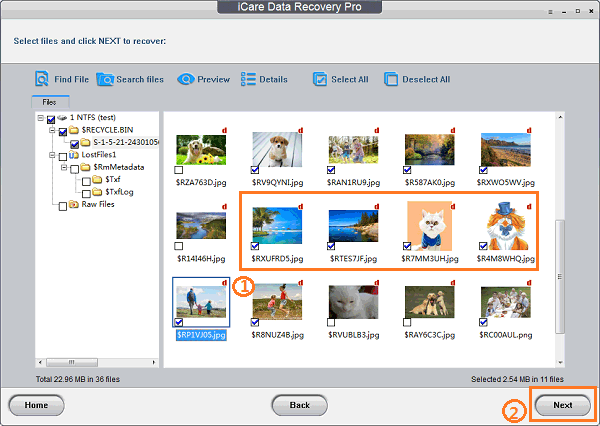 Gateway Laptop Hard Drive Recovery after Deleting Files from Recycle Bin
Files deleted from hard disk drive will not be deleted permanently before emptying recycle bin. You can use iCare Data Recovery to recover files deleted from recycle bin on your Gateway laptop. With this software, you are able to recover deleted images (BMP, JPEG, GIF, etc), videos (MP4, 3GP, MPEG, MOV, etc), audios (MP3, MMA, MIDI, etc), Microsoft documents (PowerPoint, Word, Excel, Text), PSD, PDF, TIFF and almost all other types of files. Sometimes, you may shift delete files from Gateway laptop, in which situation data does not go to recycle bin. How to recover shift deleted files using command prompt? In general, it is not able to restore deleted data with Command Line on your computer.
Gateway Laptop Data Recovery after Format
You are able to format a disk drive on your Gateway laptop in different situations. It does not matter why you format a disk drive, but you can recover data after format by using iCare Data Recovery as long as you have not written any new data to the drive. You can restore data from any storage media after formatting such as external hard drive, pen drive, memory card, micro SD card, SD card, XD card, CF card, etc on Gateway laptop.
Gateway PC Hard Drive Issue
A hard drive is important on a computer, on which you usually installed Windows operating system and save different kinds of data. Hard drive issues might cause unexpected data loss or lead your Gateway computer to stop running. Here are some common issues that often occur on hard drive on a computer:
1. Hard drive requires formatting due to improper operation, bad sector and more other reasons. When a hard drive needs to be formatted, you are unable to open it unless you can perform formatting to fix the problem. However, formatting will erase all data on the disk drive, so lots of people feel it a headache when meeting this problem.
2. Hard drive is corrupted due to virus infection. As a PC user, your Gateway laptop must have been infected with virus. If hard drive is corrupted due to virus infection, the data might be corrupted or deleted on the disk drive.
3. Hard drive is physically damaged due to water damage, fire damage or other similar reasons. If a hard drive is physically damaged, it might stop your Gateway laptop from working normally.
Usually, you can use iCare Data Recovery to restore files from any type of hard drive when it has malfunctions as long as the drive is not physically damaged.
Gateway Computer Windows Operating System Corruption
System corruption is an error that might prevent your Gateway laptop from running normally. Windows operating system might be crashed or corrupted on your Gateway computer due to many reasons like virus infection, BIOS settings changed, hardware failure, software conflict, MBR corruption and more. You need to take proper measure when the system crash is caused by different reasons. For instance, you can run antivirus software to check and erase viruses. Or you can uninstall the software which is not compatible with your Gateway laptop.
Gateway Laptop Power Failure
Sudden power failure will lead your Gateway laptop to shut down off a sudden , which might cause system crash or hard drive malfunction. If you right connect a removable disk to your Gateway laptop, power failure might also cause data loss from the removable disk. If you are writing or transferring data from hard drive or removable hard disk on your Gateway laptop, you should be careful to avoid such kind of problem if you do not want to lose any data.
Gateway Laptop Freezes & Stops Responding
Your Gateway computer freezes suddenly and stops responding when you are handling something? Usually, a computer will freeze and stop responding due to reasons like virus infection, software conflict, junk files, overheating, hardware problems, opening too many Windows or programs, etc. When your Gateway laptop stops responding all of a sudden, you can restart the computer to fix the problem. You should avoid opening too many Windows and programs on your Gateway laptop to avoid such kind of problem. However, if your Gateway laptop freezes frequently, you can pay attention to this problem and check what the reason is that causes this problem.
Similar Functions on Gateway Laptop
You probably encounter problems on your Gateway laptop in addition what mentioned above, which include:
About Gateway
Gateway Inc. was founded in 1985 in USA, which has become a popular PC brand in America. Gateway Inc. was the world's second largest PC manufacturer. However, Gateway Inc. was acquired by Acer in October 2007.

---
Related Articles