Fix/Solve BSOD Stop 0x000000BE ATTEMPTED WRITE TO READONLY MEMORY for Windows 10/7/8 PC
Last updated on 28/07/2018
How to fix/solve/resolve/repair stop 0x000000BE attempted write to readonly memory blue screen of death issues on a Windows 10/8/7/xp computer? Is it caused by PC hard disk drive problems? Will it lose or delete Windows computer files while you are trying to solve the attempted write to read only memory bsod problems there?
Solutions: Rescue important computer drive files, if necessary and then, go change device drivers, update Windows operating system or remove unworkable firmware software to fix the blue screen 0x000000BE error.
>>100% Safe Free recover Windows computer data after delete or format

Download iCare Data Recovery Pro to free recover Windows computer hard drive files, videos, music, photos, programs and more data deleted or lost by mistake before/after you fix BSOD attempted write to readonly memory problems in your PC.
Get 0x000000BE Stop Error Message on Computer Blue Screen?
Get a random blue screen with stop error code ATTEMPTED_WRITE_TO_READONLY_MEMORY error message after you have installed new device drivers, upgraded/installed Windows file system or applied some new apps there? Need to fix blue screen of death 0x000000BE stop error problems with ease? All right! You absolutely come to the right place. And, here are details for your to resolve the attempted write to readonly memory BSOD problems:
Causes of the BSOD Stop 0x000000BE Attempted Write to Readonly Memory Problems
Generally, when you receive this blue screen stop error code 0x000000BE warning message, it often means your one of your Windows 7/8/10 computer device drivers is trying to write data on a read-only sector of your computer internal memory. And, such blue screen error problems often happens due to several reasons as below:
1). Computer device driver problems
In some cases, the like error 0x000000BE attempted write to readonly memory issues are possible to be aroused by faulty/corrupted computer device driver problems, such as:
*Incompatible new device drivers
*Outdated computer hardware drivers
*Corrupted PC device drivers
Hence, no matter whether you do have installed new drivers there, go check all stored device drivers one by one carefully. 
2). Computer operating system problems
And, sometimes, such blue screen of death 0x000000BE stop error is also able to be caused by corrupted/outdate Windows operating system problems. So, also go check your Windows file system carefully to make sure it does offer right system services recently.
3). New computer firmware software problems
And, when you do have installed some new firmware apps on your Windows PC with blue screen problems, you'd better also go check whether there are some incompatible new programs issue, program conflict issues or corrupted app issues, etc.
And, the vicious viruses are also able to infect and corrupt your PC device driver, Windows system files and installed apps, and finally leads to the stop 0x000000BE blue screen of death issues.


Recommend: Go check more details to recover virus infected hard drive files
How to Fix Blue Screen Stop Error Code 0x000000BE Issues in Windows 10/8/7
No matter why you get such blue screen stop error code problems, here are several methods for you to fix such error 0x000000BE attempted write to readonly memory issues:
1). Update or reinstall device drivers
Honestly, when the PC blue screen problems are really caused by the hardware driver issues, you will also find some error codes that refers to the specific faulty/outdated/corrupted driver. Hence, go check the shown error message carefully.
When the device drivers are outdated, download and install the latest version as soon as possible.
But, if the present drivers are incompatible or corrupted, also install new ones quickly.
2).Update or reinstall Windows file system
If this PC blue screen of death attempted write to readonly memory problems are triggered by Windows file system problems, also correspondingly update or reinstall Windows operating system soon.
==>>Please Note: In case of any worse issues, back up everything important well before changing your PC operating system. 
3). Remove all new apps
If you really have installed some new firmware apps there, you may try to remove them all to see whether the same blue screen problem occurs or not.
And, at last, also perform a deep antivirus scanning on your PC to find and remove all possible viruses and threats. And, then, reboot your Windows computer to see whether the stop 0x000000BE attempted write to read only memory BSOD problems are completely removed/solved/fixed.
Also recover files deleted or lost due to delete, shift delete, format, reformat, virus attack, raw file system or the likes with iCare Recovery Pro free edition:

Free download iCare Data Recovery Pro Free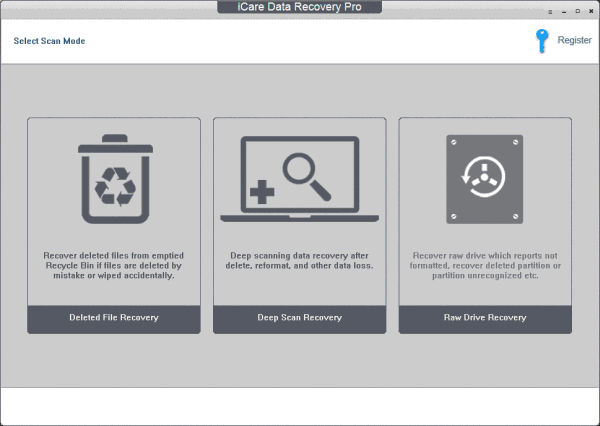 ---
Hot Articles
Related Articles