Fix/Resolve Blue Screen of Death Stop 0x00000135 UNABLE TO LOCATE DLL in Windows 10/8/7
Last updated on 28/07/2018
How to fix/solve/resolve Windows 10/8/7 computer blue screen of death stop 0x00000135 unable to locate dell problems?
Solution: Prepare computer data backups well and then, restore or fix PC operating system.


Recommend: And, learns to back up computer hard drive files safely
Computer Blue Screen Shows Stop 0x00000135 UNABLE TO LOCATE DLL Error
You are using Windows 10/8/7 Dell/Samsung/HP/Acer computer and recently often get blue screen with stop 0x00000135 UNABLE_TO_LOCATE_DLL error message? Want to fix/resolve this blue screen unable to locate dll problems without losing/deleting Windows computer files? OK! It sounds like you do have some operating system dll/registry file loss troubles. Keep on reading this article to fix PC stop error 0x00000135 blue screen of death problems.


Recommend: Also read more details about Windows 7 blue screen fix
What Does Stop Error Code 0x00000135 Mean?
Generally, the like stop error code 0x00000135 blue screen issues often means there are some Windows system file problems, such as:
1). Deleted/lost/corrupted Windows OS dll files
As the blue screen error message describes, such 0x00000135 problems often indicates some dll file problems. Actually, once some essential dll files of your Windows operating system are deleted, lost, corrupted or missing unexpectedly, you often cannot boot your PC and also encounter such blue screen error 0x00000135 issues.
Moreover, when you do have got some dll file problems, the blue screen error message will also show the names of these deleted/corrupted dll files, hence, check the blue screen error carefully. 
2). Damaged/missing/deleted Windows file system registry files
If the stop error 0x00000135 warning does not show/display any file names, it could be a problem aroused by damaged/missing/deleted Windows file system registry file problems. Hence, go check the registry files carefully.
How to Fix/Solve Blue Screen Error 0x00000135 Unable to Locate DLL Problems for Windows 7/8/10?
Follow the below steps to fix /solve/resolve blue screen error 0x00000135 unable to locate dll problems for your Windows 7/9/10 computer/laptop:
Step1: Reboot computer
In case that your PC is unable to locate dll files only occasionally and temporarily, long press the power button to turn it off and start it up again to see whether the same stop 0x00000135 BSOD error message will be displayed there again.


Recommend: Computer also reboot frequently recently? Check this page: Computer suddenly reboot
Step2. Download and install deleted/corrupted dll files
Have found a series of dll file names listed on computer blue screen? Search them all one by one over the internet and download good ones to replace the original ones. Merely copy and paste these new ones under the System 32 folder.  
Step3. Restore PC operating system to previous state
If you find no dll file names there, also do not panic. Try to restore PC operating system to previous state to fix the possible registry file problems like this: Start => All Programs => Accessories => System Tools => System Restore
And select a restore time point to restore your Windows operating system to a earlier state.
Step4. Reinstall/upgrade computer Windows operating system
Of course, all of these operating system problems can be easily fixed by a completely new OS versions. Hence, go reinstall/upgrade your PC Windows operating system, if necessary.
Please Note: Have deleted or removed very important computer ducuments and files? Go download free data recovery software like iCare Recovery Pro free edition to take lost/deleted data back:

Free download iCare Data Recovery Free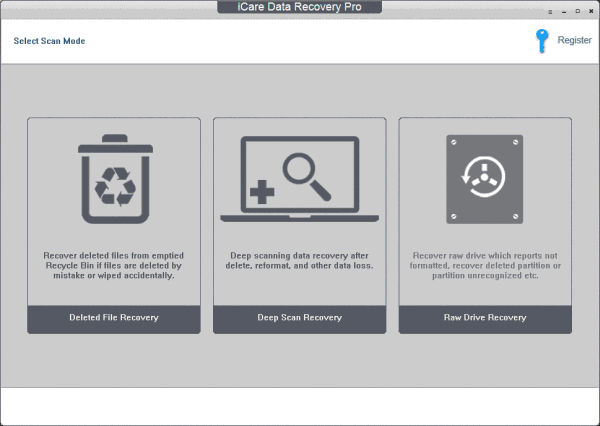 ---
Hot Articles
Related Articles