Fix/Solve BSOD Stop 0x000000ED UNMOUNTABLE BOOT VOLUME in Windows XP/7/8/10/Vista
Last updated on 28/07/2018
How to fix/solve/repair/remove blue screen of death stop error code 0x000000ED unmountable boot volume error problems as well as computer unable to boot issues? Is blue screen stop 0x000000ED fix possible without losing computer hard drive data? Is there any PC hard drive problem behind such unmountable boot volume error 0x000000ED issues?
Solutions: Firstly, recover/back up computer hard drive data and then, reset PC BIOS boot item order, check/repair hard drive problems or restore/reinstall Windows file system to fix the unmountable boot volume blue screen problems.


Recommend: Download free file recovery tool free iCare Data Recovery Pro here to recover Windows computer hard disk drive data

Free download iCare Data Recovery Pro Free
Windows PC Is Unable to Boot and Gives Blue Screen Stop 0x000000ED Error
While boot your Windows xp/7/8/10 computer/laptop recently, your always get a blue screen of death with the following error message: " Stop: 0x000000ED UNMOUNTABLE_BOOT_VOLUME...", and Windows PC also is unable to boot? Need a way to back up important computer data and also fix/resolve blue screen error 0x000000ED issues? OK! No worry! It sounds like your computer hard disk drive seems corrupted, but, such computer blue screen unmountable boot volume problems are also able to be caused by Windows operating system problems and BIOS boot order setting problems, except the hard drive problems. Therefore, go on reading to fix your PC 0x000000ED error problems. 
Causes for Unmountable Boot Volume Error 0x000000ED Blue Screen Problems
Honestly, the reasons behind such unmountable boot volume blue screen of death issues are often really broad and related to Windows PC hard disk drive, operating system and boot device settings as below:
1). Damaged/incompatible/incorrectly plunged hard disk drive
In recent days or weeks, have you added or changed or reconnected a hard disk drive for your Windows 10/8/7/vista computer? In fact, in such cases, when your inserted internal hard disk drive is loosely or incorrectly connected, incompatible or corrupted there, the PC operating system will not be able to find the boot device. And, as a result, your computer cannot boot up and crashes to such blue screen.   
2). Wrong BIOS boot order
Have you reset the PC BIOS boot order or have added any new hard disk drive for your PC recently? Honestly, when you do have set a wrong boot device as the first device item, your computer will also not be able to restart and gives such unmountable boot volume 0x000000ED error message.
3). Corrupted/deleted/lost Windows file system
And, if your computer hard drives are all workable and the boot order is also set correctly, OK! You can go check whether such computer stop error 0x000000ED issues are aroused by Windows operating system problems. For example, when your Windows file system is deleted, lost or corrupted somehow, the PC will also not able to be start up smoothly.
Hope these main causes would give you useful clues to fix everything.
How to Fix/Solve Blue Screen of Death Stop Error Code 0x000000ED in Windows 10/8/7
No matter why your PC cannot start up and gets blue screen stop error 0x000000ED problems, you can try the below solutions to fix/solve the unmountable boot volume BSOD problems:
1). Check, repair or change PC hard drive
Here are simple steps for you to resolve computer hard disk drive issues:
Step1. Disconnect the hard drive with boot volume
Follow this step to see whether the boot hard disk drive is connected correctly.
Step2. Check the hard drive connection and connection cable.
Also try different connection ports or connector cable to see whether it is a connection problems.
Step3. Use CHKDSK to test and repair HDD/HD
If it is not a hard drive connection issue, you are often supposed to run CHKDSK to scan, test and fix hard drive and also resolve such unmountable boot volume issues.
If Windows CHKDSK could not repair the corrupted hard drive, also go see whether some free disk diagnosing software helps or not.
Step4. Use another new hard drive instead
When the bootable hard drive cannot be used on any computer or fixed by any hard disk testing tool, merely go use another new one instead.
If your PC is really unable to boot, also try to start it with external bootable hard drive/flash drive/cd/dvd.


Recommend: Also learns how to create a bootable usb flash drive
2). Reset BIOS boot order
If your Windows stop error code 0x000000ED problems are not aroused by hard drive issues, also go reset BIOS boot order to take chances.


Recommend: Check this page to see how to reset PC boot order
3). Restore or reinstall computer Windows file system
Where there are really some problems with the computer Windows operating system, also go download some window operating system repairing software to take chances. Of course, if necessary, also reinstall the Windows file system.
In short, no matter whether you do have fixed/resolved stop 0x000000ED:UNMOUNTABLE_BOOT_VOLUME blue screen of death problems, you'd better rescue computer files firstly with free data recovery software and then, follow the above solutions to fix them all completely and easily.
Also go download free hard drive file recovery tool here to take chances:

Free download iCare Recovery Pro free edition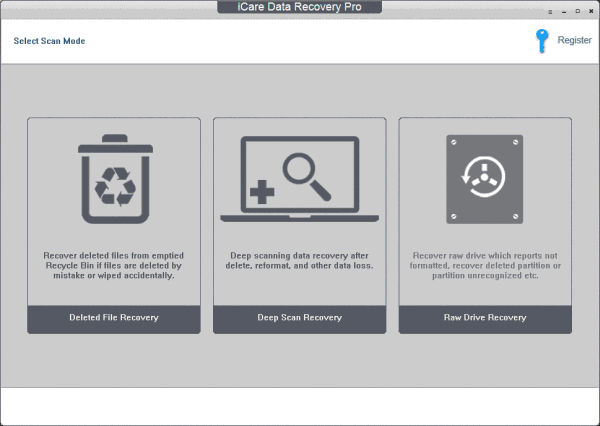 ---
Hot Articles
Related Articles