Fix/Solve Blue Screen of Death Stop 0x00000080 NMI HARDWARE FAILURE in Windows 10/8/7
Last updated on 28/07/2018
How can fix/solve/repair/remove NMI HARDWARE FAILURE blue screen error 0x00000080 issues on Windows xp/7/8/10/vista after installing new hardware/Windows security updates or updating computer hardware drivers? Is it possible to fix/solve stop error 0x00000080 blue screen of death issues without losing data?
Solutions: Download Windows PC hard drive file recovery software to rescue inaccessible data and test or repair computer hardware to remove the blue screen nmi hardware failure issues with ease.
>>100% Safe Free Windows computer drive data recovery tool

Download iCare Data Recovery Pro to free recover pictures, movies, audios and files from hard disk drive of your Windows 10/8//7 computer before or after you are trying to fix/remove computer BSOD stop 0x00000080 problems.
Is There Any Way to Remove Blue Screen Nmi Hardware Failure Issues on Windows Computer?
Hello, you do have gotten a blue screen problems many times recently and kept receiving an computer stop 0x00000080 NMI_HARDWARE_FAILURE issues on your Windows vista/7/8/10 computer after you are trying to add a new/second hard disk drive, update hardware drivers or the likes there? Really want to know more details about causes behind blue screen of death error 0x00000080 problems and fix the nmi hardware failure blue screen problems completely without data loss? OK! No worry! You can keep on reading this article to solve your nmi hardware failure blue screen issues with ease:
What Is Error 0x00000080?
Generally, the related stop error code 0x00000080 NMI HARDWARE FAILURE problems often indicates a hardware failure/malfunction. Hence, in order to remove such Windows computer stop error code problems, you are supposed to test and check your computer hardware, especially internal hard disk drives, to see what you can do.
Causes of Stop 0x00000080 NMI HARDWARE FAILURE Blue Screen Problems
Even though such blue screen error 0x00000080 problems often refers to a hardware malfunction/failures, it also can be caused by different PC hardware problems as below:
1). New hardware problems
You do have purchased and installed any new hardware on your Windows 10/8/7/xp/vista PC? Honestly, many new hardware problems are able to bring people stop 0x00000080 NMI HARDWARE FAILURE problems, including:
*New hardware may be installed wrongly.
*New hardware may be defective/incompatible/corrupted.
*New hardware may be connected through a corrupted computer port.
So, go check this newly inserted hardware carefully.
2). New hardware driver problems
And, in some cases, after using some new hardware, you are also supposed to update the compatible and workable drivers at the same time for a better performance. Hence, you can also go check whether it is necessary to update your PC hardware drivers.
3). Internal HDD drive problems
Of course, the related blue screen of death stop 0x00000080 issues are also able to be caused by internal hard drive problems, such as:
* Hard disk drive is logically damaged, like not formatted error or raw file system error.
* Hard drive is physically corrupted, like hard disk bad sectors, broken/not detected drive issues.
*Hard disk is virus attacked
*HD/HDD is incorrectly/loosely connected
Hence, also go check your used internal hard disk drives carefully.
How to Fix/Resolve Blue Screen of Death Stop Error Code 0x00000080 in Windows
After learning the reasons behind such blue screen of death error 0x00000080 problems, you can try the below methods to fix/solve such computer blue screen stop error issues with ease:
1). Extract all new hardware and drivers
In order to assure whether it is a problem caused by newly installed hardware/drivers, you can try to extract all new hardware or reinstall all new drivers, and go see whether the PC would work well as usual. If the Windows PC goes well there, you may consider to try another hardware and driver.
2). Connect new hardware through other ports
Of course, it is possible to be aroused by loose or faulty connection. Hence, also reconnect the new hardware through other ports.
If this way also makes no difference, just go contact the seller to change another one.
3). Update computer hardware drivers
And, when you do have not changed the PC hardware drivers after plugging new hardware, also go download or update drivers soon.
And, the drivers manufactured by the new hardware company could be a good choice for you.
4). Scan viruses deeply
And, under such circumstances, in case that your hardware/hard drive is virus infected, it is also necessary to deeply scan your computer to remove all possible viruses.


Recommend: And, here are five free antivirus tools for you to clean viruses and threats completely.
5). Check computer hard disk drive
And, at last, in order to fix the PC nmi hardware failure blue screen issues, you are also supposed to check computer hard disk drives. When your hard drive is only loosely/incorrectly connected, also reconnect this drive to take chances. When your HD/HDD drive is logically or physically damaged, go backup important files and folders well, and format hard drive to fix all possible drive issues. And, when you do get no data left on this internal drive, also run CHKDSK to test and fix hard disk problems. And, some professional disk diagnosing programs also can help you.
In short, no matter whether you can fix such stop error code 0x00000080 NMI HARDWARE FAILURE problems completely on your own by following the ways above, the free file recovery software iCare Data Recovery Pro free always help you get deleted, inaccessible, missing or lost games, mails, audios, videos, apps and files back:

Free download iCare Data Recovery Pro Free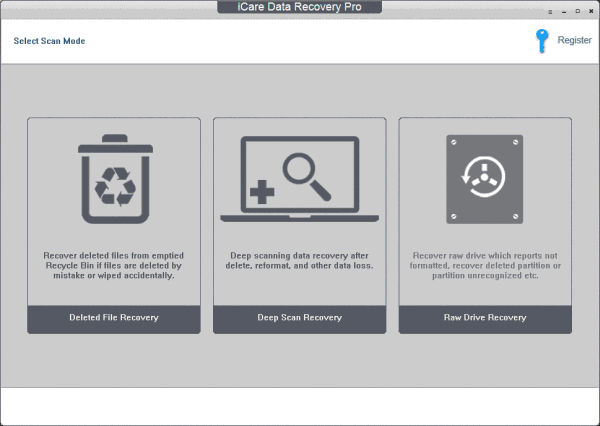 ---
Hot Articles
Related Articles