Fix Blue Screen of Death Stop 0x0000007A KERNEL DATA INPAGE ERROR in Windows XP/7/8/10/Vista
Last updated on 28/07/2018
How to fix/solve blue screen of death stop error code 0x0000007A error kernel data inpage error problems on Windows vista/xp/7/8/10 computer with data loss?
Solution: Prepare PC data backups well and then, clean computer viruses, test and repair PC hard drive or change computer internal memory chips/bars to fix/remove the kernel data inpage error blue screen issues for Windows 10/7/8/vista computer.    


Recommend: Also read more details to fix Windows computer blue screen
Need BSOD Kernel Data Inpage Error 0x0000007A Fix
Windows computer crashes and displays a blue screen reporting: "A problems has been detected and Windows has been shut down to prevent damage to your computer...KERNEL_DATA_INPAGE_ERROR...stop: 0x0000007A ..." while you are trying to hit the power button to boot up PC, defrag computer HD, upgrading Windows 8/7/10 system or do other things there? Need helps to fix/repair the BSOD error 0x0000007A problems with ease? OK! You come to the right place. Here are detailed causes and solutions for you to do kernel data inpage error 0x0000007A fix with ease and success. 
What Does Stop Error Code 0x0000007A Mean?
Generally speaking, such Windows blue screen 0x0000007A error problems often indicate the computer Windows system has problems in reading data from virtual memory which  often has a close relationship with computer internal hard drive or memory chips. Hence, in other words, you'd better go check the computer memory chips and hard drives to see whether there are some memory problems to take chances.  


Recommend: This page link for you to fix computer disk read error problems
Why Receive Error Message Stop 0x0000007A Kernel Data Inpage Error?
Since the like PC kernel data inpage error problems are related to computer internal memory, you can go find the possible causes behind by checking the computer hard disk drive and memory chips, etc.
1). Incorrect hard drive/memory chip connection
Have you reconnect computer internal hard disk/memory chips after sudden dropping/falling/shocking recently? Have inserted any new hard disk drive or memory chip there? Or how long you do have not cleaned computer internal storage device? Honestly, when your computer internal HD/memory chip is incorrectly or loosely connected or when the contact parts of your PC drive/memory chips are dusty and have not been cleaned for a really long time, the related blue screen of death problems would happen to you because of incorrect storage device connection. 


Recommend: Have cleaned up computer hard drive accidentally? Go perform data recovery after Windows format clean
2). Malfunctioned PC HDD/memory chips
Of course, the related computer 0x0000007A kernel data inpage error problems are also able to be aroused by any malfunctioned computer HDD/memory chips. For example, when your PC hard drive gets bad sectors, hard disk requires formatting due to raw file system error, or hard disk drive is not recognized/corrupted, etc, you often will also receive the stop 0x0000007A error message on the blue screen of your PC.
3). Virus infected computer hard disk/memory chips
And, in addition, when your computer hard disk/memory chips are virus infected, the PC performance will also be affected, which also leads to blue screen with error code kernel data inpage error problems.
Overall, you'd better instantly check your computer internal hard drive/memory chips carefully and patiently.
How to Fix/Resolve Stop Error Code 0x0000007A Blue Screen Issues for Windows PC?
If you have been stuck in such blue screen with stop 0x0000007A kernel data inpage error problems, the below solutions are able to help you fix stop error code 0x0000007A blue screen issues without losing data:
1). Back up everything important
In your case, any improper operation, like random hard disk format, virus cleans and more, is able to cause PC data loss troubles. Hence, before you start to resolve such computer stop error issues, go back up everything important well.


Recommend: Also learns to save data backups well here: How to back up computer data free
2). Update or re-download antivirus software to clean viruses
Windows computer reports hard drive is virus infected? OK! Update your antivirus software firstly and start this updated tool to remove all possible viruses and threats completely. And, if necessary, also download free antivirus software to take chances.
3). Scan and fix hard drive with CHKDSK
And, now, you are supposed to take some measures to see whether the inserted hard disk/memory chips are physically damaged or not. Firstly, scan and fix hard drive with CHKDSK. And also use professional drive diagnosing programs searched online, if necessary.
4). Remove and replace failed hard disk/memory chip
Of course, when the applied hard drives/memory chips are already corrupted/failed seriously, also safely remove them out from your PC and replace them with other good ones.
And now, restart your Windows PC and see whether such bsod stop code 0x0000007A problems happen again or not. If such stop error code 0x0000007A error message shows again, go ask some computer experts for help.
Tips: No matter what you have done to fix such computer blue screen problems, if you do have accindentally or mistakenly lose important computer data, go download free file recovery software to take deleted, lost or inaccessible data:

Free download free data recovery tool iCare Data Recovery Pro free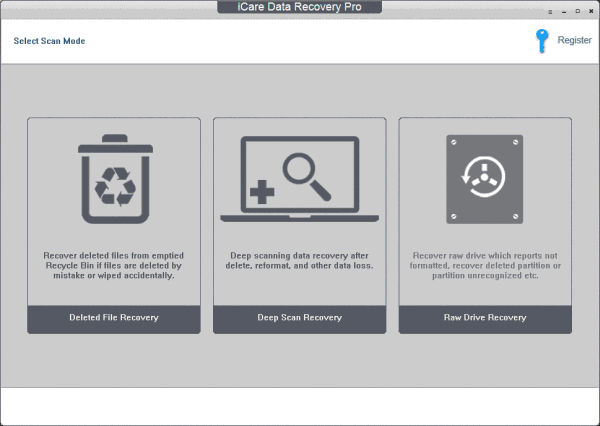 ---
Hot Articles
Related Articles