How to Fix/Solve BSOD Stop 0x00000051 Registry Error Problems in Windows 7/8/10/XP
Last updated on 27/07/2018
Receive a Stop 0x00000051 Registry Error Message on Windows PC?
Hello, your Windows 10/8/7/XP PC goes to Blue screen of death screen while you are trying to reboot computer, install/reinstall computer Windows operating system? Also receive/get a stop 0x00000051 registry error message on Windows computer blue screen? Need fix/resolve registry error blue screen error 0x00000051 problems urgently? No worry! Generally, such registry error blue screen problems are able to be caused by computer hardware problems, software problems and operating system problems, etc. Keep on reading this article to know more details here:
Causes behind Blue Screen Error Code 0x00000051 Issues
Generally speaking, the blue screen stop error 0x00000051 problems often means there is something wrong with the computer hard drive boot registry or Windows operating system configuration management. In other words, such stop error code issues are related to computer hardware/hard drive problems, Windows OS problems and software problems and more. And, here are some common causes behind such stop error 0x00000051 bsod issues:
1). Computer hardware/hardware is physically damaged
After you do have press the power button of your PC, the computer will automatically read the boot registry saved on the computer internal hard drive, start the Windows operating system and boot up step by step. However, once the computer hardware, especially the hard drive with boot registry, is corrupted or physically damaged, like bad sectors, the computer will not be able to start up, go to blue screen and give such 0x00000051 error message.

Recommend: Also go visit this page to fix computer hard drive bad sectors
2). Newly installed software changes/damages hard drive boot registry
Have installed any new software, like game, app or tool, on your Windows laptop recently? Honestly, some newly installed software sometimes will also mutely change or damage the computer hard drive boot registry and bring you such blue screen of death problems.
3). Windows operating system problems
And, when your PC Windows 7/8/10/vista operating system is corrupted, deleted, outdated or reset somehow, the same registry error blue screen of death issues also come to you.
==>>Also check this page to recover deleted computer files and folders
And, there are also other reasons for such computer stop error problems, like drivers, firmware and more. Hope the major ones listed above could help you out.
Fix/Resolve Registry Error Stop 0x00000051 Problems on Windows Computer Blue Screen
No matter how your blue screen registry error goes now, go follow the below methods to fix/resolve stop error 0x00000051 blue screen of death issues:
1). Perform hard disk scanning with CHKDSK
In case that your computer hard disk drive really have physical damages, use CHKDSK to perform a deep disk scanning and fix all possible hard drive problems.
If the hard drive is seriously corrupted, some hard disk testing software is able to help you out.
And, no matter which tool you will use to test and fix PC hard drive problems, you'd better prepare computer hard drive file backups well in advance.

Recommend: Read more details to back up important computer data
2). Reset or restore computer hard drive boot registry
In case that any newly software has really deleted or changed your hard drive boot registry, go check, reset and restore the registry carefully.
Of course, in case of any worse problems, also reinstall and delete the related apps, games and tools completely.
3). Restore or reinstall PC operating system
And, now, try to check and repair the PC operating system problems. When it is really outdated, update the Windows operating system quickly. If some OS files and folders are deleted or corrupted, go download new one to restore the operating system well. Of course, you can also reinstall the PC OS. And, if you have used a piratic operating system version, also go install the authorized version instead.
Overall, no matter which method works for you, computer file recovery software is able to recover deleted or lost Windows PC hard drive files, movies, songs, apps, games, documents and more data back: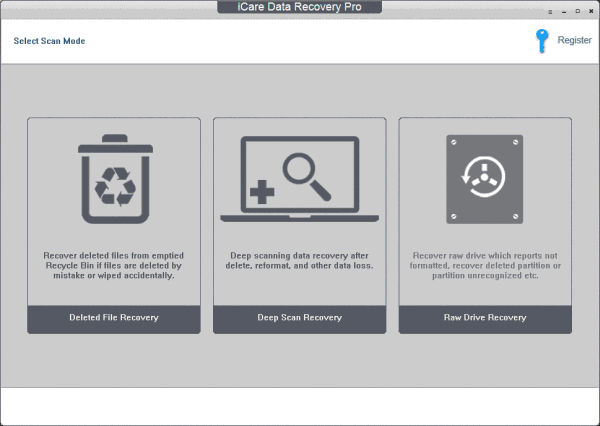 ---
Hot Articles
Last updated on July 28, 2022
Related Articles