Fix/Repair BSOD Stop 0x0000003F NO MORE SYSTEM PTES in Windows
Last updated on 27/07/2018
Windows Computer Has a Blue Screen with Error Code 0x0000003F Problems?
Recently Windows 10/8/7 computer freezes frequently and finally crashes to blue screen saying: "Stop 0x0000003F NO_MORE_SYSTEM_PTES"? Windows computer becomes supper slow and also gives the same blue screen of death stop error 0x0000003F problems? Or computer just goes into blue screen and shows this 0x0000003F error message without any warning? OK! No panic! These all are common symptoms of such blue screen no more system ptes problems. What you are supposed to do now is to find the reasons behind the 0x0000003F error and fix such blue screen problems completely.
Why You Gets No More System Ptes Blue Screen 0x0000003F errors?
Generally, no matter how bad your situation is right now, in order to troubleshoot and fix such no more system ptes blue screen 0x0000003F error issues, you are supposed to firstly find the causes behind:
1). Windows system problems
In recent days or weeks, have you tried to delete computer hard drive files and folders? Have corrupted/fallen/dropped PC to damage the internal hard disk drive and lose some operating system files? Or have you updated, upgraded or reinstalled computer Windows system recently? Honestly, when some essential computer system files, like DLL files or registry files, are deleted, corrupted or lost accidentally, or when the PC operating system is incorrectly updated/upgraded/installed, such computer stop error problems would happen.
2). Faulty or virus infected apps
Have downloaded and used any new app on your Windows laptop? Have you installed the software correctly there? Or is that software safe? Honestly, the related computer blue screen error 0x0000003F issues are really possible to be aroused by wrongly installed program or virus infected app.
==>>Hence, hope you can start your antivirus software to remove virus infected files and folders
3). Corrupted or malfunctioned drivers
Also have updated PC drivers recently? If so, it also could be a problem aroused by corrupted/malfunctioned drivers. Why? When your computer drivers are corrupted or installed incorrectly or outdated, such no more system ptes 0x0000003F error message would be given.
4). Computer hard drive problems
Sometimes, when your computer hard drive gets bad sectors, physically or logically damaged (like having not formatted error, raw file system error or not recognized drive problems, etc), the computer will also enter blue screen and give such stop error code 0x0000003F.
How to Fix/Troubleshoot Blue Screen of Death Stop 0x0000003F Error Issues?
The related blue screen of death stop 0x0000003F problems happen to Windows users from time to time. And, here are some common solutions for you to fix/resolve such stop 0x0000003F blue screen issues:
1). Uninstall all newly installed programs
No matter which type of computer utilities you do have downloaded and installed on your PC, go uninstall all of them to see whether such computer stop error problems are caused by software problems, including software conflicts, incompatible software or wrongly installed program problems. Of course, in case that it was aroused by viruses, also perform a deep antivirus scanning there.
2). Update or reinstall drivers
Also update or reinstall all computer drivers to check whether it is a driver problem.
In case of any unwanted worse issues, also download the drivers or updates from the authorized site or locations.
3). Fix or reinstall PC operating system
When your Windows operating system files are deleted, corrupted or lost somehow, download some system repair program to fix all possible Windows system issues. However, if your PC system even cannot be repaired by such professional programs, perhaps, you can try to reinstall the PC system.
Overall, no matter which ways you will choose, always remove all possible PC OS issues completely.
4). Repair computer hard disk drive
Diagnose the installed computer hard disk drive and repair hard drive problems as possible as you can. However, if the hard disk is already gone and cannot be used on any machine, also go see whether it is necessary to purchase a new one for future use.
Of course, no matter how badly the state of your PC HD right now, hope you do have prepared drive file backups elsewhere. If not, also no worry. Use data recovery software to retrieve deleted hard drive files.

Free download iCare Data Recovery Free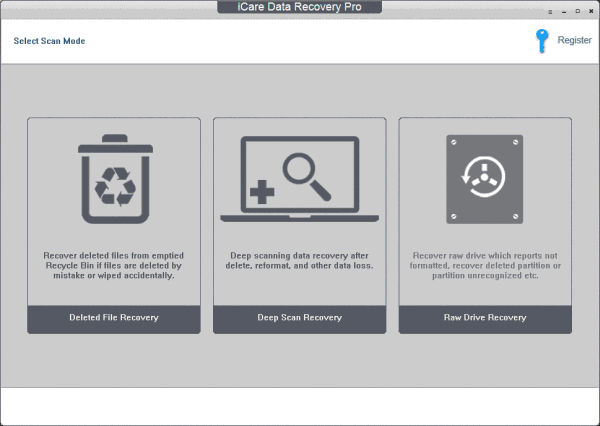 ---
Hot Articles
Related Articles