How to Fix Blue Screen of Death Stop 0x00000027 RDR FILE SYSTEM for Windows 10/8/7/XP Computer
Last updated on 28/07/2018
How to fix blue screen of death stop error code 0x00000027 rdr file system problems in Windows vista/xp/7/8/10? How to boot up Windows PC and access computer hard drive files, games and apps?
Solutions: Enlarge or fix computer hard disk drive, and recover Windows computer files with free deleted file recovery software.

>>100% Safe Free recover deleted files from Windows computer
Download iCare Data Recovery Pro to free recover file deleted or lost from your Windows computer hard drive before/after you begin to resolve stop error code 0x00000027 issues for your Windows computer.
Get BSOD RDR FILE SYSTEM 0x00000027 Problems in Windows XP/7/8/10/Vista

Windows vista/xp/7/8/10 computer has rebooted from a bug check 0x00000027 error problems recently? Or intermittently get a blue screen of death stop 0x00000027 RDR_FILE_SYSTEM error message while using computer apps or installing PC operating system, etc? Is there any suggestion to fix/solve this rdr file system blue screen issues without data loss for my Windows 10/8/7 computer? OK! No worry. Such BSOD drd file system error problems are often related with computer memory problems and go follow this articles to know details of the blue screen stop error 0x00000027 fix:
Causes behind RDR FILE SYSTEM Blue Screen Issues
Generally, even through the Windows rdr file system blue screen error 0x00000027 problem often indicates a full computer hard disk drive/memory problem in theory, it does not always mean that your inserted internal hard drive is filled with differing pictures, music, documents, videos, games and files, etc, in reality. Instead, it often refers to a hard disk problems, as below:
1). Computer C/system partition is running out of space
How much space you do have allocated for your C/system partition/volume? How much free space left there now? Honestly, when your computer C/system partition is in low disk space, the PC will get no enough free space to process different reading/written data and will often finally lead to blue screen rdr file system problems.


Recommend:Check more details to fix computer C partition low disk space issues
2). Computer hard drive is full of fragments
When you do have not save much information there, you may also take the fragments into consideration. After a long time use, the accumulated computer hard drive fragments would also occupy much disk space and affect the PC performance.
3). Computer hard drive is corrupted with bad sectors
And, the like BSOD stop error 0x00000027 also are able to be caused by corrupted/malfunctioned computer hard disk drive. For instances, is your hard drive tested with too many bad sectors? Is your hard disk inaccessible and keeps asking to format due  to virus or raw file system problems? Is it still recognizable there? Go check your PC HD/HDD/SSD to see whether it works as well as you think.
In addition, in some cases, a rotten/dusty hard disk connection interface is also to bring you connection problems and leads to such blue screen of death problems. Hence, go check your PC hard disk drive carefully now.
How to Fix/Solve Blue Screen of Death Stop Error 0x00000027 Problems for Windows PC
When you are looking for solutions to fix/solve blue screen stop 0x00000027 rdr file system problems, you can go follow the below methods to repair such computer stop error code problems with ease and success:
1). Extend C/system partition space
If your Windows PC really has no enough free space for C/system partition/volume, merely extend the partition/volume space by adding the free space of the rest partitions or directly repartition computer hard drive.
Of course, with all important PC data backed up well, you can also try to replace the original hard drive with a larger new one, if necessary.
2). Clean hard disk drive fragments
If you do have never ever cleaned or deleted hard disk drive fragments, go clean it this time as below: Start => All programs => Accessories => System tools =>Disk Defragmenter
3). Test and repair HD/HDD/SSD
And, up to now, you can go check your used HD/HDD/SSD to see whether it is a hard drive problem behind such BSOD stop error 0x00000027 problems, like this:
*Start CHKDSK to test and fix hard drive
*Run hard drive diagnosing programs
*Try the internal drive on another computer
In short, use all possible ways to test whether your hard drive is in good state or whether it is still fixable.
==>>Please Note: Always recover hard drive files with data recovery tools at first no matter whether your drive is malfunctioned or not now.
4). Change a larger internal hard disk drive
If your blue screen rdr file system issues prove to be a corrupted/malfunctioned hard drive problems or low disk space problems, you can also merely go change a larger hard disk drive for your Windows 10/8/7/xp/vista computer, if necessary.
And, if you still receive the same stop 0x00000027 error message on the blue screen, also go perform antivirus scanning there or merely take the PC to local computer repairing shops for help.
If you really need a computer file recovery program to rescue important files and folders after fixing such computer blue screen of death issues, also go download free Windows PC data recovery tool iCare Recovery Pro free here:

Free download iCare Data Recovery Pro Free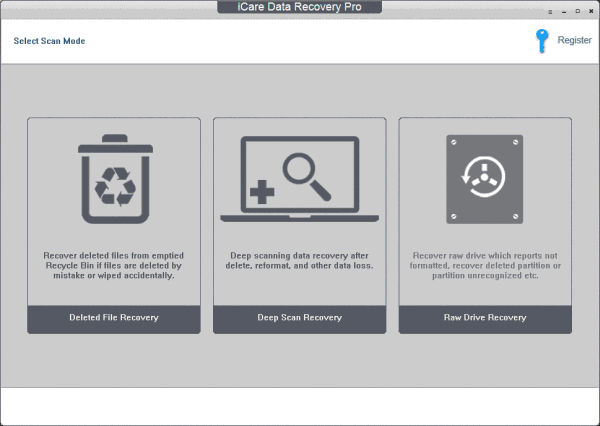 ---
Hot Articles
Related Articles