Fix/Repair Blue Screen Stop Error Code 0x00000023 FAT File System Problems in Windows 7/8/10/XP
Last updated on 27/07/2018
Windows Computer Gets Blue Screen of Death Stop 0x00000023 Error Message?
Have a random blue screen of death problems saying: "STOP: 0x00000023 (parameter, parameter, parameter, parameter) FAT_FILE_SYSTEM" on your Windows 7/8/10/xp computer? Need to fix/resolve/repair BSOD stop error code 0x00000023 fat file system problems without data loss and reboot your Windows PC smoothly? OK! You comes to the right place. This article will illustrate causes behind the blue screen 0x00000023 problems clearly and also help you do/perform a fat file system error 0x00000023 fix in details before such computer stop error code problems crashes or freezes your PC with important files.
What Is Computer Stop Error Code 0x00000023?
Generally speaking, the like computer stop error code 0x00000023 fat file system error message often indicates that your Windows computer hard disk drive with FAT or FAT32 file system have got some problems, including having hard disk errors, hard drive bad sectors, hard disk file errors, too much disk fragmentation and more. Hence, once you do have received such 0x00000023 blue screen error message, you are supposed to check the computer internal storage device carefully.

Recommend: Also read more to fix hard drive bad sectors on Windows computer
Why PC Suck on Blue Screen with 0x00000023 FAT File System Error Problems?
As you'd read above, the related blue screen stop error code 0x00000023 issues are often aroused by FAT/FAT32 file system hard disk drive problems. And, here are some detailed hard drive causes related to such error 0x00000023 problems:
1). Hard disk drive errors
Your Windows PC internal hard drive shows raw file system and cannot be accessed without format now? Or computer HD says not formatted do you want to format it now? Or computer laptop hard disk drive keeps asking to format before any access? OK! The related hard disk drive errors, like blank/unsupported file system hd errors, not formatted/unformatted hard drive errors, corrupted/not recognized hard drive errors and more.
2). Too much disk fragments
Have you frequently used your computer HDD to save, write or transfer data recently? Or have you frequently deleted hard drive files, formatted PC hard drive or the likes? Honestly, all these hard drive operations are able to create hard disk fragments which finally leads to hard drive or even computer problems, just like this stop error code 0x00000023 problems, once the disk fragments have been calculated into a really large amount.
3). Too large hard drive files
Have you recently added or transferred any large file to/out of this computer hard drive? In fact, any too large file written/transferred file on this PC internal hard drive is possible to bring you the related blue screen fat file system error problems.
4). PC hard drive file transformation is suddenly interrupted
Have tried to transfer a mount of data to/out of computer hard drive recently and also stopped the data transferring process suddenly for some reasons? If so, the related error 0x00000023 problems also happen to you.
Overall, many hard drive problems could lead to computer fix fat file system blue screen error 0x00000023 issues.
How to Fix/Repair BSOD Error 0x00000023 problems in Windows xp/7/8/10
Even finding the reasons behind BSOD error 0x00000023 problems, still have no idea about how to fix/resolve such blue screen issues? OK! Follow the bellow solutions to take chances:
1). Run CHKDSK to fix computer hard drive
Generally, as long as your internal hard disk drive is not completely corrupted/failed, computer CHKDSK always can help fix hard drive problems with ease. Hence, before the computer problem goes worse, run CHKDSK step by step to repair your PC hard drive.
Of course, if the Windows built-in error-checking tool also does not help you, also go free download hard disk diagnostic software to take chances.
2). Disable any antivirus, backup or the like apps
You do have run any antivirus, backup or firewall software which is able to scan, use, separate or delete hard drive files without any warning on the background? If you do, you'd better try to disable or close these running antivirus, backup, firewall programs and then, attempt to reboot your PC to see whether the same blue screen of death error 0x00000023 pops out again or not.
3). Clean computer hard drive fragments
When there are too much disk fragments, also try to clean all hard drive fragments manually or download professional hard drive cleaning software to help you.
In the future, also play a habit to clean hard drive fragments regularly.
4). Check Windows operating systems
In fact, the like error code 0x00000023 issues are also able to be aroused by Windows operating system problems. Hence, also enter command prompt "SFC/SCANNOW" into the blank of your PC Run tool and check whether the operating system gets problems or not.
If it really has some problems, go update, upgrade or reinstall it correspondingly.
Overall, no matter which ways you will choose to resolve/repair/fix stop error code 0x00000023 blue screen problems, hope you can act carefully and also save computer hard drive data backups well in advance.
If you unfortunately delete or lose computer HD files, also go download free hard drive file recovery programs to recover deleted/lost data back.

Download free file recovery software iCare Data Recovery Pro free edition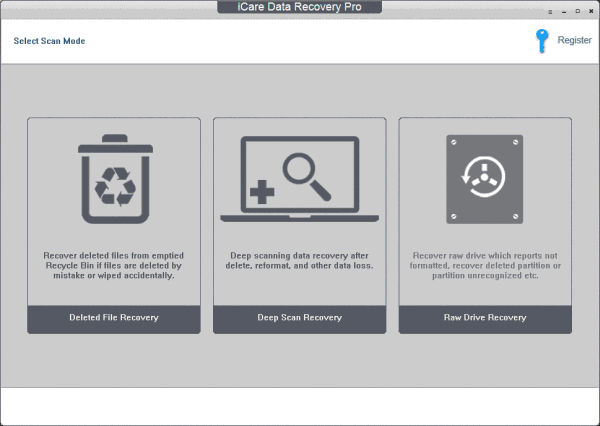 ---
Hot Articles
Related Articles