Troubleshoot and Fix/Solve Stop 0x000000f4 Blue Screen Error in Windows XP/7/8/10/Vista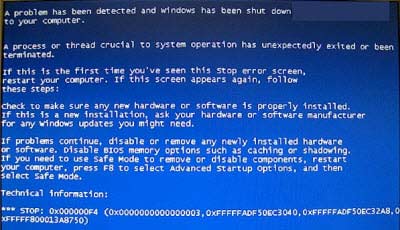 Last updated on 10/7/2018
Get Blue Screen of Death Stop 0x000000f4 Error on Startup?
Recently keeps getting blue screen of death stop 0x000000f4 error problems on startup/boot in Windows xp/7/8/10 every time you are trying to play a game/start an app/software/tool, or while installing/updating/upgrading Windows 7/8/10 OS or after installing/updating PC drivers, etc? Such blue screen error message says "STOP: 0x000000F4 (0x00000003, 0x862F8D90, 0X862F8EDC, 0X822AA590)... " and don't know what the 0x000000f4 error code means as well as how to fix bsod 0x000000f4 endless reboot issue without data loss? No worry. Such 0x000000F4 blue screen error occurs due to driver, hardware and software issues and could be fixed/solved easily. Keep on reading to do/perform a stop 0x000000f4 blue screen error fix with ease and success.
Why the 0x000000f4 BSOD Problem Comes to You?
Firstly, you are supposed to find the causes behind such blue screen of death 0x000000f4 error problems so that you can fix/solve such blue screen of death issues correspondingly. And, here are some common reasons of 0x000000f4 error for you:
1). The used game/app/process gets problems
Your Windows computer turns into blue screen every time when you are trying to open/use a game/app/process? Have you downloaded and installed the game/software/process recently? OK! Perhaps, these games/tools/processes are too large, corrupted or is not compatible there, etc, and lead to such stop error 0x000000f4 problems. So, go reinstall or remove them to have another try.
2). PC OS is incorrectly installed/upgraded/updated
Have you also upgraded/updated/installed Windows operating system recently? The 0x000000f4 blue screen error message just pops out after you do upgrade/update/install the PC OS? OK! Perhaps, you do have incorrectly launched/upgraded/updated the computer Windows OS. Go check this.
==>>Go visit this page to fix Windows upgrade error problems
3). Computer drivers are outdated/corrupted or updated wrongly
If you do have installed or updated computer drives, the related blue screen issues also are able to be caused by corrupted/outdated/unsafe drivers.
4). Computer hard drive is corrupted/malfunctioned
If you do have excluded the previous three points, ok, it sounds like you get a hardware problems, like malfunctioned/broken/corrupted hard drive.
==>>Read this article to recover data from corrupted hd/hdd
5). Others
There are also others reasons which bring people blue screen error on boot, like virus attack, no enough hard drive space and software conflicts, etc. Just check your computer software and hardware to see which one or two of them are more practical for your bsod 0x000000f4 error troubles.
How to Fix/Solve Blue Screen of Death 0x000000f4 Error on Windows XP/7/8/10/Vista Computer?
And now, no matter whether you have found the reasons behind, here are some Windows stop 0x000000f4 error solutions for you:
1). Back up crucial computer hard drive files and folders well in advance
No matter which type of blue screen error issues you do have encountered or whether your Windows vista/10/8/7 computer could be restarted now, you are supposed to prepare hard drive data backups well on other storage devices well to avoid any unpredicted file loss troubles.
==>>Also read this article to save PC data backups online
2). Remove or reinstall running game/software/process
If your computer really gives stop bsod error stop 0x000000f4 message while trying to open/access game/software/process, you can go reinstall or remove these games/apps/processes to fix such blue screen error code problems.
3). Reinstall or upgrade computer Windows operating system correctly
If you are sure such bsod problems happen after you do have tried to install/upgrade/update the Windows OS, also go correctly reinstall/upgrade/update the operating system to have another good try. Always find and follow a step-by-step tutorial guide online this time.
==>>Find computer operating system missing somehow? Go fix PC missing operating system error
4). Re-download and reinstall the computer drivers
Also re-download and reinstall the computer drivers to take chances. If you do find some new driver updates, also go update yours.
5). Check and repair computer hard drives
And, then, now, you are supposed to check and repair computer hard drive to fix blue screen showing stop 0x000000f4 problems on your Windows computers.
*Open Disk Management to see how the hard drive shows there
If it is in raw file system, not initialized, unknown or unallocated, you are still able to perform a format process there to fix everything.
*Try chkdsk/diagnostic apps to test and repair the inserted hard drive
* Format hard drive to see whether it is still fixable.
If unfortunately this internal hard disk is completely corrupted and not recognized on any computer, sorry. You'd better take this chance to purchase another one for future use.
And then, go restart your PC.
---
Related Articles
Hot Articles