File System: FAT FAT32 EXFAT NTFS HFS+
File system, also known as filesystem, is used to tell how data is stored and retrieved on storage media like hard drives, SSD drive, etc. File system plays an important role in separating data stored on storage media into individual pieces and giving each piece of data a name, so that you can easily find the data you need. There is a file system under different operating system like DOS, Windows, Mac OS, and Unix-based OS and so on. Common file system includes FAT, FAT16, FAT32, NTFS, exFAT, EXT2, EXT3, HFS, HFS+ and more. Different OS usually supports different file system.
Brief Overview Of The Differences
| File System | Compatible with macOS? | Compatible with Windows? | Max. file size | Max. partition size |
| --- | --- | --- | --- | --- |
| HFS+ | Yes | No | No limit | No limit |
| FAT32 | Yes | Yes | 4GB | 8GB |
| exFAT | Yes | Yes | No limit | No limit |
| NTFS | Partially(Not provided in Mac file system when formatting) | Yes | No limit | No limit |
FAT File System
FAT short for File Allocation Table. FAT is a type of file system developed by Microsoft, which is usually used on MS-DOS and Windows OS. The previous versions of FAT file system include FAT12, FAT16. Nowadays, FAT32 file system is widely used. Compared with previous versions of FAT file system, FAT32 provides a more efficient solution for data storage. FAT32 uses 32bit File Allocation Table, which improves the ability for disk management. However, FAT32 file system runs slower than FAT16 file system. In addition, FAT32 file system has a limitation that the maximum size for a file on FAT32 drive is only 4GB. FAT32 file system is usually supported by Windows 95, Windows 98, Windows 2000, Windows XP, Windows 2003, etc.
iCare Data Recovery Free is a freeware that is available for FAT12, FAT16, FAT32 file system recovery no matter you lose data after formatting, deleting or other reasons.
NTFS File System
NTFS, namely New Technology File System, is a file system developed by Microsoft. NTFS file system is a member of Windows NT family, which is able to work on Windows 2000, Windows XP, Windows Vista, Windows 7, Windows 8, Windows 10 and more. NTFS has replaced the FAT file system, which becomes the default file system in Windows computers. NTFS file system has improved its performance, reliability, security and disk space utilization. Generally speaking, NTFS file system has following features:
The maximum size of NTFS file system is up to 2TB on a dynamic drive.
NTFS is a journaling file system which uses NTFS Log and recovery technology to guarantee the integrity of the file system metadata.
NTFS allows users to compress partitions, folders and files.
NTFS provides a more efficient solution for disk management, which uses a smaller cluster.
NTFS file system has a better security and provides more functions
NTFS partition refers to the partition that has NTFS file system. Files stored on NTFS partition might be lost due to formatting, deleting or other reasons, in which situation you can use iCare Data Recovery to recover files from NTFS partition.
HFS Plus File System
HFS plus (or HFS+), namely Hierarchical File System Plus, is a default file system in Macintosh computers or other computers that runs Mac OS developed by Apple Inc. HFS+ is also used in iPod. HFS+ file system is also regarded as Mac OS Extended. Mac OS divides hard disk space into many logical blocks. Each logical block is usually 512 bytes in size, so logical blocks in HFS+ file system is sectors in NTFS or FAT file system.
iCare Data Recovery is also available for HFS+ disk file recovery, but you need to connect the device to a Windows PC to perform data recovery because this data recovery software is only compatible with Windows OS.
exFAT File System
exFAT, namely Extended File Allocation Table, is also called FAT64. exFAT file system is designed for flash drives, which is a file system developed by Microsoft. It also supports Apple Mac OS.
Comparison of NTFS and FAT32 File System
FAT32 and NTFS file system have their own advantages and disadvantages. Here, this article will introduce some differences between FAT32 file system and NTFS file system:
1. FAT32 file system is an extension of FAT file system, which is not commonly used nowadays, because it has been replaced by NTFS file system. Simply say, FAT32 file system refers that data is stored on disk in chunks of 32 bits. NTFS file system is a file system that is commonly used in Windows computer due to its high performance, security and reliability.
2. FAT32 file system has no fault tolerance, while NTFS file system is able to automatically repair files or folders when your PC runs into power failure or abrupt errors, etc.
3. You need to depend on share permissions for security in FAT32 file system. FAT32 file system only allows you to set permissions on network files. However, in NTFS file system, you can set permissions on both network files local files. NTFS file system is much securer than FAT32 file system.
4. FAT32 file system does not allow you to compress any file or folder, which NTFS file system enables you to compress folders and files. NTFS file system has a better compression feature, in which situation you do not need to compress the whole partition.
5. You are allowed to convert FAT32 file system to NTFS, but it is not able to convert NTFS file system to FAT32.
RAW File System
RAW file system, also known as RAW drive, refers to a disk partition that has not been formatted properly. The reason why a disk partition shows RAW file system is that the file system is not recognized by operating system. In this situation, you will receive message like disk drive is not formatted do you want to format it now or you need to format the disk drive before you can use it when you attempt to open the disk drive. Meanwhile, the capacity of the disk drive will show 0 byte space. In addition to hard disk drive partition, other storage media like memory card, external hard drive, USB thumb drive, pen drive, etc might also turn to RAW file system in some cases. Usually, RAW drive error might result from various reasons such as:
If it runs quite slowly when you click the drive, probably the hard drive contains bad sectors.
If it is a memory card, flash drive or external hard drive shows RAW file system, you should open disk management to check if the status of the device is healthy. If it shows healthy, probably the device is corrupted due to virus infection, unexpected shutdown, power outage, format failure, etc.
If you want to convert RAW to NTFS or FAT32 file system in order to make the drive accessible on your computer, you just need to format the drive. If there is important data on the RAW drive, you had better run iCare Data Recovery first of all to get back all inaccessible data from the drive before formatting it.
Data Recovery from Different File System
Have you ever lost data from NTFS, FAT32, HTFS+ or any other file system? Is it possible to get back lost files when you delete photos from a memory card that has FAT32 file system? Or can you unformat a USB flash drive which has NTFS file system? Or can you restore files from HTFS+ file system? The answer is yes! You just need to use iCare Data Recovery Pro , a data recovery program which provides read-only solution for data recovery from different file system including NTFS, FAT16, FAT32, HTFS+, RAW, etc. This data recovery software allows you to restore any type of file such as images, videos, documents, music, etc after deleting, formatting or disk drive shows error message.
Steps to Recover Data on Various File System

Preparation: Free download and install iCare Data Recovery on the computer where you need to perform data recovery. You should be careful to avoid installing the software on the drive where data got lost. Then, you can launch the software and follow the steps below to recover data.
Step1. Select a proper scan mode after running the software.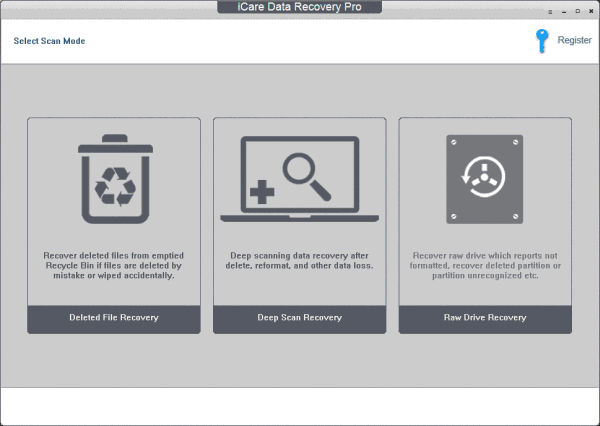 Step2. Choose the drive where data got lost and then you only need to wait patiently when the software is scanning to search lost files.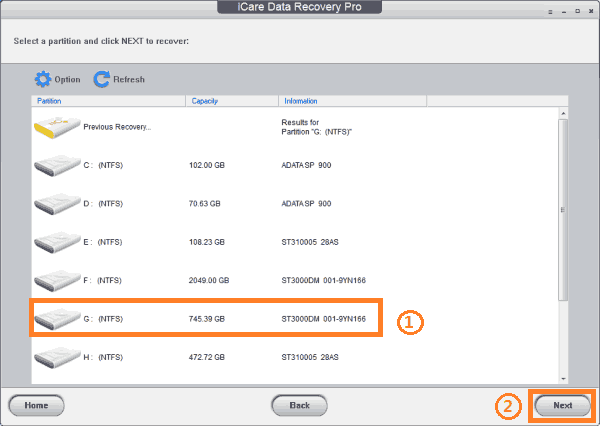 Step3. You can preview files after scanning and then store all lost files to another drive.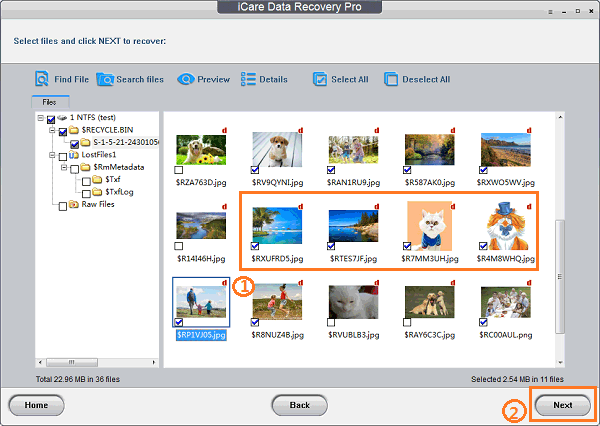 ---
Related Articles
Hot Articles