External HFS+ File System HDD Undelete Files
"I need help to undelete files from external HDD HFS+ file system because I mistakenly deleted some data from my external HDD when plugging it to my MacBook. I plugged my external HDD to my MacBook to download some videos and pictures to store on this external, but I carelessly selected several photos and deleted them from the external HDD. I tried to download a data recovery tool to undelete the photos, but it said it is not compatible whit HFS+ file system. So I want to know if there is any external hard drive recovery software that can work for external HFS+ file system data recovery after deleting."

Recovering data from mac free? Try 5 free mac data recovery software
One of difference between Mac and Windows OS is that Windows often supports NFS and FAT file system while Mac OS supports FAT32 and HFS+ file system. Some software is designed for Windows PC data recovery, so it does not support HFS+ file system recovery. It is nearly impossible to undelete any file from an external disk without relying on software. Today, we would like to share a data recovery tool which is able to compatible with HFS+ file data recovery after deleting.
External HDD HFS+ File System Undelete Files
If you delete files from HDD HFS+ disk, the deleted data might be moved to Trash bin from which you can easily restore what you need. If files were not moved to Trash bin or you delete data from an external HDD HFS+ disk, you need to rely on undelete software to get back the lost files. iCare Data Recovery Pro is an read-only undelete program with which you are able to recover deleted files for free from HFS+ file system. Please pay attention that iCare Data Recovery is able to work on Windows OS rather than Mac, so you need to connect the external HDD to a Windows PC to undelete the lost data by following the guide below:

Step1. Download and install iCare Data Recovery on PC. Run the software and then select a proper scan mode.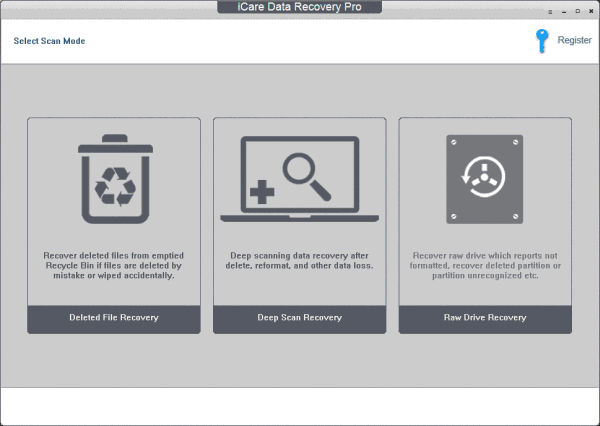 Step2. Select the disk drive where data got deleted and then the software will scan it to search all lost data.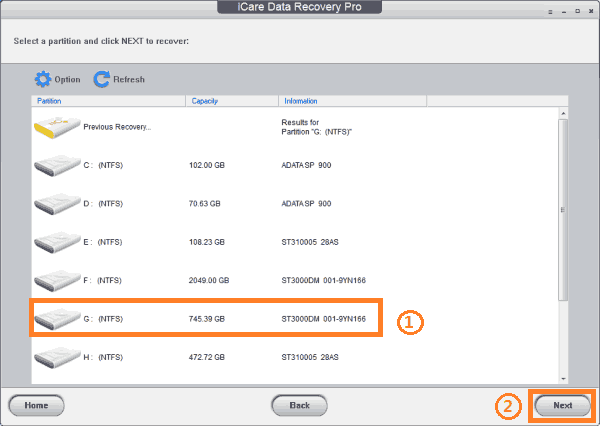 Step3. You are allowed to preview found files after scanning and then save the lost data to another drive.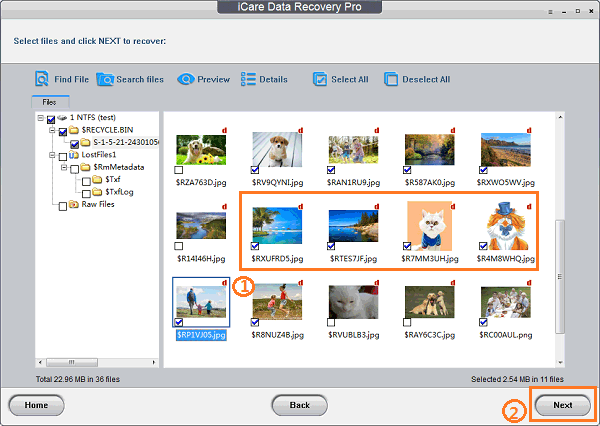 Simply say, as long as the previous deleted data is not overwritten by new data, you are able to undelete files off an external HDD HFS+ file system with help of iCare Data Recovery. Therefore, you should always be careful to avoid writing even a single file to the external HFS+ HDD.
Situations That You May Need External HFS+ HDD Undelete Software
There are different reasons for deleting data from external HFS+ hard drive. iCare Data Recovery works as an undelete software to help undelete any data when you run into following data deletion situations:
1. Deleting files from external HDD HFS+ disk by error
Mistaken deletion is a common situation for data loss from external hard drive HFS+ file system. You plug your external hard drive to Mac OS and want to delete some junk files, but meanwhile you carelessly delete some important data. It sounds unbelievable, but most people have made the same mistake once or even more. If are unable to restore deleted files from Mac Trash bin or backup drive, there is no doubt data recovery software is a good choice for recovery of external hard drive.
2. Undelete videos photos off HFS+ external hard drive
You may delete only one picture from HFS+ external hard drive? Or you deleted thousands of photos and lots of videos off external HFS+ hard drive? Any way, iCare Data Recovery allows you to undelete all types of files off external HFS+ disk in batch.
External HDD HFS+ Disk Undelete Data for Windows
iCare Data Recovery is only available for Windows OS, so it is only able to help undelete files from external HDD HFS+ file system on Windows PC. You just need to safely remove the external HDD from Mac OS and reconnect it to Windows PC, and then iCare Data Recovery will help recover lost data in a short time. This software provides read-only solution for data recovery, so it does not have any influence on the external HFS+ disk.
Virus Deleted Data off HFS+ Portable HDD
As Mac OS is quite different from Windows OS, it is seldom infected with virus. However, it does not mean that a Mac computer will never be attacked by any virus. When you connect an external HFS+ disk to Mac OS which has been infected with virus, the external HDD might be attacked by virus too. Sometimes, virus might delete some important data on your external. If you meet data loss problem since HFS+ disk is virus-infected, you are able to make use of iCare Data Recovery to undelete lost data.

---
Related Articles