Free Download iCare Data Recovery 32/64 bit
Last updated on 09/03/2018
iCare Data Recovery is compatible with Windows 32 / 64 bit operating system for files recovery from SD memory card, SDHC, SDXC, micro SD, CF card, memory stick, XD card, external hard drive, pen stick and all other digital media.
Download iCare Data Recovery 32 / 64 bit Free
32bit and 64bit refer to the number of bits that CPU of computer can process.
Visit following sites to know more about Windows 32/64 bit:
https://en.wikipedia.org/wiki/32-bit
https://en.wikipedia.org/wiki/64_bit
iCare Data Recovery is workable on both 32 and 64bit version of all Windows operating system. Whether your computer runs 32 or 64bit of Windows XP, Vista, 7, 8 or 10, you can free download iCare Data Recovery and install it on your computer for a data recovery.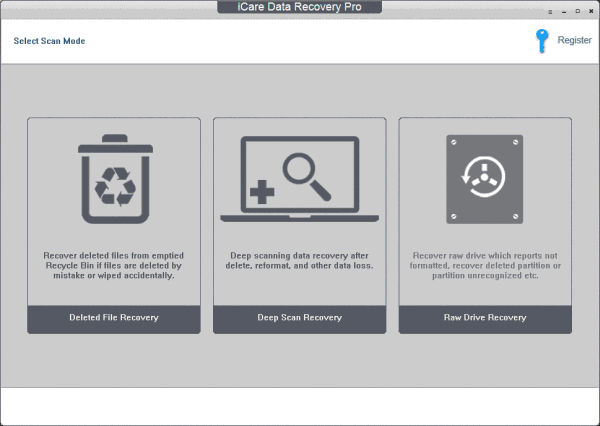 Free download iCare Data Recovery Pro
How to Check Windows Bit Version?
Today's Windows platform is available in 32 bit and 64 bit version. If you are not sure what bit version your Windows OS is, you can check Windows bit version with following guide:
Windows XP – Right click "My Computer" > select 'Properties" > click "General" tab to view Windows bit version information (If it is Windows XP 32bit, it shows Windows XP Professional/Home, otherwise it shows Windows XP Professional/Home x64 Edition)
Windows Vista / 7 – Click "Start" button > "Control Panel" > click "System" to view
Windows 8 / 10 – Press "Windows" + "X" key on keyboard > click "System" > find "System Type" to view the bit version information
See this page for details: http://www.wikihow.com/Check-if-Windows-Is-32-Bits-or-64-Bits
In fact, even if you do not know the bit version of Windows installed on your computer, you can free download iCare Recovery and use it normally for files retrieval because it is able to work on both of Windows 32/64 bit version.
---
Hot Articles
Related Articles