Disk Recovery Software that works on NTFS 64bit Vista, Win7
iCare Data Recovery Pro: Recover files fast and easy
Question: How to recover deleted photos from memory card? Can I recover data after formatting micro SD card?
Solution: Yes, you can recover data from a formatted drive using iCare Data Recovery.
iCare Data Recovery, thanks to its wizard "Format Recovery" can recover data from any formatted drive, USB, flash memory card or any other type of virtual storage.
Besides Windows 2000 Pro, XP, Vista and Windows 7, this recovery utility also works with 64bit system even on NTFS partition.

Steps to Recover Files on Windows 64bit
Free download the data recovery software now! With this software, you are able to recover emptied recycle bin after deleting files from any disk or recover data from formatted disk.

Step1. Download and install the data recovery software on your computer. Run the software and choose a recovery module.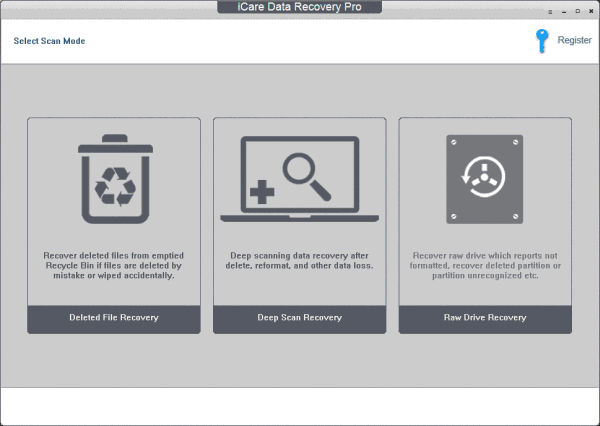 Step2. Select the device and let the software scan it for lost files. You just need to wait when the software is scanning.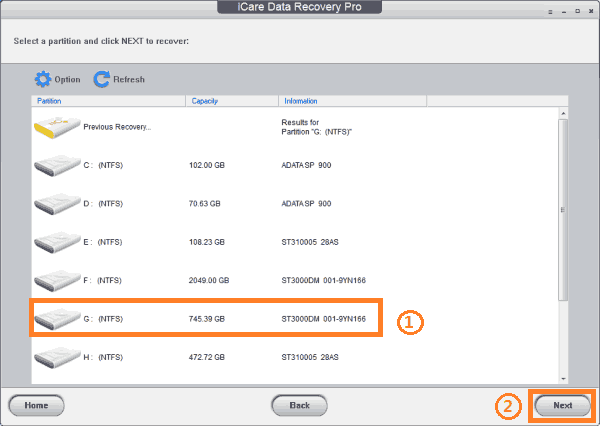 Step3. You can preview the files after scanning. Then, you can select the files you want to recover and save them.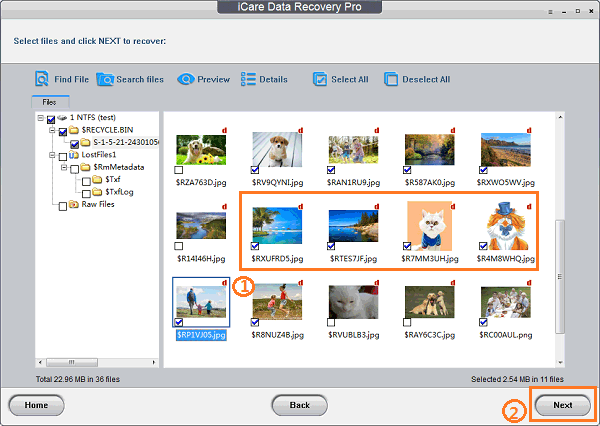 ---
NTFS 64&32bit Windows 2000, 2003, 2008, Vista, XP, 7 Restore
Question: Is there any disk recovery software which can help me to retrieve some lost files from a computer with NTFS 64 bit Windows Vista installed on it?
Solution: There is available on the market a disk recovery software which can help anybody to retrieve lost files from any type of Windows, even if we talk about NTFS 64 bit Vista. Its name is iCare Data Recovery Pro and it is the cheapest product from this niche, comparing with its results.
iCare Data Recovery Pro will recover deleted files emptied from the Windows Recycle Bin, or lost due to the format or corruption of a hard drive, virus or Trojan infection and unexpected system shutdown or software failure. This program will work both on Windows XP and on Windows Vista and even Windows 7.
Depending on what you need, you can use one of the fourth wizards of iCare Data Recovery Pro: "Deleted Partition Recovery" for partitions lost without a certain reason, "Advanced File Recovery" to recover files which has been deleted thanks to some hard errors or permanently delete commands, "Deep Scan Recovery", used on system crashes or "Format Recovery" used to recover files after you have formatted the drive.
This is a FAQ about disk recovery software NTFS 64 bit vista.
Question by John89 in Jan. 25, 2010
Question: Hello there, iCare Data Recovery team. I have a really huge problem and I need you to help me solve it. I have a Seagate Free Agent Desk ITB, on which is installed a 64 bit Windows Vista with NTFS, and there is some issue with it on my new dell. I've accidentally deleted the files from the hard drive when I've installed the operating system and I need some documents of them now. Anyone has any suggestions? A search of the web found numerous similar issues but nothing concrete. I need also a solution for an external storage of 1 to 2 TB with 2 drives. Can your software help me?
Solution: The tool designed by us, iCare Data Recovery, unlike other programs available on the internet, it is specially made to solve recovery issues when on the drive is installed NTFS Windows Vista 64 bit. It will work just fine to help you with this problem, especially when we talk about retrieving of some documents with .doc extension.
The iCare Data Recovery is good also to recover data from external hard drives, even if we talk about huge amounts of data, like one or two terabytes. Unfortunately it will take some time, but not as much as another program will take.
Talking about your first issue, the New Technology File System is the standard way to install Windows Vista, so that, most of the programs are adapted for this. The problem appears when we talk about 64 bit, but iCare Data Recovery Pro designers cared also about this aspect. So, in conclusion, you can use our software with confidence to solve your disk recovery problems, when we talk about a hard disk with NTFS Windows Vista 64 bit installed on it.
Related Resource
iCare Data Recovery can also recover deleted photos after formatting memory card, recover lost data from mobile phone/digital camera, restore files off USB pen drive, etc. You can use the software to recover files when memory stick has RAW format.

---
Related Articles