Data Recovery When USB Thumb Drive Wont Format to FAT32 in Windows XP, 7, 8 , 10
Can you recover data when USB thumb drive won't format to FAT32 in Windows XP, 7, 8, 10? When the message "USB Flash drive is not formatted. Do you want to format it now?" appears on the screen and accidental approval occurs leading to the loss of important data and files it can prove to be worrisome.
If you are a computer user this will definitely have happened to you at one point or the other in your life. Sometimes the computer itself fails to read the data and the USB Flash Drive becomes completely wiped out for reasons unknown to you. If a virus attack occurs, the USB Flash Drive formatting error may occur again and deplete all files from it. Formatting it whether on purpose or accidental will cause loss of data.
Data Recovery When USB Thumb Drive Won't Format to FAT32 on Windows

iCare Data Recovery Pro is a great software for the systems of Windows XP, Windows 7, Windows 8 and Windows 10. It supports data recovery in all the aspects of this operating software and makes life much easier in case of any accidental deletion of important pictures, data or files.
Any USB Flash Drive showing raw format error in any Windows operating systems will be able to recover from the use of this easy to use and simple software. This software supports USB drive deleted file recovery, format recovery Windows 7, XP, Vista, 8, 10 and RAW recovery.
How to Perform Data Recovery from RAW USB That Cannot Format to FAT32?
The first step is to download the software to your computer. Save it, install it and run it on your system. Choose the type of recovery you prefer for your USB Flash Drive and move on to the next step. Then you can choose the device you want to recover data from, this can be done by selecting it from all available devices, which could be external hard drives or SD cards or memory sticks. Then after making a selection of the USB Flash Drive you wish to recover the data and files from.
Once you let the software run and recover all the files from the USB Flash Drive, the software will reflect a list of all the files, photos and data that was on the UBS Flash Drive and let you view what you want to recover or not. It also gives the option of recovering it all from the lost domain and adding it back to the USB Flash Drive and let it be the same as before again.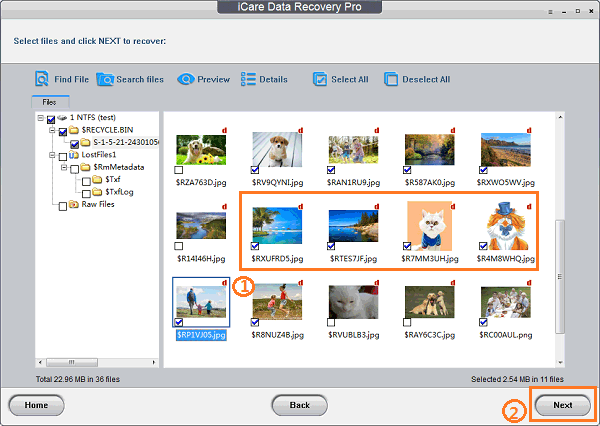 The user interface of the software is fairly easy and simple to use and isn't at all complicated to use.  iCare Data Recovery Pro is the software of professionals that allows recovery of accidental reformatting of external data such as a USB Flash Drive. Virus attacks, accidental pressing of buttons is a fairly common way of losing important data from a personal USB Flash Drive that could be very worrisome and in certain cases have dire consequences. This software, iCare Data Recovery Pro is an excellent choice in resolving your data loss issues.

USB Flash Drive Cannot Be Formatted to FAT32 in Windows XP 7 8 10
USB flash drive supports both FAT32 and NTFS file system, so you need to format it to proper file system when connecting to your computer. You can perform quick format on Windows to convert RAW pen drive to FAT32, or you can perform complete format to check if there is bad sector on the RAW drive.
==>> When PC says flash drive won't be formatted by Windows XP, 7, 8, 10, please visit this article - Windows was unable to format USB drive>>
The Bottom Line for USB Drive Recovery When Wont Format to FAT32 in Windows
It is not worrisome anymore when USB thumb drive won't format to FAT32 in Windows XP, 7, 8, 10. iCare Data Recovery Pro is easily downloadable and can fix any raw format error reformatting of USB Flash Drives or other data storages and fix and recover lost information.

---
Related Articles
Hot Tag: usb recovery | usb resource | fix raw drive