Data Recovery Software for Panasonic Camera SD Card
Last updated on 06/02/2018
"My SanDisk SD card is not working in Panasonic DMC-LX7GK digital camera. Camera says that SD card has unsupported file system, so I cannot access the SD card. How can I open a corrupted SD card that has unsupported file system?"
"Can I recover data after formatting SD card accidentally in Panasonic digital camera SD card? The SD card contains some pictures, so I connected the SD card to my computer and copied some photos from the SD card to my computer. After data transferring, I mistakenly formatted the SD cad for my Panasonic digital camera. Can I still recover the formatted SD card data?"
"My Panasonic Lumix G X Vario PZ 45-175mm camera says memory card is full when I used it to take pictures, so I tried to delete some unimportant files from the SD card. When I selected files ot delete, I mistakenly deleted several important pictures. Is there any software for Panasonic camera SD card recovery?"
"My Lexar 8GB SD card reports not formatted error warning when I wanted to open it in my camera. PC reports the similar error alert when I tried to open the card. What will happen if I format the SD card? Do I have chance to recover deleted flies after formatting SD card in digital camera or computer?"
Data Recovery Software for Panasonic Camera SD Card Recovery
Are you familiar with the SD card data loss situations above? When you need to recover data from SD card for any digital camera, the first thing is that you should make sure not to write new data to the card before getting what you need. Then, you can free download data recovery software – iCare Data Recovery Pro to perform data recovery on SD card. This data recovery software is able to help recover various kinds of files such as images, videos, music, etc off SD card like SanDisk, Samsung, Lexar, Transcend, PNY, Kingston, Sony, etc. You need to connect the SD card to a Windows PC and then follow the steps below to restore SD card data:

Step1. Run the data recovery software and choose a recovery option.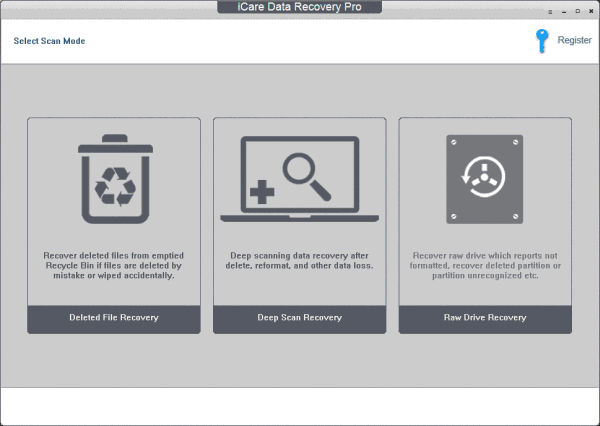 Step2. Choose the SD card and then you only need to wait before scanning is completed.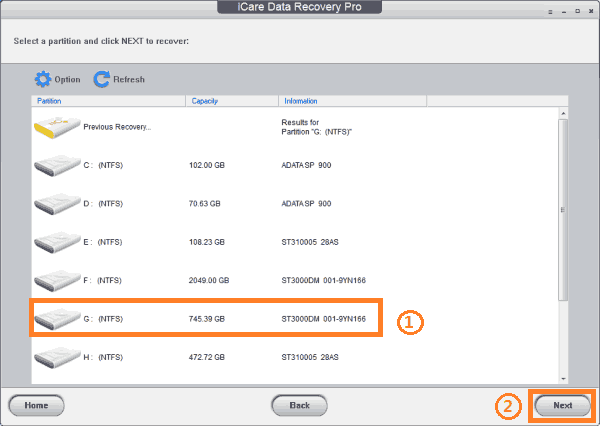 Sep3. After scanning, you can preview the found files and then recover the data you need.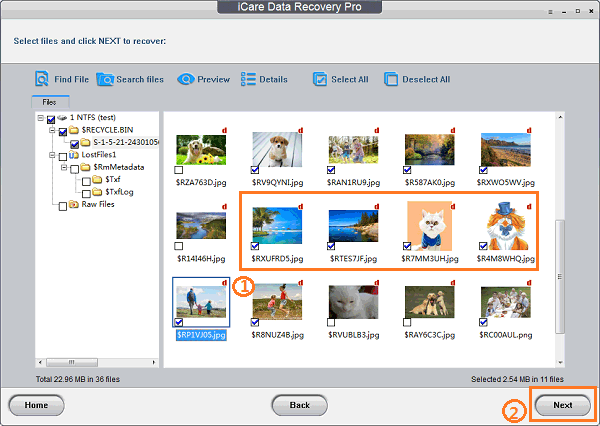 Panasonic Camera SD Card Delete Format Recovery
When files were lost from Panasonic camera SD card due to formatting or deleting, you can still open the card. In this situation, you should remember not to write new data to the card because the new added data might occupy the space which was used to storage lost data. Once the lost data is overwritten by new data, it will be unrecoverable. On the contrary, if the data was not overwritten, you can use memory card data recovery program for SD card file recovery after deleting or formatting.
Panasonic Camera SD Card Is Corrupted
If SD card is corrupted in Panasonic camera SD card, you might be unable to access the card. In this situation, you should not format the card or performing any operation on the card. Before fixing the corrupted SD card, the first thing you should do is to download data recovery software for SD card to recover files off all.

---
Related Articles
Hot Articles
Hot Tags