Data Recovery from Damaged iPhone SE
How do you recover files from a damaged iPhone SE? An iPhone SE might suffer physical damage after dropping from high place or falling into water, in which situation the device might become unreadable or inaccessible. Sometimes, your iPhone SE might be damaged due to iOS update failure, jailbreak failure, etc, in which situation all data stored on the device become corrupted or not accessible. Probably, it is a huge loss for you when iPhone SE is damaged. This article will share how to recover lost data from an iPhone SE whether it is physical damaged or corrupted.
Method 1: Restore Data from Corrupted iPhone SE

Download data recovery for iPhone
You can recover data from a corrupted iPhone SE itself by using data recovery for iPhone. It is a data recovery tool for iOS devices, so you can use this software to restore data from corrupted iPhone SE directly. Usually, you can restore any file like images, emails, music, video files, documents, calendars, SMS text messages , contacts, etc from a corrupted iPhone SE.
To restore any data when an iPhone SE is corrupted, you have to pay attention to following points:
1. You should avoid writing new data to the damaged iPhone SE to prevent overwriting to the original lost files.
2. Since you need to run the data recovery for iPhone to scan the corrupted iPhone SE to search lost files, you have to connect the iPhone to your computer and make sure that the iPhone SE can be recognized by your computer.
Method 2: Data Recovery from Physically Damaged iPhone SE with iCloud Backup
If iPhone SE is physically damaged and can no longer be recognized by any PC whether it runs Windows or Mac operating system, you can try to perform data recovery from a physically damaged iPhone SE with iCloud backup. An iPhone SE could be physically damaged in different situations, but you have chance to get back all lost files as long as you have backed up the iPhone SE in advance.
Even if the iPhone SE is physically damaged and cannot be detected after being connected to computer, you can restore iPhone SE from iCloud backup: click Settings > General > Reset > Erase All Contents and Settings > select Restore from iCloud backup to recover all files.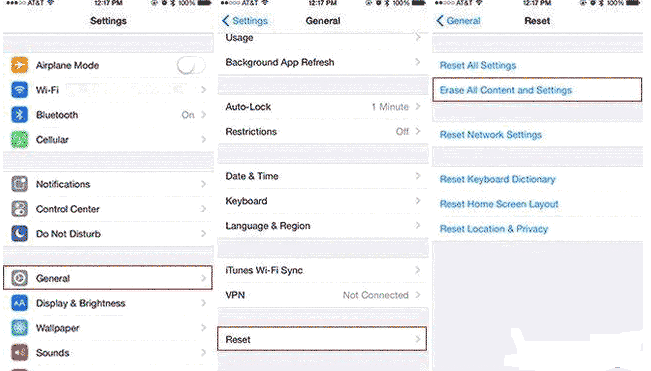 To retrieve physically damaged iPhone SE from iCloud backup, the most important thing is that you must sign into your iCloud with the same Apple ID which was used to backup your iPhone SE.
Method 3: Damaged iPhone SE Photo Video Recovery from iTunes Backup
If your iPhone SE is still readable by iTunes, you can also rescue photos, videos, audio files, contacts, text message and more from iTunes backup. You only need to update the iTunes to the latest version and click the iPhone SE in iTunes, and finally you can select Restore Backup so that you can easily rescue all backup data to the iPhone SE.
To restore iPhone SE from iTunes backup, you have to make sure:
1. The iTunes has been updated to the latest version
2. You have used the iTunes to backup iPhone SE before it got corrupted
3. The iPhone SE is readable by iTunes
Extract Corrupted Data from iCloud / iTunes Backup with Data Recovery for iPhone
Fail to rescue what you need from the damaged iPhone SE with the 3 methods above? Probably, you are unable to recover data from a physically damaged iPhone SE directly, or the iCloud backup failure due to not enough available storage in iCloud, or iTunes does not recognize iPhone SE and more. When you are not able to recover data from iPhone SE without iTunes / iCloud backup, you can rely on data recovery for iPhone to extract data from iCloud or iTunes.

Download data recovery for iPhone
---
Last updated on Aug 30, 2021
Related Articles