Data Recovery When NTFS Partition Changes to RAW
"I need data recovery when NTFS partition changes to RAW file system. I have two partitions on my computer, while C drive has FAT32 file system and the other partition has NTFS file system. However, today when I reboot my computer, the NTFS partition has changes to RAW. Can you tell me why and how can I get back files from the RAW partition?"
Ultimate solution recommended
"Can I recover data from RAW drive ? my 500GB external hard drive which has NTFS file system, but it turned to RAW with unknown reasons. When I plugged it to my computer, system detected it as RAW device which prevents me from opening the disk. I need to get back files from the RAW external HDD. Can anybody tell me the solution?"
"The NTFS partition converted to RAW file system due to power outage, but I still have many important files on this partition. System asks me to format the RAW partition when I attempted to open it. However, can I undo format the partition to recover data if I formatted it from RAW to NTFS?"
"I am wondering whether there is any software that can help format RAW to NTFS without losing data. My portable hard drive turns to RAW and shows 0 byte space. I want to convert the portable HDD from RAW to NTFS, but I cannot format it because it contains much data. Can anybody give me some advice?"
Data Recovery When NTFS Partition Turns to RAW
If you are unable to read any data when NTFS partition turns to RAW, you can use data tools to extract data off RAW drive. Before getting back lost files, you had better not format the RAW drive back to NTFS.iCare Data Recovery is a RAW drive recovery software that can rescue all kinds of data including  videos, music, photos, etc when NTFS partition changes to RAW file system due to virus infection, bad sector and other reasons.

Steps to Recover Data from RAW File System
Preparation: Free download iCare Data Recovery on your computer. Then, install the software and run it on the computer.
Step1. enter a scan mode.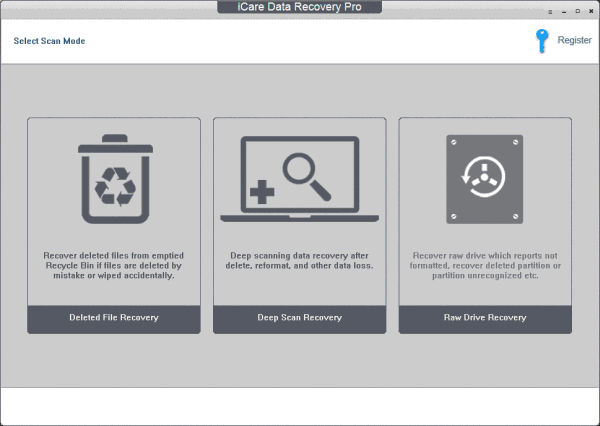 Step2. Choose the RAW drive as aim disk to scan.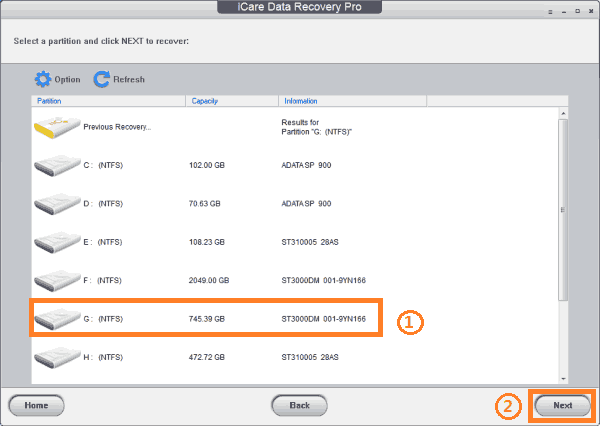 Step3. preview files and save them to a safe place.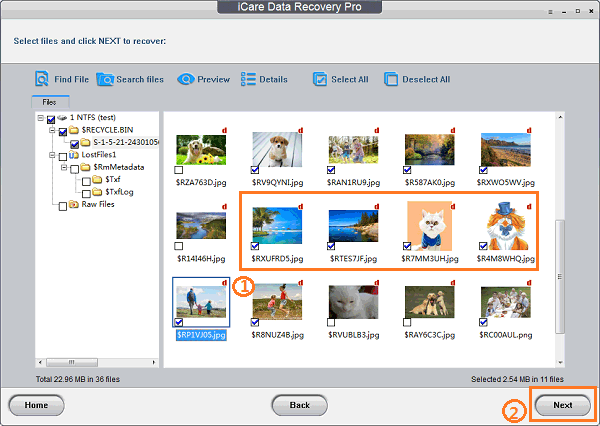 Also read: how to change raw drive ntfs without formatting
Converting RAW Partition to NTFS
If you want to access the partition, you need to format the partition from RAW to NTFS. Usually, you can format the RAW partition after data recovery. You can full format or quick format the RAW partition so as to change it back to NTFS.
==>> change RAW partition to FAT32, please go to this page - Change RAW drive to FAT32>>
The Bottom Line
What is the most important thing for data recovery if NTFS partition becomes to RAW? Well, the most important thing is that you should avoid overwriting the original data. iCare Data Recovery allows you to recover data from RAW partition only because the original data is not covered. This data recovery software enables you to restore files off RAW drive without hurting the partition or modifying any data. Free download the tool now!
---
Related Articles