Dane-Elec Memory Card Recovery
DANE ELEC is a memory card and storage media manufacturer from France. We would share solution for DANE ELEC memory card recovery in problem of data deletion, memory card formatting or storage card gets damaged and stops working.
"I am in trouble because I formatted memory card by accident. The memory card is an 8GB Dane-Elec memory card SD which has been used for my camera more than 2 years, so you can imagine how much precious data is stored on this memory card. I really cannot afford to lose any of the files. Can somebody tell me how to undo format memory card and restore lost data?"
Also read: memory card photo recovery
Dane-Elec Memory Card Data Recovery
Do you want to recover data from formatted Dane-Elec memory card? How can you undelete files from memory card for camera or mobile phone? Is it able to access memory card without formatting when it turns to RAW file system? Now, free download iCare Data Recovery software, you can recover any type of data from your Dane-Elec memory card easily and efficiently.

Step1. Run the iCare Data Recovery software and choose a recovery module.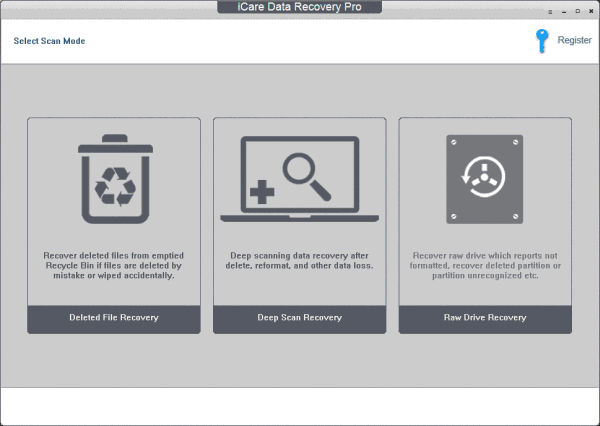 Step2. Choose the Dane-Elec memory card and let the software scan it for lost data.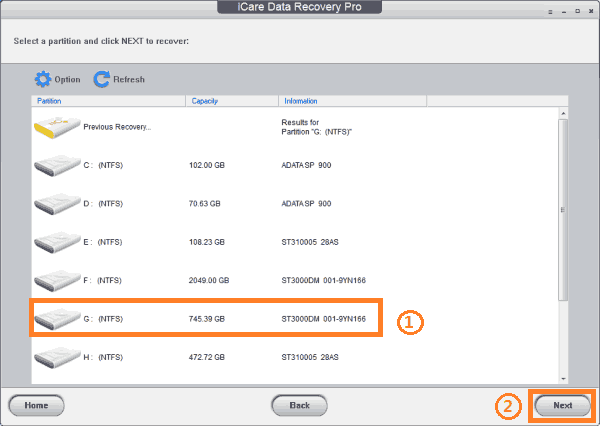 Step3. You can preview the found images after scanning and then recover the data you need.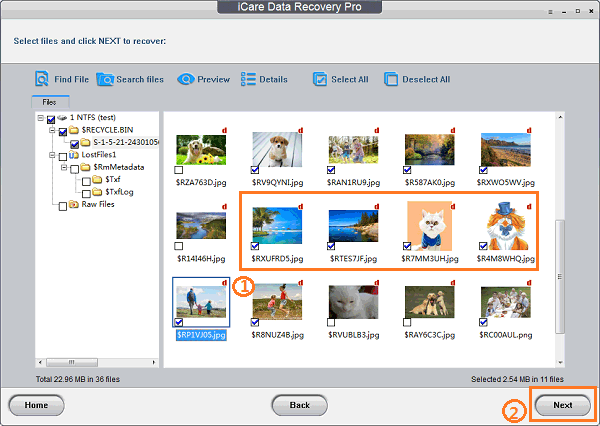 Tips for Dane Elec Memory Card Data Recovery
1. If memory card cannot work due to not formatted error, I/O device error, etc, you had better not format it before data recovery.
2. Do not write new files to the memory card before getting back what you need.
3. Do not save the recovered files to the memory card where data got lost.
4. You had better backup important data to avoid unexpected data loss.
Dane ELEC SD Card Recovery
"I am wondering how to recover data after formatting Android phone card. I have a 4GB Dane-Elec Class 4 memory card which contains some images and music, but I mistakenly formatted the memory card and erase all photos and music on the card. Is it possible to recover data after formatting memory card?"
"How to recover data from memory card RAW format? My Dane-Elec memory card microSD turns to RAW file system after my computer reboots automatically. My computer rebooted all of a sudden when I was copying some data from the memory card to hard disk. After rebooting computer, it says memory card needs formatting and has RAW file system. Can I resolve the problem without formatting?"
"I deleted some images from Dane-Elec memory card in my Nikon Coolpix S2800 digital camera just now. I took many wedding pictures on this memory card yesterday and I have not moved those pictures to my computer. So I want to know how to recover deleted files from camera memory card."
Video - Memory Card Recovery
Let's learn some basic information about DANE ELEC SD card at first. A Dane ELEC SD card now only costs several dollars at Amazon. A 4GB Dane ELEC SD card can hold more than 1500 photos for your digital camera or tablet PC. If you got a larger capacity of Dane ELEC SD card, you can store more files to it. When you buy a card, you can check it to meet your demands. For example, a DANE ELEC Class 4 SD card is able to move photos from your digital camera to the card at the speed of 4MB per second. If you are looking for a card that transfers data efficiently, you can choose a Dane SD card available in class 10 or even more.
Saying so much about the SD card of DANE ELEC, then does it have any help for data recovery from SD card? Well, the quaility and data transferring speed sometimes have influence on data stored on the card. Data loss is an unavoidable problem, but you can decrease the chance of data loss. E.g., if you own an SD card that has fast data transferring speed, it would spend less time to transfer data and then you can avoid data loss during data transferring process. Besides, a good quaility of flash card could less suffer unexpected damage or corruption.
Dane Elec Compact Flash Card Retrieval
You need to spend about 20 dollars to buy a Dane Elec compact flash card at Amazon. Dane CF card has the same storage and working principle to SD memory card, but it is available for different devices. Inproper connection to digital camera would cause serious issues if you remove or reinsert the CF card, so please be careful when using a compact flash card anywhere in case of corruption or the card due to your mistake.
Also read: free memory card recovery software
---
Related Articles
Hot Articles