My SD Card Becomes Raw Drive, What's the Problem?
"My SD card works well at my android phone, but when I inserted it into my computer to transfer some data, the SD card becomes inaccessible and ask me to format the card. I cannot format the card, the data on the SD card is very important to me. Is there anyway to repair the raw drive without formatting? Does CMD diskpart work?"
When the external storage become inaccessible and ask you to format the device, you will find it becomes raw file system at Disk Management. Raw file system is a file system type which cannot be recognized by Windows system.
In that situation, you will fail to complete the format for most time, so formatting won't fix the inaccessible sd card even if you have no needed data on it. Then how to repair the problem?
How to Repair Raw Drive without Data Loss?
To repair the raw drive error, you need to convert the raw file system into NTFS, FAT32, exFAT, etc. The easiest solution is using CMD command prompt, which is a Windows system tool to convert raw file system to file system which is supported by Windows.
But this process will also format all your data on the SD card, so if you have useful data, you need to recover the data back before using CMD command prompt.
Here you need a data recovery program, my advice is DO NOT choose freeware, these freeware can be used to recover deleted data, but raw drive is different, this kind of data recovery work can be much more difficult. It has been proved that most data recovery program in the market can not complete this work very well, some of them fail to recover all the data, some of them have plug-ins or malware. You need to find a safe and effective one.
My advice is to use iCare Data Recovery pro, which is a professional data recovery tool with powerful data recovery ability and 100% security. It can recover all your data on the raw SD card back without putting anything harmful on the card.
You can learn more about this program at its website: iCare Recovery. Or you can directly free download it here:
Follow these three steps to recover data from raw SD card:
Step1: Go to iCare Recovery website, download this data recovery program on your computer,
insert your SD card using a card reader.
Step2: Start this program, enter "Deep Scan Recovery" mode or "Raw Drive Recovery" mode to scan your SD card.
Recover data from raw SD card with iCare Data Recovery Pro
Step3: Select your needed data after preview the found data, save it to another drive.
Recover data from raw SD card with iCare Data Recovery Pro
Steps to Repair the Raw Drive with CMD Command Prompt
After data recovery, try CMD command prompt to fix the raw drive error. You can follow the steps to make it.
Attention:
1. When you run CMD command prompt, you need to pay attention to the command line words. A mistake in the command line can make your another hard drive get effected.
2. DO REMEMBER to recover the data before using CMD command prompt if you have needed data on the device. This process will formatted all your data on the card.
Step1: Run CMD.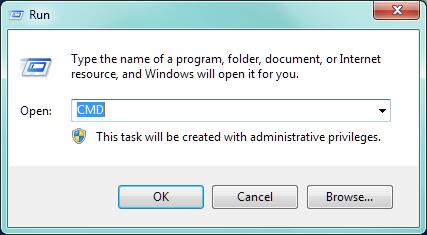 Repair raw SD card with CMD command prompt
Step2: Type"format W: /fs:ntfs"(W is the drive letter of your SD card)
After this process finished, the file system will be converted into NTFS, if you want to convert the file system into FAT32, you need to change the "ntfs2" in the command line into "fat32" in the command line.
Do forget to recover the data using iCare Data Recovery.
Related Articles
How to Convert Raw Pen Drive with CMD Diskpart
Unable to Determine File System How to Fix It
Windows 10 External Hard Drive Turns Raw
format recovery cmd command prompt
Inserted SD Card Has An Incompatible File System How to Fix It