Convert RAW Disk to NTFS without Rebuilding RAID 5
Do you want to convert RAW to NTFS when RAID 5 drive reports RAW format error? Do you always need to format hard drive in order to convert it from RAW to NTFS in RAID 5 array? Or do you need to rebuild RAID 5 array to fix the RAW drive error? Is there any other method to get you rid of the RAW problem on RAID 5 disk drive?
Now, please stop using the drive from any operation that you might attempt to repair the problem because any improper operation might result in data lost forever. This article will share solution to convert RAW disk drive to NTFS without rebuilding RAID 5 array or losing any data.
Ultimate solution recommended
Data Recovery from RAW Drive without Rebuilding RAID 5 Array
As you know, the difficult problem is that you cannot open the RAID 5 drive when it reports RAW file system. In this situation, you either need to find a way to access the RAW drive or extract all inaccessible files from the RAW disk drive. iCare Data Recovery Pro is data recovery software which is able to deep scan any RAW drive to search all inaccessible files. This software supports RAID 5 array to recover lost files when it has RAW file system. iCare Data Recovery is a program which is able to work on Windows OS like Windows XP, Vista, 7, 8, 10, etc. With this software, you can get back any lost file such as images, videos, documents, music and more other types of files.
Steps for RAID 5 RAW Drive Data Recovery

Preparation: Free download and install iCare Data Recovery on Windows computer. You should not install the software to the RAW drive. Then, you can run the software and follow the steps below to recover data from RAID 5 drive:
Step1. Select a proper scan mode when you enter the main interface of the software.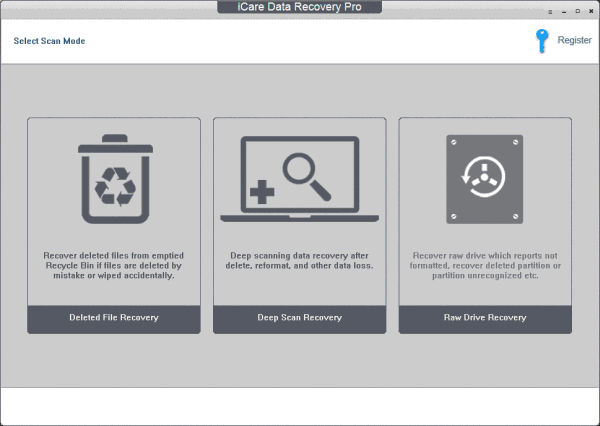 Step2. Choose the RAW drive as aim disk and then you only need to wait patiently when the software is scanning to search lost files.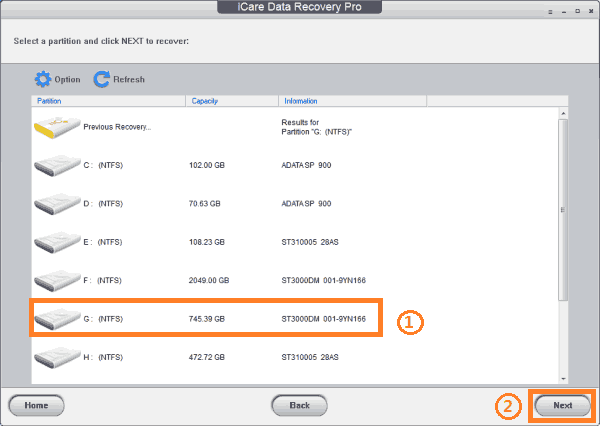 Step3. When scanning is completed, you can preview some found files and then save the lost files to another drive.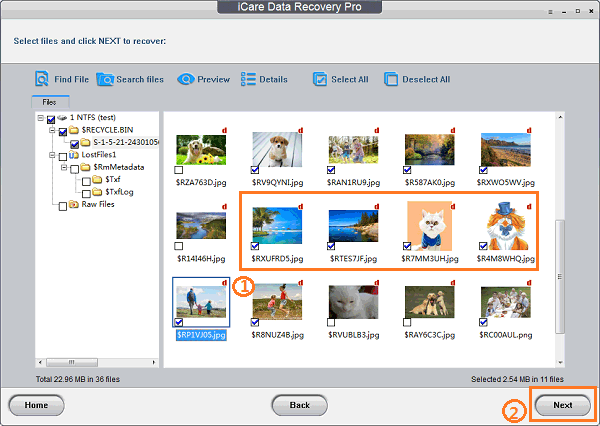 Useful Tips for RAID 5 RAW Volume Recovery
It usually takes a few minutes or even longer to scan a RAW drive in RAID 5 to search lost files. You should wait patiently before the scanning is completed and software displays all found files. If you cancelled before scanning is finished, the software will not list all lost files.
When the software shows all found files after scanning, you are allowed to preview some files like BMP files, JPEG files, PNG files, GIF files, excel files, word files, PowerPoint files, etc. Files like music and videos are unable to be previewed, but you can restore them successfully.
Convert RAID 5 RAW Drive to NTFS without Rebuilding Array
After getting back everything you need, you can free convert raw disk to ntfs for RAID 5 hard drive. You just need to format the disk drive which shows RAW file system so as to change it to NTFS file system without rebuilding RAID 5 array. Usually, you can format a RAW disk drive in RAID 5 array with following methods:
You can right click the RAW drive in "My Computer" and select "Format" option, and then you can select "Quick Format" option so as to quick format the RAW drive. You can also unselect the "Quick Format" option so as to perform a complete format on the RAW drive.
You can also open "Disk Management" and format the RAW drive there.
Sometimes, if you receive "Windows was unable to complete the format" message, you may run Windows built-in Error-checking tool to repair bad sectors first of all. And then you can try to reformat the RAW drive. Of course, you can also rely on third-party format tool to perform format on RAID 5 RAW partition, but you should know that it might cause unexpected damage to the hard drive by using a format tool.

==>> Related Article

: Convert file system from RAW to FAT32
Where Is Data When RAID 5 Volume Says RAW Error?
On the one hand, you are unable to access the volume when RAID 5 shows RAW drive error. And on the other hand, the capacity of the RAW drive usually shows 0 byte space. Then, you may doubt where all data has gone. Well, although RAID 5 volume is not accessible and shows 0 byte space, the previous data is not deleted from the array. Generally speaking, all inaccessible data will always remain on the original place unless the memory is overwritten by new added data. Therefore, the previous inaccessible data will keep on the RAID 5 array as long as you do not write any new file to the RAW drive on RAID 5.

---
Related Articles
Hot Articles