CHKDSK doesn't work for RAW Memory Card
"My SanDisk memory card is corrupted in my mobile phone because it says card needs to be formatted. Considering there are many important files on this card, I did not format it. Instead, I connected the storage device to my computer but Windows 7 system also said that I need to format memory card before I can use it. I have run CHKDSK to check the memory card, but it showed a message that the file system is RAW CHKDSK does not work for RAWdrive. What does it mean? How to retrieve photos from memory card which asks to be formatted? Is there any RAW drive recovery software for the error fixing?"
Memory Card RAW Format Recovery
If CHKDSK is not available for the memory card you want to check and reports RAW error, you need to find a memory card RAW recovery program to extract files from the card. iCare Data Recovery Pro software is effective tool, which restore files from RAW memory card which needs to be reformatted. You can use this data recovery software to retrieve various types of files from different kinds of memory card which is inaccessible because of RAW unformatted error. This data recovery software supports to recover files as long as the memory card is not physically damaged and data is not overwritten by new data, so it is very important to stop doing any operation on the card when it has RAW error.
Steps to Restore Pictures off RAW Memory Card

Step1. Attach the card to computer through. Download iCare Data Recovery. Run the program and try a recovery mode.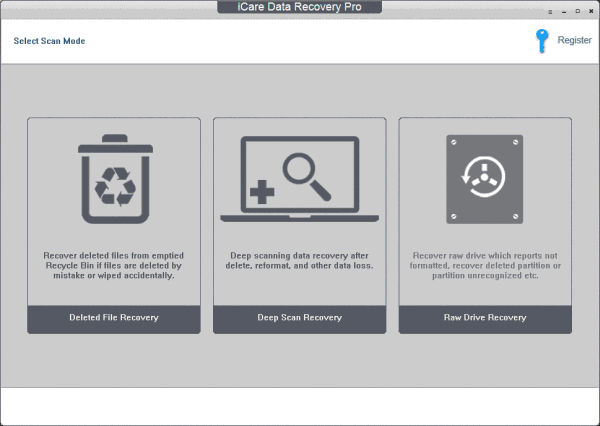 Step2. Choose the RAW storage card as aim to scan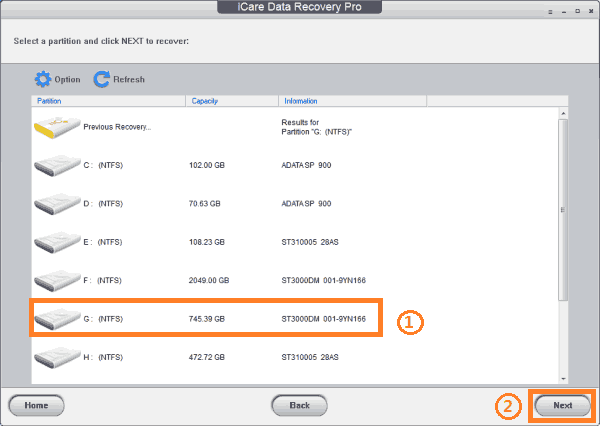 Step3. preview the files after scan and choose those needed.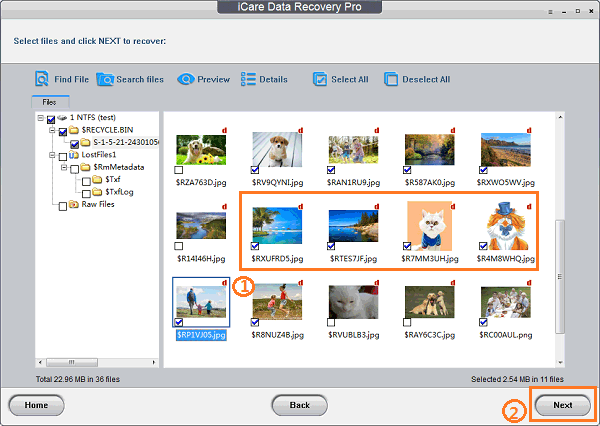 ==>> If you want to get detailed steps for the CHKDSK error, please refer to this page - CHKDSK is helpless for RAW drives>>
Storage device RAW Format & Unformatted Error
When CHKDSK reports RAW error on memory card, you are unable to access memory card unless you can format it. Usually, the reason why you receive memory card needs formatting error message is there is parameter error on your device. Therefore, system asks you to format the card to repair the error. such kind of error might be caused by many reasons, such as:
>> Memory card is corrupted due to improper operation
>> There are bad sectors on memory card
>> More other unknown reasons
Whatever the reason is! Only if the storage is not physically damaged and you have not put anything on the card, you can try iCare Data Recovery software to recover lost files. This software let you to recover files from RAW CF card, SD card, XD card and more.
How to convert raw to fat32 in memory card? You can format raw memory card in phone or using cmd in PC to fix it.
What Is CHKDSK?
CHKDSK is a system tool in Windows operating system which can check hard disk drive or removable disk for bad sectors, lost clusters, directory errors, etc and mark them. When CHKDSK reports RAW error on a memory card, it will be not available for RAW drive and you need to format the device to repair the error.
CHKDSK RAW Error on Pen Drive
Pen drive is in RAW format when using CHKDSK? Don't worry!use the iCare Data Recovery and follow the steps above to perform pen drive data recovery even when it is says not formatted error and becomes unreadable.

---
Related Articles
Hot Articles