Can't Delete Files Folders from Sandisk Flash Drive(Cruzer/Ultra) Fix
Last updated on Jan 10, 2021
Usually files can be deleted from Sandisk flash drive by getting them selected, and then right click -> Delete; or simple press the delete button on your keyboard to get them removed. (The truth: files can still be recovered after deleting with free pendrive recovery software.)
How to delete files in Sandisk ultra or cruzer that cannot be deleted? Sandisk usb won't let me delete files when I used no matter shift plus delete button or right click delete option, it just won't change, the files are all still there as they used to be, not a single change happened. Is there anything wrong with my sandisk usb? Is it virus attacked? or physical damage?
Quick fix -> files cannot be deleted from usb solutions with 5 free ways
Delete won't work on Sandisk usb
There are several situations that files or folders are unable to be deleted on a USB flash memory stick.
USB flash drive has write protection =>Guide: how to remove write protection from usb
Pendrive has read-only attribution in property => remove readonly using cmd
Flash drive chips are damaged, dead: cannot delete nor format usb
Method #1 - Turn off write protection switch from sandisk usb flash drive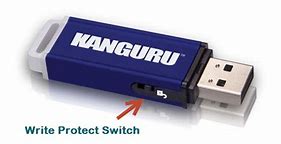 Eventhough this is a rare possibility that your write protection switch has been turned on by accident, you may also double check whether it was the error coming with the switch.
Video - How to remove/disable sandisk usb write protection
Also read: remove usb drive write protection
Method #2 - Remove readonly attribution on its property using cmd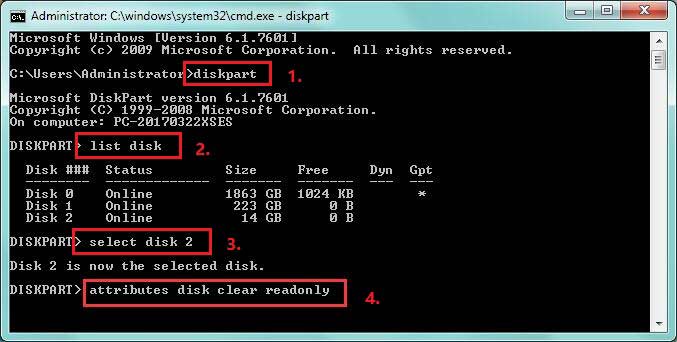 Method #3 - Check whether files were set read only
If files or even a single file was set read-only, you won't be able to delete its folder and it can't format the sandisk usb either.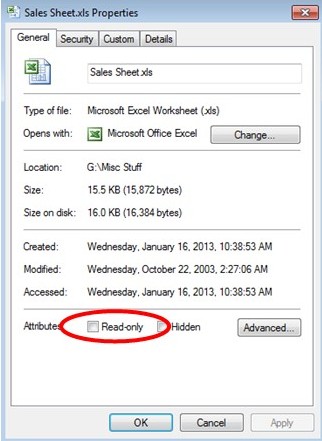 Also read: 5 Free Ways to Fix can't delete files from USB Pen Drive
How to Permanently Delete Files from Sandisk Flash Drive
The sandisk usb can be permanently wiped by freeware: Partition Resizer Free which has a wipe partition for data erasing on usb drives.
IM-Magic Partition Resizer Free
It would write 0 or 1 for your whole usb stick that would completely erase files from sandisk cruzer or ultra and the deleted files could no longer be found on the sandisk. 100% safe and free data erasing.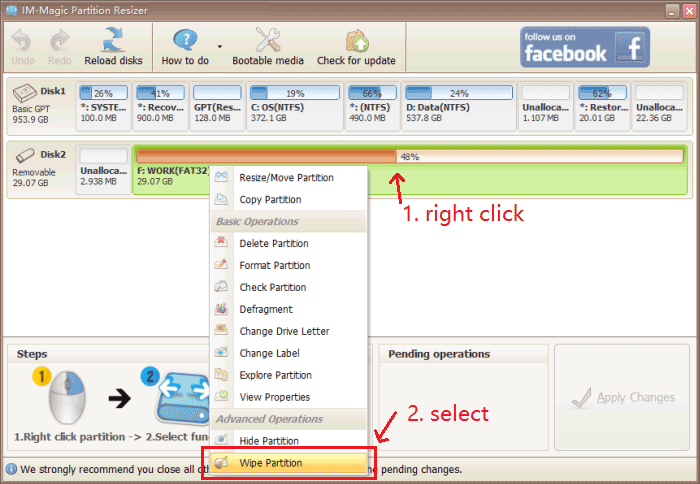 There are 5 different ways of wiping disks that you may choose per your request.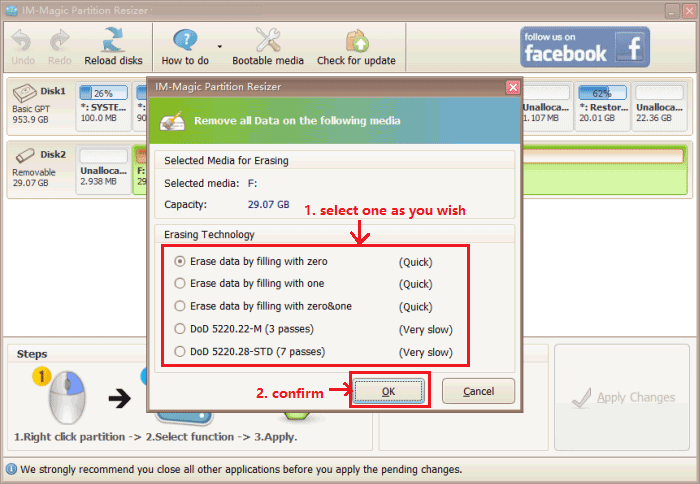 Also read: how to delete files permanently from usb with 4 free eraser
Related Articles