Canon Camera Asks to Reformat Compact Flash Card
"Why does my Canon camera ask to reformat Compact Flash card when I use it to take pictures? I think that the CF card is corrupted because I received the same error message when I inserted this card to another camera. Inserting to my laptop, PC also reports the same alert. How do I fix CF card requires reformatting problem without losing any data? Please share the solution to me if anybody knows."
"I have a Compact Flash (CF) card for my Canon digital camera, but it stops working recently since it always asks to reformat the memory card whether I want to open it on my Canon camera or computer. I tried to format CF card to fix the error, but it warned me that formatting will erase all data on the card. Can I find another way to fix the error without reformat? Or can I extract all files from the inaccessible Compact Flash CF card before reformat it?"
When Canon Camera or PC reports not formatted error on a CF card, you can check following information:
Compact Flash card shows 0 byte space?
Please calm down when you get the similar information. It is normal that CF card shows RAW format and 0 byte space when it needs to be reformatted. PC or camera asks you to reformat CF card to fix the RAW error so as to make the card work normally, but formatting will not help you recover all inaccessible data. This article will share software to recover all inaccessible files before reformatting Compact Flash card to fix the error.
Data Recovery When Canon Camera Asks to Reformat Compact Flash Card
For data recovery from a RAW Compact Flash card which wants to reformat, you need to make use of professional data recovery software which is able to deep scan the RAW card to search inaccessible data. iCare Data Recovery Pro is a read-only data recovery program, which is able to deep scan any brand of CF card like SanDisk, Toshiba, Transcend, Kingston, etc to search every inaccessible file without causing any damage to the CF card. This is an easy-to-use data recovery program, which allows you to recover files from RAW CF card for Canon camera within a few simple steps.
Steps for Canon Digital Camera RAW CF Card Recovery

Preparation: Free download and install iCare Data Recovery on computer. Connect the CF card for Canon digital camera to this computer and launch the software.
Follow the simple 3 steps to for RAW CF card recovery free:
Step1. Select a proper scan mode after running the software.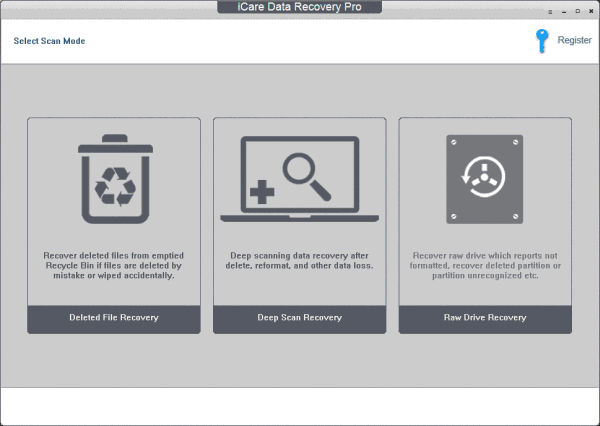 Step2. Choose the CF card which wants to reformat and then you only need to wait when the software is scanning.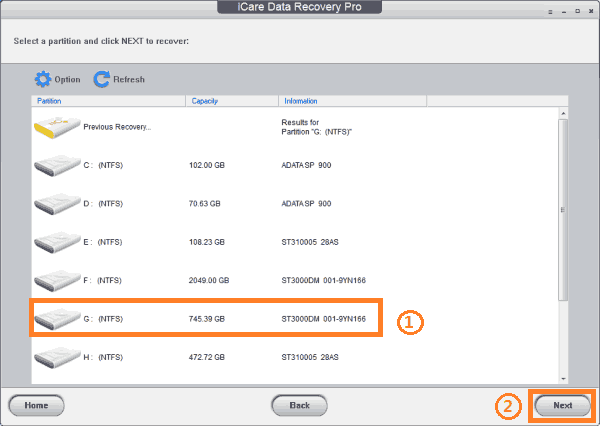 Step3. Preview found files after scanning and then save the lost files to another drive.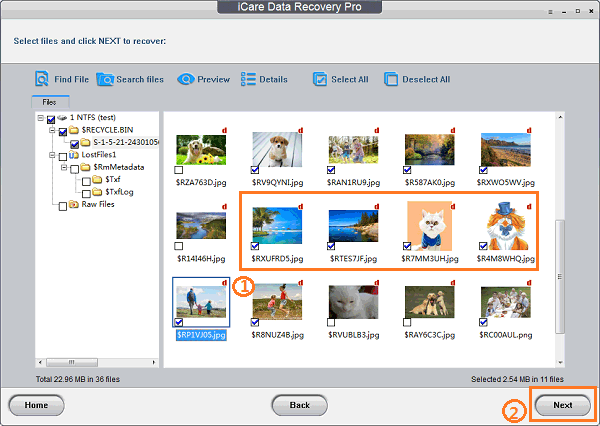 Canon Camera Wants to Reformat CF Card
Usually, you do not want to reformat a CF card for a digital camera unless you want to erase everything on the card and prepare it for new data storage. However, you have no choice when Canon digital camera says CF card has RAW and needs to be formatted. Do you want to format the RAW CF card to fix the not formatted error but with all data lost? Or do you want to ignore the error message but you never have a chance to open the CF card without formatting? You may doubt whether there is a good way to format the CF card for Canon digital camera without losing any data? The answer is yes! You just need to run iCare Data Recovery to extract all inaccessible files before formatting the Compact Flash card.
Solution for Compact Flash Card Not Formatted Error Fix
The reasons for CF card not formatted error are various, but the solution for the error fixing is to format the CF card from RAW to FAT32.
==>> Whenever you meet any problem that lead CF card to be unable to reformat, please go to this page - Windows could not complete the format>>
Why Does Canon Camera Require Formatting Compact Flash Card?
Usually, a Canon digital camera recognizes a Compact Flash card as a storage media where you can save photos or any other data when you use your camera. However, why does the Canon digital camera require reformatting CF card without allowing to save or view any file? Here are some possible reasons:
1. The CF card is not compatible with Canon digital camera
If this is the first time you insert the CF card to your Canon digital camera, you had better check if the card is compatible with the camera. Canon camera might ask you to reformat the CF card to a proper format which is able to be compatible with the camera.
2. CF card is corrupted
Your CF card might be corrupted due to reasons like virus infection, improper operation, bad sectors and more other reasons. Canon digital camera may shows not formatted error on your CF card if it is corrupted due to any reason.
3. More other reasons
Anyway, you might receive not formatted error on a CF card for Canon digital camera due to many reasons. What you should know is that iCare Data Recovery enables you to restore off any brand of CF card as long as it is not physically damaged or overwritten.
Whenever you encouter the problem that Canon asks to format CF card, you can use iCare Data Recovery to recover photos from CF card without formatting it.

---
Related Articles
Hot Articles